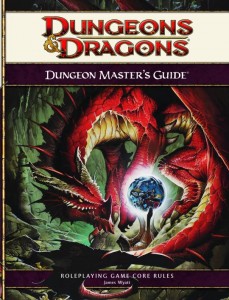 Sitting at the end of the table the Dungeon Master planned his next move. If the party burst through the door as was their habit he had a nasty surprise in store for them. Without fail Braddoc the Fighter pushed Ethan the Rogue aside, kicked the door down, and charged into the room.
"Braddoc," the DM explains, "as you enter the room you are assaulted by the smell of sulphur! Rising out of the gloomy room a large Red Dragon belches out hot flame at you!" The DM was waiting for this moment all night! Grabbing his d20 he rolled his lucky die, come on he thought. Looking down at the die he was dismayed to see a 1 come up. Good thing I roll behind a screen he thought, "Natural 20! That's max damage Braddoc, this is going to hurt!"
Dungeon Masters are an interesting lot. At times they lead you through an enchanting story of great heroics and daring deeds. However, at times DMs can become fickle, vindictive and down right mean if their well intentioned plans don't come to fruition. While not all DMs should be cast in the same light it is interesting to examine the different archetypes that exist and what better way than determining their alignment.
Lawful Good – Your DM knows all the rules and applies them fairly in all situations. While this can be annoying as you aren't able to slide a fast one past the DM, at least you know he isn't going to bend the rules for monsters or NPCs either.
Lawful Neutral – Your DM is a rules lawyer. If a question of clarification comes up your DM must find the answer before play can continue, assuming he doesn't already know the answer. What's worse the DM won't accept anyone else's opinion; if a PC disagrees with the DM they're wrong.
Lawful Evil – The rules were designed to be exploited by the DM and only the DM. You can't get a word in edgewise, if you are too persistent blue lighting strikes your character dead!
Neutral Good – Rules have their place, but they shouldn't ruin an enjoyable role playing experience. Your DMs maxim is "if we can't find a rule to adjudicate for this situation we'll just make one up."
True Neutral – Your DM uses the rules as required to strike a balance in the game. After all, it's only fair that the DM gets to kill off some players too.
Neutral Evil – If a rule doesn't work in your DMs favour then the rule as written is incorrect. A new house rule which suits whatever evil scheme he has planned.
Chaotic Good – Your DM is into LARP.
Chaotic Neutral – This game has rules?
Chaotic Evil – Just as your DM shifts the layers of the Abyss to suit his needs, so too does he change the rules. Your DM always roles dice behind the screen and always roles the maximum. He delights in the meaningless slaughter of PCs and then raises them as undead minions.
So what Alignment is your DM?

What Alignment Is Your DM?
Neutral Good (54%, 157 Votes)
True Neutral (13%, 38 Votes)
Chaotic Neutral (7%, 21 Votes)
Lawful Good (6%, 17 Votes)
Chaotic Good (5%, 14 Votes)
Chaotic Evil (5%, 14 Votes)
Lawful Neutral (4%, 12 Votes)
Neutral Evil (4%, 12 Votes)
Lawful Evil (2%, 6 Votes)
Total Voters: 291

Loading ...

Looking for instant updates? Subscribe to the Dungeon's Master feed!