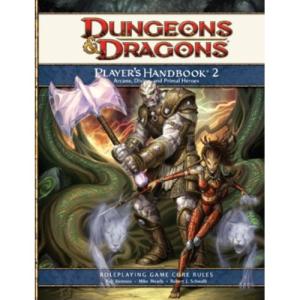 Player's Handbook 2 hits shelves today and in it are eight new core classes. Eight more! In my opinion, that's too many. I don't have the PHB2 yet – I wasn't one of the lucky bloggers to get an advance copy. And you know what? I'm not sure if I'm going to buy it since the character builder will be updated with all the new classes, races, feats and powers at the end of the month anyway. But I have read the tidbits already released through the Dungeons & Dragons Insider and the abundance of new classes infuriates me.
How many classes are too many? There are already eight classes in the PHB and now eight more in the PHB2. Add to that the Swordmage for the Forgotten Realms Player's Guide and the Artificer coming this summer in the Eberron Player's Guide – we're up to 18 CORE classes now! We already know that the PHB3 is in the works and I can only imagine it will have even more core classes.
So with all these classes to choose from, when am I ever going to play these classes in any meaningful way? Consider that there are 30 levels to advance through, how am I supposed to experience multiple character classes and various different levels? I know what you're thinking; Dungeon Delve. And you'd be right – to a certain extent.
The Dungeon Delve does provide easy-to-use adventures for all levels of play, without any bias or preference to class. This may allow me to try out different classes at different levels, and my gaming group plans to do this. However, I enjoy D&D for the role-playing as much as for the roll-playing. I like playing a character and advancing him up through the levels and having him grow in power. My current character, Ethan, is a human Rogue from Sharn. If you read his back story, you realize that he's a character with a troubled past. I have a plan for how I want him to evolve as a person and in order to do that I have to play him through many levels.
So how do I choose between my desire to advance Ethan and my desire to try out all the different character classes? Simple; I can't.
Most weeks I play in a long-term campaign using the same character. The only time I get to play a Dungeon Delve or LFR adventure is when my usual DM is unable to play.
Think about it another way: I play D&D once per week. At best, that's 52 times a year. Take into account holidays, family obligations, vacations and illness and that number drops to maybe 40 gaming sessions per year. At three or four encounters per session and roughly ten encounters per level it takes three weeks to level. This means that over my gaming year I can expect to gain 13 levels. Assuming that I continue to play 40 weeks per year, and that there are no new classes added it would take me over 41 years to play all 18 classes through all 30 levels. And therein lies the reason why I'm ticked about the addition of eight new core classes: I'm never going to have the opportunity to experience more than a few of them in any sort of meaningful way.
When I consider some of the new classes I have to ask the question, doesn't another class already do that? Think about the Warden, defenders of the wild. I thought Rangers and Druids did that? I mean, if I want to create a protector of the wilderness that is based on the defender template I'll create a fighter and give him a back story that fits. Is a new class really necessary?
I recognize that Wizards of the Coast is a company and that they are in business to make money. I just don't know that inundating us with eight new classes when most of us haven't played much of the original eight is the way to go. I'd rather see them expand the content available through the DDI, but that's a post for another day.
In the meantime I'm happy that the Bard and Druid have finally been released, I just don't know when I will have the opportunity to play them.

Looking for instant updates? Subscribe to the Dungeon's Master feed!