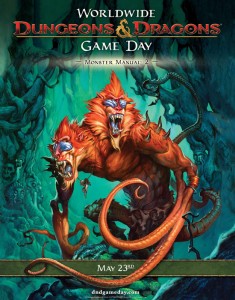 I once again had the pleasure of participating in Worldwide D&D Game Day at 401Games in downtown Toronto. The adventure was called Journey Through the Silver Caves. It was designed for five, 5th level characters. The event attracted a lot of familiar faces as well as a few new ones. I had a lot of fun and would like to take this opportunity to share my thoughts about how Worldwide D&D Game Day went this time around.
The Good
Simple Adventure
The adventure was short, simple and straight forward. I saw this as both a plus and a minus, but for now let's focus on the positives. The adventure consisted of four encounters: three combat encounters and one skill challenge. The plot wasn't unnecessarily complicated and the objective was very clear from the outset. It was a great introduction for people who have never played 4e or D&D before.
Fast-Paced
The two sessions going on at 401Games both managed to finish in about 4 hours. This had a lot to do with the lower power-level (all the pre-generated PCs were 5th level). Since each PC had only two daily powers, two encounter powers and one utility power, it reduced the amount of choices and kept the game moving at a good pace. Plus the monsters had reasonable amounts of hit points which meant that the combat encounters were each completed in about 10 rounds.
Presentation
The adventure contained minis of all PCs and monster, pre-generated character sheets with power cards, and full colour poster maps. Wizards of the Coast knows that these events will draw some first-timers so they pull out all the stops and provide a very slick package. I knew what to expect and it wowed me. It also made a very favourable impression on a couple of the guys at my game table who had never played before.
The Bad
Simple Adventure
The problem with the simple style is it was more about roll-playing and less about role-playing. The one skill challenge felt forced and tacked on. The DM for my game sort of talked us through it without asking for rolls which I think was a good idea. I have since read the adventure (I'm going to run my regular group through the module tomorrow) and I don't really see how it added value to the game.
New Monsters
Since this Worldwide Dungeons & Dragons Game Day coincided with the release of the Monster Manual 2, I was expecting to see a wide variety of monsters from the Monster Manual 2 peppered throughout the adventure. I was very disappointed. There were only nine different monsters used throughout this adventure and only three of them were from the new book.
2 creatures – Monster Manual
3 creatures – Monster Manual 2
4 creatures – Other/Unique
Surprise – Rust Monsters!
I don't think many of use were surprised to encounter a rust monster during this adventure. After all it was used in most of the online advertising. And for those particularly astute gamers, you may have realized something was up when you were equipped with additional weapons and armor.
The Ugly
Magic Item Mulligan
As we've already discussed, the PCs faced a rust monster. And as we discussed all of the pre-generated PCs had spare equipment just in case the hungry metal munchers destroyed a suit of armor or a magical blade. And this is indeed what happened with my group. But that's part of the reason a rust monster is worth the listed XP. You're practically expected to loose something during the combat. If a group of PCs employs exceptional tactics then they are rewarded by surviving unscathed.
So when the PCs moved on to the encounter after fighting the rust monsters and were presented with an opportunity to acquire new magical items in place of the ones they just lost, I felt cheated. Why put this kind of obstacle in the module if there are no consequences for failing? I know it sucks to be the striker who looses his magical weapon or the defender who looses his magical armor, but suck it up. The PCs all had back-up items.
Since the PCs got all of their lost items back the final encounter didn't seem as challenging. It was tough, but not as tough as I was expecting for the final encounter. Some of the PCs didn't need to use their daily powers or all of their encounter powers. I don't think that would have been the case if they were using regular weapons or had a lower AC.
I think Wizards put themselves in a bad spot. They wanted so badly to showcase their new rust monster, but didn't want to ruin the fun-factor that comes with Game Day. Taking the time to provide back-up equipment seemed to me like a smart and appropriate move on their part. But getting re-equipped with magic during the very next encounter was just dumb.
The Verdict
I had a lot of fun and that was without a doubt, the point of today's game. The lack of role-playing didn't really bother me that much since I play every week anyway. I'm not sure that people trying the game for the first time this weekend will get a true picture of what D&D is all about, but I think they'll be treated to enough of the good stuff that they'll want to come back for more. Shortening the adventure and lowering the power-level from the last Worldwide Dungeons & Dragons Game Day seemed to make a big difference in a positive way.
I'm looking forward to running this game tomorrow with my regular group. As experienced, hard-core gamers I think they'll have a lot of fun. Having pre-generated character will give them a license to try crazy things that they'd never do with their usual characters and I think that will add a lot to the game.
Did you participate in World Wide Dungeons & Dragons Game Day this weekend? What were your experiences like? Do you agree with my assessment or did things go differently at your gaming table?