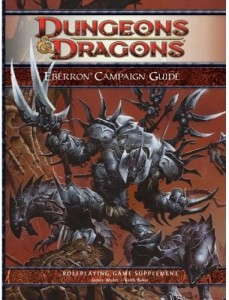 I've got the Eberron Campaign Guide. Get an advanced preview of each and every chapter including information about The Lord of Blades, King Kaius III and the brand new Dragonmarked House: House Tarkanan.
Before I get into the chapter by chapter review I wanted to comment on a few of the overall elements. The art in this book is fantastic. You'll be blown away when you see Wayne Reynolds' cover painting of The Lord of Blades, Ralph Horsley's adventurers battling a huge Warforged, Chippy's Warforged hanging off the side of the airship and (my personal favourite) Chippy's dragon emerging from the water grasping a swordfish. Almost all the art is new (I only recognized two pictures from previous books).
The maps in the Eberron Campaign Guide are top notch. I always felt that 3e Eberron had merely adequate maps, but 4e Eberron sets the bar to new heights for cartography. The pull-out poster map shows us Khorvaire like we've never seen it before. And as an added bonus the flip side contains a 1-inch scale map of a random Sharn neighbourhood on one half, and a ruined fort on the other half. I have no doubt that these will get plenty of use by anyone playing in Eberron.
Adventures
The first chapter tried to group together a lot of stuff that won't fit anywhere else in the book. Here are my thoughts on a few of the sections I found interesting.
The section called The Shadow War really paints a great picture of the cold war mentality most of Khorvaire's inhabitants share. It reminds us that a war that raged for almost a hundred years has only been over for four years. Tempers are still hot and many countries expect the war to start again at any moment.
In the Dungeon Delving section we're provided with ideas for where to stick a one-off delve in Eberron. This is an excellent way to let a long-term Eberron camping use an existing resource like the Dungeon Delve hardcover.
The Global Threats section outlines three organizations that have global presence across Khorvaire: The Aurum (heroic tier), The Chamber (paragon tier) and The Lords of Dust (epic tier)
An interesting sidebar called Lore in This Book reminds us that some details presented in the Eberron Campaign Guide is not for player consumption (like King Kaius III's true nature, for example.)
"It's information that character have no chance of just knowing, no matter how accomplished they are in a relevant skill. A character isn't going to stumble across that information in a history book or know it with a natural 20 on a skill check. Secret information is best learned through adventuring."
The History section has a lot of information already provided in the 3e ECS, but it does provide suggested DCs for various knowledge skills to determine what a PC might know.
The Travel section gathers the most common and useful information and groups it together (a serious problem with the 3e Eberron books). The transportation costs haven't changed with the notable exception of charting an airship. In 3e it was only 1,000 gp per day and now it's 17,000 gp per day. I guess my party wasn't the only one hopping on an airship and travelling across the world faster and easier than the DM expected. Two brand new transportation options are Linked Portals and Teleportation circle access, both cost 50 gp to use and both are controlled by House Orien.
The City of Towers
Sharn get's its own 16-page treatment in the Eberron Campaign Guide. If you're already familiar with Sharn from 3e then there's not really that much new information here. If you think your PCs will pass through Sharn then there's more than enough information for you to adequately give them a taste of The City of Towers. If you're planning to run a long-term campaign in Sharn then I would recommend picking up the 3e sourcebook Sharn: City of Towers. Although it's an old edition book, it is a great source for everything Sharn.
The Five Nations / Greater Khorvaire / Beyond Khorvaire
Although these are three different chapters they're structured in much the same way so I figured it made more sense to group them together in this review.
If you've already read the 3e Eberron Campaign Setting then you'll find most of the information in this chapter familiar. I'm not suggesting that you need the 3e book; this new 4e version is a solid stand-along guide. It provides a good overview of each country including its important sites, notable NPCs and power players. Each section provides a vast amount of information that PCs can learn, or my already know, based on knowledge checks.
As mentioned above the maps are fantastic. Each of the countries located in on the continent of Khorvaire include a close up of the larger pull-out map. The sections on Aerenal, Argonnessen, Sarlona and Xen'Drik each contain a half-page map.
Each section provides an NPC, monster or character of note. Here are few of the highlights.
The section on Karrnath includes the statistics for King Kaius ir'Wynarn III. He's a Level 15 Elite Skirmisher, Human (undead) vampire. This is pretty much the same power level as 3e where he was CR 16.
The section on The Mournland includes the statistics for The Lord of Blades. He's a Level 21 Elite Soldier (Leader), Warforged (living construct). This is huge power up from 3e where he used to be CR 12.
The section on Droaam includes the statistics for the Daughters of Sora Kell. Sora Katra is a level 22 Elite Controller; Sora Maenya is a Level 22 Elite Soldier; and Sora Terzaz is a Level 22 Elite Controller (Leader). All three are Fey Hags. They're power levels were drastically increased from 3e where they were levels 11, 12, and 13 respectively.
The sections on countries outside of the Five Nations provide a wide variety of new monsters. This makes a lot of sense since many of these areas represent the savage frontier.
The Sarlona section is much more detailed than the others and includes descriptions of Adar, The Inspired and The Dreaming Dark. The Xen'Drik section profiles Drow Elves in Eberron. The Khyber section provides DMs with ideas for underground adventures and monsters that have spewed forth from the underworld.
If the Eberron Campaign Guide wets your appetite and you want more information about the places described therein, I'd recommend picking up the 3e sourcebook Five Nations. Each of the other continents has a 3e sourcebook which you may also find useful, but unless you think your campaign will focus heavily on one of these other locales you should have ample material in the 4e Eberron Campaign Guide to run a satisfying adventure.
Dragonmarks
Each Dragonmarked house gets a two-page spread. If you've read the 3e ECS or the 3e Dragonmarked sourcebook then there's nothing new here for you. If you're new to Eberron then there's enough for you to get started. The history of each house along with its controlling interests and influential members give new DMs a strong foundation on which to build any campaigns that includ Dragonmarked houses. There is no mention of how the houses are dealing with their marks appearing on characters of rogue bloodlines or different races.
The biggest news is the formation of a new Dragonmarked house. That's right a new Dragonmarked house. Introducing House Tarkanan. This new power group is dedicated to beings who manifest aberrant Dragonmarks. This house is actively seeking anyone bearing an aberrant Dragonmark and enlisting their aid in making House Tarkanan strong. There is a "Using House Tarkanan" sidebar that provides suggestions for how to introduce this new house into your campaign. Considering this Dragonmarked house gets the same two-page limit as all the other existing houses, I think this is the one we're going to see a lot more information on in the coming months.
If you're looking for more information about the Dragonmarked houses, their history and their place in Khorvaire I strongly recommend you pick up the 3e sourcebook Dragonmarked. Of all the 3e Eberron books, I think this is the one I'll get the most use out of in 4e. It's not 3e mechanics-heavy but it is full of great information.
Gods and Cosmology
In a world so magic-rich, it's understandable that religion is not as prevalent in Eberron as it is in other campaign settings. This chapter gives high-level overviews of the various religions common to the Five Nations.
The section on The Blood of Vol includes the statistics for Lady Vol. She's a Level 19 Elite Controller (Leader), Humaniod (undead). In 3e she was a level 16 Wizard, Half-Elf, Half-Dragon Lich.
There is a brief five-page section on The Planes which includes details on The Dragon Above (The Astral Sea), The Dragon Between (Eberron), The Dragon Below (Elemental Chaos) and Xoriat, the Realm of Madness.
New Monsters
There are over 100 new monsters and NPC presented in the Eberron Campaign Guide. Some of them are well known NPCs like the Lord of Blades, the Daughters of Sora Kell, The Lady Vol and King Kaius III. Others are monsters unique to Eberron like the dolgaunt and the ever-popular Karrnathi Skeleton and Karrnathi Zombie. We also get important NPCs representing each of the Five Nations and a scion from each of the Dragonmarked houses.
Final Thoughts
This book is great. If you're just getting into Eberron then this book is a must-have. If you've played in Eberron before and have all the 3e books then you don't need to rush out and get this on the first day, but you should plan to get it soon. It's got everything you need to run a long and detailed campaign in Eberron. As a companion book to the Eberron Player's Guide released last month, this book is the perfect DM resource. The two books together bring a fresh 4e treatment to Eberron. The information is presented in a very useful way which makes it more likely DMs will actually use this book. The problem with the 3e ECS was that a lot of the best information was buried. Not so in this version. As a big fan of Eberron, and someone who has all the 3e Eberron books, I don't have any regrets after picking up the 4e Eberron Campaign Guide.
10 on a d10.

Looking for instant updates? Subscribe to the Dungeon's Master feed!