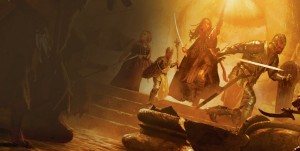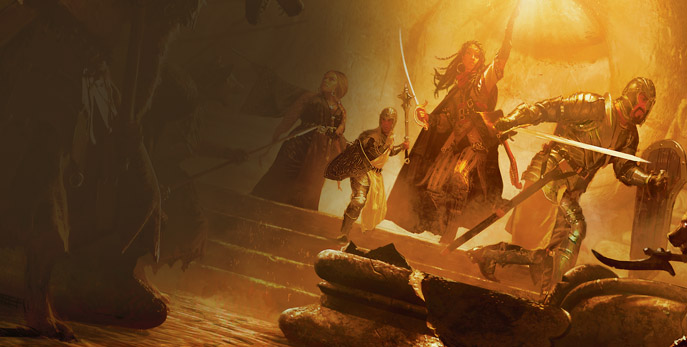 D&D Encounters is a 12-part adventure from Wizards of the Coast and it's played out one encounter each week over the next 12 weeks.
When D&D Encounters (Week 1) began last week I wasn't really sure what to expect. I had a great time playing, but as with any new campaign it took me a while to get to know my new character and it took time to get to know the rest of the party.
This week D&D Encounters (Week 2) was a very different experience. We managed to keep the same party and that made things a lot easier. Now that we'd completed one encounter we were better prepared to move forward. Or so we thought.
We did all the same stupid things that PCs do during combat. We split the party (mistake #1), we trusted the shady NPC (mistake #2), we all fought different opponentes rather than concentrate our fire on just one at a time (mistake #3), we used all of our healing by round two (mistake #4) and we let the healer fall unconscious (mistake #5). But I find that these are common mistakes made by just about every party I've every played with. Half the fun is finding a creative way to overcome these obstacles, and in the end that's exactly what happened.
In this week's encounter terrain didn't present the complications we faced last week. Our greatest difficulty was working together. When a group of strangers meet to play D&D, it's only natural that you want to hog the spotlight (I know I'm guilty of it). That being the case you want to do spectacular things on your turn, even if it's not the best course of action for the party. Really, who wants to waste their standard action administering first aid when there are still monsters on the battlefield? Better planning and stronger teamwork will make or break this party as we continue playing through the rest of the encounters.
After the second encounter was completed, I asked the participants to give me their thoughts on how things are going so far. Below are some quotes from the players and the DM.
"We've got a good DM. Undermountain is pretty awesome and I'm looking forward to the next encounter."
– Wilden Druid
"I'm disappointed with my low defenses and hit points (at 1st level). I really get hit a lot. I'm way down on healing surges after only two encounters."
– Human Cleric
"I've already used half of my healing surges and it's only the end of the second encounter. I'm not sure how that's going to shape up."
– Dwarf Warden
"We're planning to keep the same party every week so there's a good sense of continuity."
–  Shadar-Kai Assassin
"Monks are awesome to play. I have yet to be hit, I have yet to take damage and I have yet to spend a healing surge. The encounters have really been lots of fun. I'm looking forward to next week when I know that all these rounds of not being hit will catch up to me and I'll be making death saves pretty soon."
– Githzerai Monk
"I'm just glad I didn't drown again this week."
– Dragonborn Paladin
"I was originally planning to play, but when we had 13 players and only 1 DM I decided to step up. I really didn't like the idea of sending so many people home unhappy. I had absolutely no time to prepare. I wasn't sure exactly what was happening or why stuff was important so I just sort of winged it. The players were really light and were willing to go along even if they didn't quite understand everything. I'm really enjoying it."
– Dungeon Master
Here are a few pictures from each of the two tables running D&D Encounters (week 2) at Dueling Grounds in Toronto.
Table 1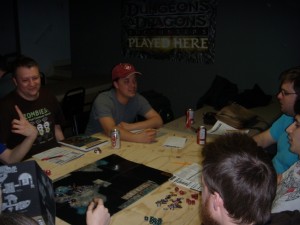 Table 1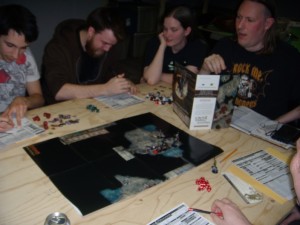 Table 2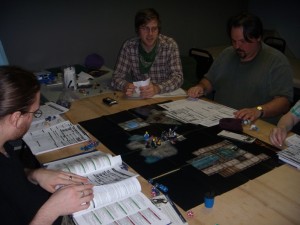 Table 2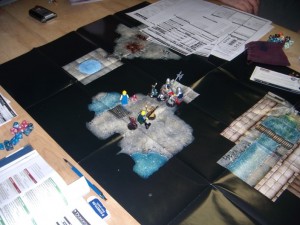 Yes, those are Lego men on the battle-map. Not every DM uses minis to represent the bad guys.
Gamers in the Greater Toronto Area (GTA)
Gamers in the GTA who would like to participate in upcoming D&D Encounter sessions should sign up through Warhorn to guarantee your seat at the table. You can register to play at Dueling Grounds or Conspiracy Comics – North Store (one encounter played each week) or at 401 Games (two encounters are played every other week). If there's enough interest, the DMs suggested that a couple of make-up days might be arranged after the first few encounters are completed. This gives players who missed a game or two an opportunity to catch up and earn more renown points.
If you're interested in hearing more about our experiences playing the first encounter, our DM recorded a podcast of the session. Visit The Shattered Sea blog for weekly updates.
Visit the Dungeon's Master D&D Encounters Archive for all of our ongoing weekly coverage as well as other great D&D Encounters articles and resources.

Looking for instant updates? Subscribe to the Dungeon's Master feed!