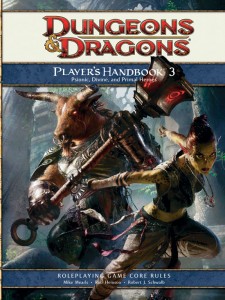 I'm all about options, I love to have a multitude of choices, doing the research and then selecting the best fit for the vision of my character. These choices don't just include the feats and powers I select for my PC, in fact the decisions start the moment I open up the Character Builder. I'm first confronted with the choice of what class to play, followed by race and so on. While these two early choices may seem simple, they are anything but. They will serve to represent your character as much or more than any other choice you make.
In his article Playing Against Type, Ameron talks about making the less obvious choice to see what type of an outcome you get. At the time that he wrote that article there were 770 race and class combinations. This didn't consider Paragon Paths or Epic Destinies. With the release of the Player's Handbook 3 (read our review Part 1, Part 2 and Part 3) the possible combinations have increased even further. What does this mean for you as a player?
When the PHB 2 was released last year I wrote the article How Many Classes Are Too Many, where I essentially ripped into WotC saying that 16 character classes was more than the game needed. I wondered how was it possible for the average player to even play the majority of the classes available. With the passing of a year and the release of the next Player's Handbook I wanted to revisit the issue to see if my opinions had changed significantly.
With the release of the PHB 3 the total class count is now at 25. Is this too many? Are there too many choices available to players? Perhaps, but the choice is good. I'm no longer concerned about the amount of classes, the selection makes the game more interesting. I've found over the past year that I have played just under half the classes available in one way or another. I'll admit to not having played each of the classes fully and perhaps not even for longer than a single session, but I've played them and done so at various power levels.
However, I recognize that not every player is like me. On a recent poll that asked how many classes people have played 78% of respondents indicated they had played five classes or less. Breaking that down further 18% had played one class, 36% had played two to three classes and 24% had played between four and five classes. Only 10% of respondents had played nine classes or more.
Clearly players have made a choice and for whatever reason they are sticking with the original choices they made regarding class selection when 4e was released. For a variety of reasons these decisions make sense. The most obvious two are long term home campaigns and Living Forgotten Realms adventures. Most people playing D&D are playing for one of these two reasons. By the very nature of these games players usually to stick with one character.
So how do you experience other character classes. Well here are a few simple suggestions. Take a break from your normal game and play a Dungeon Delve. Every time you play a delve, use a different character. You can also play vicariously through your other party members and experience a class through them. I've never played a Wizard and have no desire to start now, but I love the way the Wizard in our regular group is played.
My real concern is for the health of the game. Now, I'm not trying to say more classes are unhealthy. Rather if most players are sticking with their original characters, then they are less likely to purchase the PHB 3. This dries up WotC revenue stream. Granted with the DDI they have taken care of revenue to an extent. But what if the PHB 3 has poor sales, what will be the response be from WotC? How will it effect the game in the long term?
I also worry that if there is a PHB 4, what will it contain? Are more classes really needed? Will they be played? If they won't then is the book worth releasing? What other new rules can they release to entice us? The same could be argued about the PHB 3, with most of the new classes being Psionic in nature only a select player base will be interested. Now granted Ameron has indicated that he recommends the PHB 3 highly and Ameron has some very strong opinions about Psionics. Which means the content in the rest of the book must be as valuable as a Dragons horde.
So perhaps I shouldn't be worried. Maybe I'll put some faith in the designers of D&D and trust that they know what they are doing and that they won't over saturate the game with too many more classes. But even if they do, it just gives me a new option to try the next time I'm playing a Dungeon Delve.

Looking for instant updates? Subscribe to the Dungeon's Master feed!