In February's issue of Dungeon (#173), Craig A. Campbell has created a three-encounter delve called Haruuc's Tomb: A Novel Adventure based on events from Don Bassingthwaite's fantastic Eberron novel, Word of Traitors. As a big fan of Eberron and a huge fan of this book I was very concerned about how this adventure would turn out. But before I get into the good and bad of Campbell's undertaking I have a questions for all the players. Have you ever played an adventure that was inspired from a D&D novel?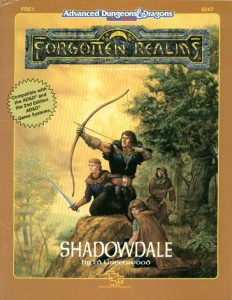 The last time I had this unfortunate experience was way back when AD&D 2nd edition was released. In order to explain the rule changes between AD&D and AD&D 2nd edition in the Forgotten Realms, the world experienced the Time of Troubles. The Avatar trilogy gave us three decent novels (Shadowdale, Tantris and Waterdeep) that saw the gods fall from the heavens and walk the realms as mortals. When the gods returned to the heavens things changes (and we got AD&D 2nd edition). The novels were pretty good, but the adventures based on these books were horrible. If you want to see examples of how not to structure a D&D adventure, these are prime candidates.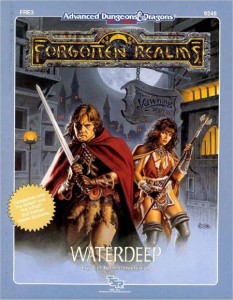 The problem wasn't with the encounters themselves; some were a lot of fun to play. The problem was the railroading. In order for the story to unfold as required the PCs had to do certain things a certain way at a certain time. Whenever the PCs decided to do something differently or accidentally screwed something up (like killing an important NPC or villain) the DM needed to do some pretty quick improvising. The way most DMs avoid this scenario from happening is to railroad the PCs. As soon as they start to act off-script the DM quickly blocks their path and forces their hand.
But after reading Campbell's article on the Wizards website I realize that they found a great way to solve this problem. They didn't try to recreate the novel as a full adventure. In stead they took one very specific encounter and treated it as a side quest. It represents only a few chapters from the book and not the entire book itself.
"Haruuc's Tomb" is a D&D encounter for five 7th-8th level characters. It is an adaptation of events from the Eberron novel Word of Traitors. You can run this as a one-shot encounter or weave it into your campaign as part of a longer adventure.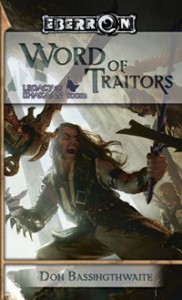 In the accompanying article Haruuc's Tomb: From Book to Game, Campbell walks us through his creative process. He explains how and why he set the encounters up the way he did. He gives us details about the monsters and villains and shares his process for creating their powers. He has kept very true to the encounter as it appears in the novel, but he's altered it enough that it doesn't seem out of place on its own. And this is why it works.
Regardless of what the PCs do or how they choose to handle each encounter, their campaign is not the story told in the Legacy of Dhakaan trilogy. So the DM doesn't need to worry about forcing the PCs to take certain actions. The PCs are free to do whatever they feel is appropriate. If they want to kill an opponent or just capture them, it won't make any difference. Even though each of these outcomes would have a very different impact on the rest of the story from the novel. In this case it simply doesn't matter.
As an avid fan of the D&D novels I applaud Wizards for creating this kind of delve adventure. I hope this is the first of what will become a regular series. It also serves as an advertisement for the books themselves. Players and DMs who may not have read Word of Traitors may enjoy the delve enough to pick up the novel. My only real criticism about this article is that I don't see any mention of including Don Bassingthwaite in the creative process. He did write the book and probably has some strong ideas about how his NPC would look as actual D&D characters. If he was consulted it would have been nice to give him a shout out. If he wasn't consulted then I think Wizards missed an opportunity to use the author as a resource.
To get a better idea of the story that inspired this delve, be sure to check out our Word of Traitors Review and our three-part interview with the author, Don Bassingthwaite (Part 1 | Part 2 | Part 3).
Have you played adventures based on novels or other stories that had a predefined ending? Did you find yourself being railroaded often? If you were the DM how did you keep the party on track? What do you think of this new three-encounter delve approach to tapping the novels? Are you any more or less likely to use this in your campaign because it was inspired from a D&D novel? Are you excited about the possibility of more Novel Adventures?

Looking for instant updates? Subscribe to the Dungeon's Master feed!