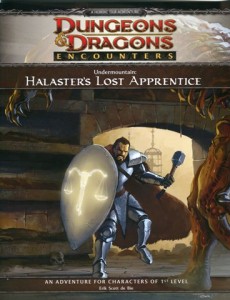 "This is the best example of a level 2 solo monster I've ever seen." High praise from our very experienced DM. During D&D Encounters week 7 the players discovered just how powerful and dangerous solo monsters really are.
D&D Encounters is a 12-part adventure from Wizards of the Coast and it's played out one encounter each week over 12 weeks.
When you're only playing one encounter a week you want every encounter to be interesting, fun and take more than a few rounds to complete. If the encounter isn't balanced you either finish so quickly that the players feel cheated or the monster is just so powerful that the some (or all) of the PCs die trying to defeat it. When we realized that we were up against a solo monster this week I hoped we'd find some happy middle ground and I was not disappointed.
Players Victorious
We were again a party of four this week, but we were fortunate enough to have a leader in our party. Of the 20 or more players who have thus far participated in D&D Encounters at my FLGS, only one person is playing a leader. If you want to make friends quickly, that's certainly a good way to do it.
Without giving too much away, and not wanting to bore you with a round-by-round account of our encounter, I will say that in the end we defeated the solo monster. It took two daily powers, three action points, two healing words, a few Astral Seals, well timed temporary hit points, and two failed death saves by our healer, but we eventually prevailed.
I'd also like to take this opportunity to acknowledge that karma is a huge part of my D&D experience. After my awesome double 20s when attacking with my daily power last week it seemed only fitting that I roll poorly when it counted the most this week. To kill the monster I only needed to hit, and thanks to powers from my allies I only needed to roll a 3, yet I rolled a 1. The monster then attacked everyone, knocking two of my companions unconscious before the Psion attacked, rolling a 16 and dropping our foe.
The Solo Monster
Getting back to the monster for a minute, it was a tough solo. It had reach 2 and could attack 2 creatures as a standard attack (at-will). It could also, as a minor action, attack with a close burst 10 (at-will). Then there was the other standard attack, close burst 3 that recharged on 5 and 6. Did I mention that it had threatening reach 2 and an aura 2? This was one tough beastie.
As a melee combatant, my Monk really took a pounding. Even when I got close enough to attack I still took damage every round from the aura. With only four PCs, the monster could and did attack all of us every round. It used its 2 action points and its teleportation ability to maximum effect whenever we though we devised a good plan of attack. Add to that a good DM with a keen eye for tactics and the combat was a dangerous and exhilarating challenge. The monster's defenses were reasonable, but not crazy. So when we did attack we usually hit. But as a solo it had a lot of hit points.
As a player I had fun fighting this monster. As a DM I can't wait to use it in my home game. I'll be very surprised if we see any more solos in D&D Encounters during this season, and if that hold true then Wizards did an excellent job showcasing this type of creature.
Slow Progress
Normally, after playing the same character for seven weeks you'd be level 3. Assume four encounters each week times seven weeks for 28 encounters. The average PC requires 10-13 encounters to level up, so by now level 3 is very realistic. Yet after seven weeks I'm still level 1.
I understand that the whole point of D&D encounters is that each week you're only supposed to complete one encounter, but the slow pacing is starting to get to me. I find that I like my character less and less each week. However, I'm not sure if this is because I expect him to be more powerful than he is (because we're only doing one encounter each week) or if I genuinely don't like this class, race or combination. I was ready to scrap this character last week but decided to give him one more encounter. And then I had the super encounter where I totally rocked. So now I'm really conflicted.
I've played other games where after a few levels I realized I didn't like my character so I retired him. No regrets, I just moved on. But with D&D Encounters I'm having a really hard time taking this approach. I figure that I need to play at least one more encounter before I have enough XP to level (eight encounters all together). As much as I dislike my character, I'm even less thrilled about the prospect of starting fresh and having to play though eight more weeks before the new PC hits level 2. With only 12 encounters total, switching now means no chance of leveling before the end.
So I'm pretty much forced to stick with my Githzerai Monk for the remaining five encounters. Don't get me wrong, he's not an awful character, I just find that I'm already bored. Yet I believe that if I was playing this exact same character in weekly FLR adventures I'd enjoy him a lot more. Probably because after seven weeks he'd be a level or two more powerful, have a couple of new powers, a new feat, more hit points, swapped anything that I'm not using for something else and have a couple of useful magic items.
The only negative thing I'm hearing over and over again about D&D encounters is that the pacing is too slow. I don't think people mind playing only one encounter each week, but there needs to be some way to earn more than the standard amount of XP. The advancement rate would still be slower than normal, but at least PCs could level up more quickly and fewer of us would get this bored this quickly.
Visit the Dungeon's Master D&D Encounters Archive for all of our ongoing weekly coverage as well as other great D&D Encounters articles and resources.
What are your thoughts on D&D Encounters so far? Do you think the pacing is too slow? Would you be more inclined to play if the characters advanced more quickly? What did you think of this week's encounter? Do you think the solo monster was as great as we did? Do you think it was too powerful for a party of level 1 PCs?

Looking for instant updates? Subscribe to the Dungeon's Master feed!