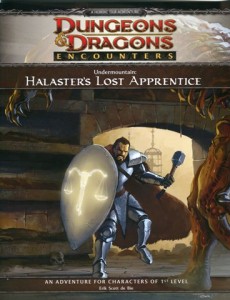 D&D Encounters is a 12-part adventure from Wizards of the Coast and it's played out one encounter each week over the next 12 weeks.
What's in store for seasons two and three of the D&D Encounters program? We have some rumours and some facts. But first, our ongoing coverage continues as we share our thought and feedback from D&D Encounters (weeks 3 & 4).
D&D Encounters (Week 3)
This was a make it or break it week for a lot of people. The encounter was a 2-part skill challenge, each complexity 2 (6 successes before 3 failures). As an advocate of skill challenges I thought it was a great way to shake things up and remind everyone that not all encounters involve combat. However, a lot of players, especially new players who jumped in at week 3, felt cheated.
I spoke with over 25 players and three different DMs after week 3 and here's what I discovered (based on my limited sampling). The level of enjoyment was directly proportional to a) the DMs willingness to really role-play the situation, and b) the players' willingness to see this as more than an opportunity to roll dice. I suppose this is pretty much the case during any skill challenge, but it seemed more emphasized in this kind of program where there's only one encounter each week.
Some players were unfortunate enough to have a DM who played it like a combat encounter. The DM read the setup and then asked the PCs to start rolling skill checks. After each check the DM read the result provided in the adventure text. The experienced players assumed that there would be combat after the skill checks so they didn't bother role-playing. The new players didn't know what the skill challenge was or how it worked so they just did what the DM told them to do and rolled. After 20 minutes the encounter was finished and six players left feeling cheated and angry.
Meanwhile at my table the DM went above and beyond expectations. He realized that the more he played up the setting, the scenario and the people, the more the players would interact with everything. It gave the party fantastic opportunities to role-play and we made a bunch of successful skill checks along the way. The DM took a delve-style encounter and made it feel like part of a home game. After almost two hours we finished both parts of the skill challenge. Everyone agreed that it was the most fun encounter we'd played so far.
D&D Encounters (Week 4)
This week's encounter was different because it had a built in time limit. Week 4 began with a skill challenge but quickly moved into a combat encounter. The PCs were caught between monsters guarding the doorway in front of them and a collapsing passage behind them. The PCs need to get past the guardians one way or another before they were killed in combat or crushed by the debris.
Speaking with a couple of the DMs afterward they shared their confusion about part of this week's encounter. The encounter began with a complexity 1 skill challenge (4 successes before 3 failures) where the PCs interact with a creature guarding a door. However, the outcome of the conversation is pretty much the same regardless of whether or not the PCs succeed of fail – the guardian and his companions attack the PCs. The only benefit we could see from successfully completing the skill challenge was garnering bits of information provided in the form of cryptic clues. Perhaps after we've complete a few more weeks of D&D Encounters we'll get a better idea of what the guardian was actually talking about.
I had a particularly rough week, my worst so far. I started off by rolling a 20 for initiative which secured my place at the top of the order. On my turn a rushed the first guardian and attacked. I rolled another 20 (my first crit of D&D Encounters). Unfortunately none of my companions went until after all the monsters attacked. I was flanked by two skirmishers. They both hit, each doing 1d8+5 and another 1d6 of sneak dice. I took 18 damage from the first attacker and 14 damage from the second. My level 1 Monk only had 28 hit points so he fell down, hard.
I rolled (and failed) my death saves for the next two rounds while the rest of the party worked together to take down the monsters. Finally one of my allies revived me and I got to make one more attack before all the monsters were defeated.
On the up side I managed to inflict 15 points of damage with my crit so I earned +1 renown point and my companion got to revive a dying ally so he also got +1 renown point. On the down side I expended all but one of my remaining healing surges and that still didn't bring me back to full hit points. I hope we get an extended rest soon.
Upcoming Seasons of D&D Encounters
There's a lot of speculation about what the next couple of seasons of D&D Encounters will be like. Most of the people I've talked to think that season two will be paragon level and season three will be epic level. Some also think that season two will feature a Dark Sun adventure since the new campaign setting is coming out around the time that season two begins.
Regardless of the rumours and speculation about the upcoming seasons of D&D Encounters, Wizards has release something awesome in preparation for season three.
Earlier this week Wizards launched the Creature Competition: Encounters.
"Choose your favorite monsters, let 'em go head-to-head, and help decide which will be featured in the Season 3 D&D Encounters adventure!"
Whether you're interested in playing D&D Encounters or not, you should definitely check out this awesome round-robin of the most iconic monsters in D&D. If the monster crowned champion is truly going to be in season three then rumours that it's going to feature epic level PCs seems more and more likely.
Visit the Dungeon's Master D&D Encounters Archive for all of our ongoing weekly coverage as well as other great D&D Encounters articles and resources.
How did D&D Encounters (week 3) go for you and your party? Did you like the skill challenge? Do you think that there should there be a combat encounter every week? If the upcoming seasons of D&D Encounters feature higher leveled characters are you more or less likely to play?

Looking for instant updates? Subscribe to the Dungeon's Master feed!