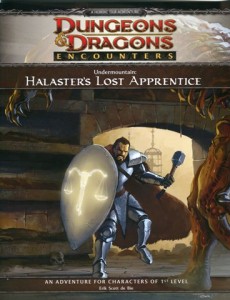 As I sat down to play the penultimate session of D&D Encounters season one, I wasn't sure what to expect. After 10 weeks, what could this adventure possibly have in store for us that we hadn't already seen before? The answer – nothing.
Although I had a lot of fun playing this week's game, it didn't "wow" me. I don't know if this was because I'm getting bored with the adventure, tired of my character or just burned out in general. But despite a relatively straight forward encounter I realized that the amount of effort you put in to D&D is directly related to the amount of enjoyment you get out if it. And in week 11 we certainly made the effort.
D&D Encounters is a 12-part adventure from Wizards of the Coast and it's played out one encounter each week over 12 weeks.
Two significant things were different this week at our gaming table.
All of the players advanced to level 2 before the encounter began. After reading the feedback from last week's article and scouring the forums on Wizards we realized that despite our TPK in week 8, we should still level up. The DM agreed.
With only enough players for two tables, the third DM opted to join the game for the first time. This brought a fresh PC into the mix. He had full hit point, an action point and his daily power. And since he knew he'd be the DM again next week he didn't have to worry about holding anything back.
For the first time since I started playing D&D Encounters, we didn't seem to struggle at all. If anything we completely crushed the monsters. It's amazing what advancing a level will do for the party.
The only real challenge this week was the unusual terrain. The caverns in which we delved were at different elevations. Now I find that the dungeon tiles often make it challenging to realize which levels of the cavern are higher and lower than others. The majority of the map was the same level with a large section in the middle being depressed 20 feet. So to get across required a jump check DC 30 (6 squares) or two climb checks, down 20 feet on this side and up 20 feet on the other side.
Of course the monsters had climbing abilities allowing them to move up and down without checks and there was the obligatory artillery on the opposite side of the chasm. But despite these obstacles we still crushed these creatures and had fun doing it.
Our most memorable sequence came towards the end of the encounter. My Warlord had (unsuccessfully) climbed down into the pit. After dusting himself off he noticed a ladder on the opposite side. At least getting back up wouldn't be as difficult. He grabbed the ladder and started moving it to a more advantageous position. But he only managed to move it a few squares by the end of his turn. So there he was standing in the middle of the chasm floor holding the ladder. The Rogue (played by the DM turned player) decided to do something awesome.
He declared that he was going to jump across the chasm, land atop the ladder and then, using it as a spring board, jump across the rest of the way. As if scripted by the D&D gods themselves, he rolled a 20 on his Athletics check to cover the jump and he rolled 16 on his Acrobatics check to successfully use the ladder to assist on the maneuver. He landed on the opposite side – on his feet – and then made a Stealth check in the high 20s.
When the monster came around the corner and used his ranged attack to shoot at the foes he could see, the Rogue took his opportunity attack and rolled another 20. Yes, these are the same dice that he used three weeks earlier when he killed off six PCs. It was nice to see them working for us rather than against us for a change. After that the battle ended quickly.
Next week is the big finale. I have no idea what the encounter will be like, but I'm expecting something extravagant. I'm going into it with a daily power and only two healing surges. At this point I'm just looking forward to season one ending. It's been a fun ride, but I think 12 weeks is just a bit too long. With my home game we rarely play every single week. Something always comes up and after a few sessions we need to cancel for one reason or another. I can't remember the last time we've gone 12 weeks without interruption.
D&D Encounters: Dark Sun begins immediately after season one ends without a break. It runs for 15 weeks. I think we'll see a lot more people coming and going throughout the summer. Hopefully the allure of Dark Sun will keep a lot of players interested and that will keep the program alive. I'm awaiting the kit so I can start reading the adventure and getting ready to DM season two. As soon as I manage to get my hands on it I'll share what I can about the pregenerated characters.
Visit the Dungeon's Master D&D Encounters Archive for all of our ongoing weekly coverage as well as other great D&D Encounters articles and resources.
With only one more week to go, what do you think the last encounter will be like? Do you just want it to be over or are you just as excited now as you were during week 1?

Looking for instant updates? Subscribe to the Dungeon's Master feed!