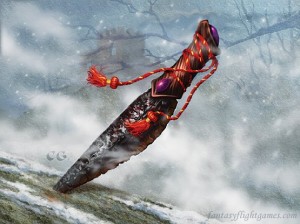 Dagger or long sword? Club or mace? Hand axe or executioner's axe? Hand crossbow or great bow?
Which one should you select? What prompts you to select the weapon your PC wields in battle? Are you concerned with aesthetics? Or does the desire to roll as big a die as possible trump all other factors?
I must confess I'm often at a loss over what weapon to select. In the real world a dagger to my heart will kill me just as quickly as a long sword to the heart. Idea's of d4s and d8s don't really come into play. Granted a dagger cut to my arm is just that, a cut. A long sword on the other hand might take my arm off.
Of course in D&D, unless you are using home brew rules, we don't worry about location specific damage. You don't take aimed shots at a monsters head, you just attack, roll to hit and damage. The article from Wizards of the Coast last week about tactics and how many hits are required to kill the average monster got me thinking about just what weapons we should be using.
From a sheer mechanics standpoint, the bigger the damage die the better. After all we are whittling away at a pool of hit points and it is only the attack that reduces the monster to zero that really matters. All a party is trying to do is to get that hit point pool to zero faster.
Which brings me back to the question of weapon choice. Why would you ever pick a dagger as a primary weapon if your PC was trained in larger damage die weapons?
This is the element of D&D that really bothers me. I'd love to be a Rogue who clings to the shadows, springing out at my opponent when the least expect it and dealing a blow that will end their life. It happens in the movies and in fiction but D&D through its system bucks that convention. In the reality that is D&D I'm better off being a Rogue who clings to the shadows, but wields a great axe.
Let's do some number crunching to see if I'm worried about nothing. Let's compare a Rogue who wields a dagger and who has selected the Daggermaster paragon path at level 11 to a level 11 Fighter who uses a long sword. To make the illustration easier we will assume that the Rogue and the Fighter both have a 20 in their Dexterity and Strength scores respectively. The Daggermaster scores a critical hit on a 18-20 and so we will consider both critical and regular damage. We will assume 3[W] damage and a +3 weapon, however we will ignore the extra damage on a crit from the weapon as it is arbitrary.
Critical Damage
Daggermaster: 12 + 5 + 3 = 20
Fighter: 24 + 5 + 3 = 32
Regular Damage
Daggermaster: 7 + 5 + 3 = 15
Fighter: 13 + 5 + 3 = 21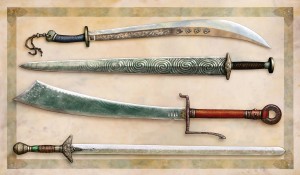 Clearly we can see that the Fighter deals more damages than the Rogue in both instances. This isn't a surprise finding. But remember that the Daggermaster scores a critical hit on 18 – 20 or 15% of all attack rolls and with a 10% greater likelihood than the Fighter. However, their damage (before including extra weapon dice) is on par with the average from a Fighter who is using a long sword. Now as a striker the Rogue should be doing more damage than the Fighter and when you consider sneak damage and the extra critical damage they clearly will on most combat rounds. However, if the roll of the rogue as a striker is to do a lot of damage, then the dagger is the last weapon that should be selected even if a paragon path allows for higher critical hit success.
One alternative might be to declare that all weapons deal the same damage. A dagger in the hands of a well trained Rogue is just as dangerous as a long sword in the hands of a Fighter. Of course this is also rather boring in trying to build the most powerful character possible, but it does level the playing field. Perhaps rather than different damage dice for different weapons other properties would be available. For example, all axes are brutal 1, or all swords have higher proficiency bonuses to hit. I have to admit that I'm not thrilled with an idea like this, but I also don't see a better solution than what we currently have. Perhaps rather than dealing 2[W] or 3[W] damage all powers would do set damage similar to implement powers. The weapon would just be the flair surrounding the attack.
Should you forgo high damage in favour of a build that is more realistic? The idea of a Rogue who produces daggers from thin air, throwing them nilly willy at enemies has a lot of flair to it. However, from a game mechanic standpoint it isn't very productive.
Where do you draw the line? For myself, I trained my rogue in the rapier when I saw how pitiful my damage totals were with a dagger and I haven't looked back since. Have you found yourself in a similar situation, trying to reconcile the role playing aspect of the game with your lack of damage output in combat?

Looking for instant updates? Subscribe to the Dungeon's Master feed!