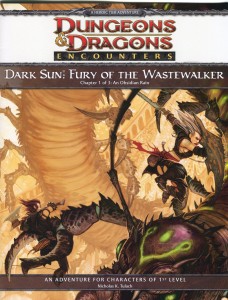 The first session of D&D Encounters: Dark Sun was a sink or swim lesson in desert survival. This second season of the program takes place on the world Athas, an endless expanse of sand and searing heat having been blasted lifeless by the ravaging effects of magic. On Athas the majority of the population swelters in the heat of oppression in slavery while tyrannical sorcerer-kings live lavish and absurd life styles within the walls of their city states.
Welcome to Athas! Following an introduction to the world that our characters found them selves in, we joined the action as we took part in a caravan as guards. Since resources are so scarce on Athas and the wilderness is inhabited by cruel raiders (not to mention cannibalistic Halflings), cargo moves from city to city in large caravans fortified by hired swords fighting to earn their next meal. It is on this errand that our party was devastated by a rain of jet black obsidian from above which obliterated the majority of the caravan after only one days travel from civilization. It was after most of the caravan was killed by falling stone when we were ambushed.
As lizard men began to raid the wagon train a very strong tone was set that I hope will persist throughout the arc of the season: Life on Athas is pragmatic at best. Where did that obsidian come from? Why is in raining on us? I suspect that these questions and many more will never be answered. Our characters didn't have time to ponder the source of our assailant because we had the task of grabbing as many days' supplies as we could before running for our lives into the endless desert. You know that the circumstances are dire when the best course of action includes a life denying wasteland.
The encounter was very well designed and featured many dimensions that brought it above beyond the dull "roll high numbers until the monster's hit points reach zero" type encounter. The party was seated next to their ruined cart with its survival supplies flung across the sand. As a minor action the players could pick up one day's worth of survival supplies, provoking attacks of opportunity when relevant. This posed a quizzical situation to the party: Is it more important to escape with our lives now and find food later, or is it better to dispatch all threats in hopes of being able to keep our supplies? Is it better to die in the desert with bags of food or without them? Tough choice. To make matters worse reinforcements were incoming and not to be taken lightly. Lizard men with blowguns were equipped with poisons that immobilized. Good luck fleeing for your life, supper.
In the end our party made off with enough food to feed us for five days even though two fifths of our party had to be carried off of the battlefield as we fled. I suppose the lizard men we escaped were angry because they wanted to eat us and make weapons from our bones. Gross. Awesome? Gross. Is five days worth of food going to be enough? Not likely as I am sure there is more than five days worth of desert on this god forsaken planet, and Athas actually is god forsaken, which is to say there are no gods. It's as if on the seventh day god looked upon his creation and realized a barren world wasn't such a good idea after all. Instead of nurturing his creation he opted to leave it be and have creation sort its own problems out.
Also, there's no metal, which is to say there's very little. Even wood is considered an extravagance on Athas, and as a result the party is equipped in such a manner that you would suspect that they just came from a vulgar brawl at a taxidermist's.
So the theme and the tone were strong, but in many places the presentation was poor, most remarkably of all the pre-generated characters. Many people were sore about this point, and low and behold they had good reason to be as every single character's card had multiple errors, from skills and ability modifiers that weren't calculated correctly (in some places by as much as +6) to powers with completely incorrect entries. Many of the people I played with expressed the wish that Wizards of the Coast would make the characters available via the character builder so that at the very least the math would have been correct. While it's understood that there are certain proprietary reasons why they cannot publish content to the character builder from their not yet released books it frustrates players when they have to fix the publisher's errors.
Another reason why the players are lamenting the fact that they are forced to play the error ridden characters is that some of them suck! I played Barcan (or Barqan, depends on which part of the character sheet you're looking at) who is a sorcerer with a whopping 22 hit points, 6 healing surges and an AC of 12. Barcan had to fight monsters that hit him on a roll of 4 or higher; sorry kiddo, you're not set out for desert survival, though with your 8 points in wisdom it seems like you're going to be the last person to find out. While I did really enjoy this encounter I feel like myself and other players will loose interest in playing extremely elaborate paper weights.
The only saving grace, that even these errors and omissions couldn't detract from, would be if there are some seriously compelling plot hooks interwoven between the characters. Barcan is the older brother of one of the party members, and is being mentored by another so let's hope the adventure brings these threads to fruition in the greater fabric. What better way to tie people into the game world than with interesting personalities that are deeply rooted in the world they live in? All the people I played with really liked how well this first session set a strong tone. Dark Sun stakes its claim as part of a well defined trajectory. While each adventure will differ there will be key qualities about Dark Sun that will remain consistent and distinct. Meanwhile settings like the Forgotten Realms only seem to provide me with new names of forests for you to remember. I'll stick with my horrible mutant half Dwarves, thank you very much, elves of dark/mist/fell/black/green-wood.
I am really looking forward to the coming weeks of this adventure. There are a few issues but in the grand scheme of things they are minor, and as a player I'm not about to let them get in my way, just know I would never pay for this kind of workmanship. What was your experience with the first session of Encounters: Dark Sun? Does it serve your fond memories well? Did it get you into the world, even if you didn't like the idea before? Do you have any cool Athas related stories? Leave a comment if so.
I would like to take a moment to mention one of things that I do when I'm not writing for Dungeon's Master, which is record actual play podcasts. If you want to hear the whole adventure with my group you can find the recording by searching for Shattered Sea on iTunes. You'll also find the entirety of the first season of D&D Encounters recorded and presented there as well.
Visit the Dungeon's Master D&D Encounters Archive for all of our ongoing weekly coverage as well as other great D&D Encounters articles and resources.

Looking for instant updates? Subscribe to the Dungeon's Master feed!