DMs are encouraged to say yes whenever possible in 4e D&D. But in a recent game we experienced a situation that was very unusual and saying yes didn't seem appropriate. As the DM I said no at the time but agreed that we should do some investigation before the situation happens again. I've been scouring the boards to see if anyone else has encounter the same problem and after two weeks of searching I haven't found a definitive answer. So for the first time since we started Dungeon's Master I'm asking our readers for their thoughts and interpretation on the correct way to interpret this ruling. I suspect that there won't be a clear-cut right or wrong answer, but I'd like to get some input from the online 4e D&D community before my next home game.
Our problem stems from teleportation. Here are the facts about teleportation, none of which are in dispute. If a creature or PC wants to teleport himself he has to be able to see his intended target square. He can't teleport behind a closed door and he can't teleport if he's blind. Yes, I know there are powers and items that let you bend these rules, but in our case we'll go with the rules as written.
Here's the situation. The party's Wizard, Cruven, used his power Hammerfall Step. It's a level 11 power granted from his Arcane Wayfarer paragon path. It's a close blast 5 and targets each enemy in blast. If it hits, each enemy takes damage and the caster can teleport the target 3 squares. In most circumstances this is a very straightforward and incredibly useful power. The problem we faced was that Cruven couldn't see the targets in the blast. Knowing how sight-dependent teleportation is in 4e D&D I ruled that creatures in the blast still took the appropriate damage if hit, but they couldn't be teleported since Cruven couldn't see them.
So the question I'm asking at its most basic level is this: Can you teleport a target if you cannot see him or if you cannot see his origin square?
Before we get into the actual debate, let me describe two similar situations where this ruling becomes tricky.
Situation 1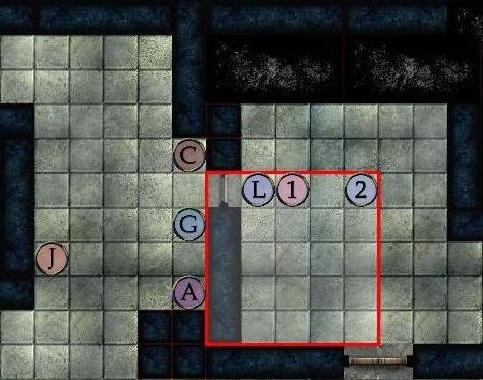 Luk the Rogue rushes through the door. Before anyone else in the party can act, Luk cries out in pain. "Help, I'm getting attacked." Cruven is next to act and has no intention of following Luk into the room. Instead he decided to use Hammerfall Step to bring his unsuspecting opponents out to the party and give Luk some breathing room.
From Cruven's position he can probably see Enemy 1 at least a little bit. Even if he can't Luk tells him that Enemy 1 is directly in front of him. Cruven hits both Enemies in the blast. Enemy 1 is teleported 3 squares between Grumbar the Fighter and Are'zo the Assassin – both gain combat advantage from the flank and intend to put it to good use since they're up next.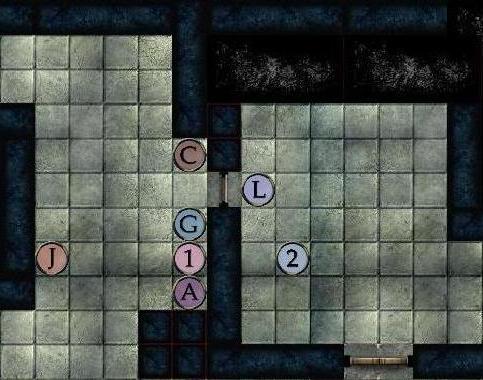 But what about Enemy 2. Cruven absolutely cannot see him from his current position. But Enemy 2 was hit and took damage. Is Cruven aware of how many targets he hit and their location within the blast? Even if he doesn't, it's magic so does it work despite Cruven's ignorance? If he doesn't know that Enemy 2 was hit how can he determine where his final destination of the teleport should be?
Situation 2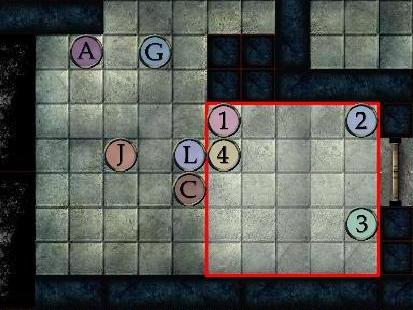 Luk the Rogue rushes ahead of the party seeing that the room is empty. Or is it? There are four invisible enemies in the room, none of which have been detected yet. Enemy 4 moves next to Luk and attacks him, becoming visible. Luk cries out in pain. "Help, I'm getting attacked." Cruven is next to act. He moves up to the most strategic position and blasts the room using Hammerfall Step.
Cruven has no idea that Enemies 1, 2 or 3 are even in the room. He can only see Enemy 4. But experience has taught him that where there's one foe there are often more, he decided to err on the side of caution and blasts everything. He successfully hits all four Enemies. Enemy 4 is teleported 2 squares between Josey the Rogue and Luk. Both gain combat advantage from the flank. Josey intends to put it to good use since he's up next.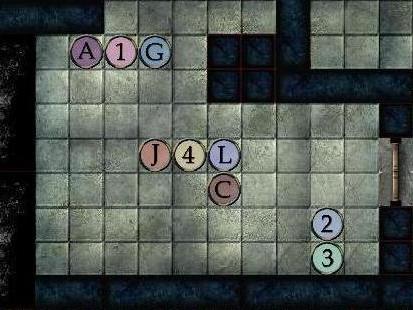 The other three Enemies take damage. But as in the previous example Cruven cannot see them. The player can see the minis on the map so he indicates where he'd like them to move, but the character doesn't have a clue. Does the teleport happen anyway? Does the effect of the blast create a silhouette around the Enemies making them visible for a split second so that Cruven can determine where to teleport them?
As I said above, my initial ruling was no. If the character cannot see the target he cannot teleport him. But the more I've thought about it the more I'm leaning towards letting Cruven do exactly what he wants in both examples above. If the power was a push effect it would work. But then again push isn't a sight-dependent power.
I've asked a few DMs how they would handle this scenario and none had a definite answer. One DM suggested that Cruven be able to teleport the unseen Enemies, but have some restrictions. Cruven can only determine distance and direction of targets in the blast. "I move all unseen enemies in the blast 3 squares away from me to the right." If the target square isn't a legal teleport destination (inside of a wall, for example) then that Enemy doesn't go anywhere. Everyone else is moved 3 squares away as intended. But Cruven still wouldn't know how many Enemies were hit, where they started or where they finished.
So again I'll ask: Can you teleport a target if you cannot see him or if you cannot see his origin square?
I'm sure I'm opening up a can of worms, but I want to get this right. The player came up with a creative use of a power I don't want to deny him the opportunity to use it to its fullest potential. In this case it's a level 11 power which I think should let him do extraordinary things. So calling all rules lawyers and know-it-all DMs and players, please weigh in and let me know what you think. How would you handle the situations described above? Would you handle either case differently or do you have a ruling that works in all circumstances? I want your input.

Looking for instant updates? Subscribe to the Dungeon's Master feed!


Loading ...