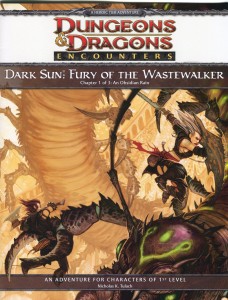 Today is Canada Day, a holiday across Canada, which meant that last night's D&D Encounters Dark Sun had less than usual attendance. After three weeks with 20 or more participants, this week we were down to only 12 (including the two DMs). So with two tables of five, we returned to Athas.
Before we started the encounter itself, Jarvix performed a Comrades' Succor ritual. This allowed the PCs to redistribute their remaining healing surges. So going into the encounter for week 4 everyone had full (or nearly full) hit points and at least one healing surge at their disposal during the combat. I want to thank the other DM running D&D Encounters for pointing out this ritual and explaining how to use it. Having never played an arcane character with Ritual Casting I had no idea. It made a huge difference.
The encounter began with the skill checks towards the ongoing skill challenge. My intent was to provide the players with the skill cards I created earlier in the week, however I left them sitting in my printer and didn't realize it until I got to my FLGS. Well, hopefully some of you found these cards useful. I will certainly use them next week. As it turned out, all of the players at my table were fairly experienced 4e D&D players so they didn't need the skill cards to know what other abilities their PCs were capable of doing (or attempting). Had my table been filled with newer players like it was last week, then the skill cards would have been a huge help.
After the skill checks were finished, the PCs came across a lone Dwarf named Ralo in the desert. He parleyed with the party and explained who he was and what he was doing in the desert alone. But before he could provide any other details the party was attacked by a Poisonscale Magus and three dust devils.
The monsters focused their initial attacks on Ralo. He was brought below 0 hit points and slid into the slit pool to suffocate to death by the end of the first round. The PCs ignored the plight of their new friend and engaged the enemies in combat.
The Magus managed to inflict a lot of damage to the bunched-up party with his burst 3 attack. Shikirr and Castri engaged the Magus in melee. By the second round, the Magus had only 4 hit points remaining and was pinned against a rocky outcropping. He desperately tried to use a ranged attack against the now poison-vulnerable PCs, but Castri rolled a 20 and soundly connected with his opportunity attack from the adjacent square.
Meanwhile the dust devils all managed to get multiple PCs in their close burst 3 attack inflicting 3d6+3 damage each. My d20 wasn't as hot this week as it's been, but my damage dice were on fire. When rolling the 3d6+3 for the dust devils damage I rolled 4, 5, 6 +3 = 18; 4, 6, 6 +3 =19; 5, 6, 6 +3 = 20. The PCs didn't stand a chance. Or so I thought.
It's refreshing to see players play smart and realize that they can do more than fight on their turn. Jarvix and Castri were both unconscious. When Phye's turn came around she wasn't close enough to engage any of the enemies in melee. So she did what a leader is beast at – healing. She used her Ardent Surge healing power as a minor action to bring Jarvix back to consciousness. Then, as a standard action, she made a successful Heal check on Castri who was unconscious in the adjacent square allowing him to use his second wind. Two comrades who were unconscious were now awake and were able to attack on their respective turns instead of just rolling another death save and hoping for a 20.
Smart combat tactics also made all the difference this week. The PCs worked together to focus fire on the Magus first. After he was down they all worked together on a single dust devil before engaging any of the others. Shikirr, the defender, marked the dust devil most likely to attack the weaker and vulnerable PCs. Had my damage dice not been red hot, this encounter would have ended after two rounds rather than the four it ended up taking.
Of the four encounters I've run in D&D Encounter season two so far, this week's was the most fun (for me). It seemed appropriately balanced. The players finally have a good sense of what the pre-generated characters can do. They've seen what the party as a whole is good at and what it's not so good at. They realize which characters should be engaging in melee and which ones should be diving for cover.
My only real complaint about this week's encounter is that the monsters seem to do a lot of damage. And this is not just this week, but every week. I don't think it's right when the monsters can deal up to 21 damage in a single attack. Especially when that's only one or two points less than Barcan, Jarvix and Castri's maximum hit points (22, 22 and 23 respectively). I realize that this attack should deal about 12 points on average, but some poor players – like the guys at my table – will end up on the wrong side of that average and take a real pounding.
Next week is the final encounter of chapter one. The PCs will get an extended rest and level up at the conclusion of next week's encounter. Only Shikirr, Yuka and Phye are going into the final battle with healing surges (one a piece). None of the PCs are at maximum hit points, although most are pretty close and no one is bloodied.
Visit the Dungeon's Master D&D Encounters Archive for all of our ongoing weekly coverage as well as other great D&D Encounters articles and resources.
How did you manage this week? Did the Magus manage to survive longer at your table and really do some damage? Were my players the only ones who just let Ralo die during the combat? How many of your party members do you expect will survive the next encounter?

Looking for instant updates? Subscribe to the Dungeon's Master feed!