Recent events in the Dungeon's Master home game have resulted in a sub-optimal adventuring party make-up. What do I mean by sub-optimal? One of the four roles is missing. In our case we are blindly adventuring without the benefit of a leader to keep us healed and buffed up.
The subject of playing in an unbalanced party is one we have covered before. However, over the next few weeks we will take a deeper look at what it means to adventure when one of the four roles is missing. Today our focus is on the absence of the leader.
Some might say that a party without a leader is doomed to a quick death. Nothing could be further from the truth. While this type of a party has some serious drawbacks, it's nothing that can't be overcome. What does the Leader offer the party?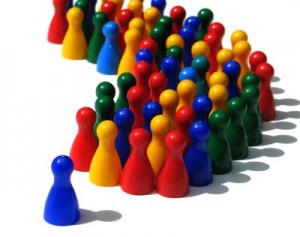 The leader is a buffer and a healer. Leaders allow healing surges to be expended, with extra healing added in for good measure. This is accomplished through the leaders healing word (or equivalent). While some leaders have other powers that allow PCs to expend healing surges if other conditions are met, it is the Healing Word power that defines the leader role as it is a class feature that all leaders share.
What happens after two healing words are expended during combat? Within two rounds, if the NPCs are intelligent and focusing their attacks, PCs start dropping. Without healing support PCs realize their dependence on the party leader as they start making death saves. How does a party of adventurer's survive without a leader? Tactical movement and self-healing.
Tactical Movement
4e D&D is a game that emphasis tactical movement. The addition of forced movement through push, pull and slide is a clear indication of this. If a party is going to survive without the leader's support, mastering the art of tactical movement is a necessity. Standing still and trading blows with the enemy simply won't do. During most combat encounters two things happen immediately: 1) melee combatants from both sides meet within the first two rounds, and 2) ranged combatants hang back firing death into the fray. The position of combatants usually remains static until it comes time to eliminate the artillery and controllers.
With a leader to provide support through healing this tactic can work, though it's far from optimal. Adventuring without a leader requires that the party use every opportunity that they have to move, constantly keeping their opponents off balance. Combine this with effective use of a controller's abilities ensures that PCs take as little damage as possible. Powers that allow movement before or after an attack should be at the top of your list, allowing PCs to stay out of melee.
Self-Healing
I've spoken before about Creating A Character That Can't Be Killed, so I won't rehash that argument or build here. However, if you are adventuring without a leader then you need multiple ways to ensure that you can heal your PC. Several skill powers that are based on Endurance provide this benefit. Our article, Brave Warrior Heal Thyself lists items that allow a PC to expend a healing surge. Among my favourites are the Diamond Cincture and the Ring of Invigoration. Consumables such as a Woundpatch are a great way to get extra healing out of your surges.
Don't overlook the importance of the Toughness and Durable feats. Every hit point is going to matter and so will every healing surge. Finally, don't forget about your Second Wind. Too many players I've met are more concerned with dealing out an extra round of damage. Effective use of your Second Wind can keep your PC in the fight. In fact, some players running leaders won't offer additional healing until you've expended your Second Wind, as we've previously discussed in I'm Your Cleric, Not Your Bitch. 
Party Make-up
When the leader is absent from the party the best substitute is a highly mobile striker. The extra damage output that the striker provides compensates for the lack of healing simply because enemies are dying faster. Because strikers are normally fairly squishy you will want to ensure that all strikers have the ability to get out of sticky situations.
A strong defender, one who is able to take a lot of punishment is also a necessity. This should be a PC who doesn't mind taking the hits and can ensure that enemies stay close. In other words a very sticky defender is required. Controllers should load up on powers that allow them to subject enemies to forced movement and daze. Don't overlook the first level power of Sleep. Combined with the right implements it can be a game changer.
What experiences have you had in adventuring without one of the four roles? Was it a hindrance to the party? Do you find the leader is an essential part of your dungeon delving experience?

Looking for instant updates? Subscribe to the Dungeon's Master feed!