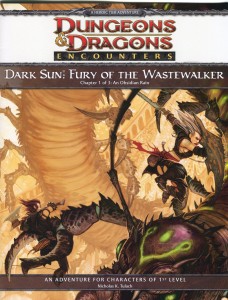 As Fury of the Wastewalker chapter 3 began the party was captured by savage Halflings. Among the captives were some new faces as players were encouraged to create their own PCs. How will these new adventurers work with the pre-generated characters? Let's find out.
Our numbers held steady at nine. Not enough players to run two tables but more than enough for a normally balanced encounter. For the second week in a row, our DM agreed to run the encounter with a party of eight.
This was the first week that we were allowed to create our own characters. After all of the complaining over the past 10 weeks about how bad the pre-generated characters were, I expected almost everyone to arrive with their own character. I was wrong. Of the eight players only three of us made new characters. The new party members included a Human Ranger (armed with a superior crossbow), a Human Fighter, and my character, a Minotaur Seeker (a race and class I'd never played before). The other five players stuck with the level 3 versions of the pre-generated characters – Castri being the only one missing.
One of the easiest ways to distinguish a good DM from a great DM is by their ability to be flexible and make changes on the fly. Our DM decided that the introduction to chapter 3 was a little bit weak so he tweaked it a bit. We were still captured by the Halflings and shoved into holding pens as the adventure suggested, but that's where he decided to deviate from the scripted adventure for the betterment of the encounter.
The PCs were paired up and put into four separate cages in different areas of the map. Each pair of PCs could work together to escape, but that was the extent of aiding another player. So we began the encounter with some role-playing as each PC described what they were going to do to try and escape.
I was paired with Phye (run by the player who used Barcan Prime last week). Phye decided to "flip out" and started yelling and screaming until the guards came over to investigate. The astute Halfling easily saw through the ruse and all Phye got was the butt end of a spear to the gut for her troubles. Meanwhile the new Fighter, paired with Jarvix) tried to reach for the guard's spear as he walked past the cell. But this guard was alert and the Fighter was unsuccessful. However, when the Halfling guard tried to butt-end the insolent Fighter for his actions, the Fighter made another grab for the spear. This time he was successful and he managed to shove the business end of the spear back into the guard's stomach. With the guard injured, the Fighter used the spear to force open the door.
On the other side of the camp Yuka and Shikirr worked together to break open their cell door using a combination of Athletics and Stealth. The new Ranger and Barcan used Thievery to pick the lock and escape. Seeing all of their gear – including their weapons – just lying in a pile off to one side of the room, they quickly moved and armed themselves. The DM made it clear that with a standard action a PC could grab their weapon and one other item (like a shield or a neck item). There was not enough time during the heat of combat to don armor.
Now that three of the four cells were open the Halflings realized trouble was brewing and they started fighting for keeps, attacking the PCs who already moved out of their cells.
Meanwhile Phye and the Seeker (me) were still trapped inside of our cell. Phye used her Dimension Swap to free herself from the cell and switch places with the new Ranger. Her thinking was that a Ranger armed with a crossbow didn't need to be in melee anyway. I got fed up with being caged so as part of my Charging Gore attack I smashed out of the cell (with a successful Athletics check) and kept barreling forward into the guard with the spear would to his stomach. I connected soundly bloodying him and knocking him prone.
As the PC continued fighting the Halflings we realized that at least two other Halflings were missing from the fight. With all of the noise they would be aware something was amiss and would likely return quickly.
On my next turn I moved towards the equipment pile and grabbed my Bastard Sword (a Farbound Spellblade +1) and my light shield. As a minor action I activated a stance that let me crit on 19-20. I then used an action point to make a ranged at-will attack by throwing my sword. (Yes, a ranged attack with a sword – look up Farbound Spellblade, it's pretty cool that way.) I rolled 19. Crit! I threw the blade and it cut the Halfling in two, killing him instantly. I'll take my moment of greatness reward now.
Meanwhile, Barcan found himself flanked by two Halflings. He decided to use Blazing Starfall. But in order to do that he'd need to include himself in the burst. Phye cried out that if he did that and took damage she wasn't going to heal him. Barcan did it anyway. The two attacks against the Halflings came up 3 and 4, two misses. The attack roll against himself was 17, a solid hit. And then he proceeded to roll the maximum damage. The next round the two Halflings both struck solid blows and Barcan was unconscious with ongoing 5 poison damage. Fortunately Phye reneged and provided Barcan with some healing.
As we finished off the initial batch of Halfling guards, four more joined in the fight. Two climbed atop the wall and used ranged blast attacks on the PCs dumb enough to stay clumped together (me included). The other two engaged the Ranger and Jarvix in melee, limiting their ranged attack abilities.
Working together we managed to pull the two ranged attackers off of the wall. I then used a power that dazed both of them. This let Shikirr trap them both next to a wall. If they wanted to use ranged powers while dazed they would provide Opportunity Attacks from him. Since they were both blooded and likely going to die anyway they tried to hit us with their burst power again. But Shikirr's hot dice held true and he managed to kill both attackers before they could get the ranged attacks off. Our new Fighter helped defeat the other two Halflings bothering the ranged attackers. We quickly grabbed the rest of our gear and took off before any more Halflings arrived.
Although I was a player for this awesome encounter I was ready to DM a second table if necessary. So when I got home I re-read the encounter for week 11 to see what changes the DM made. I really like how he adjusted the skill challenge at the beginning. His method was a lot more exciting and kept all the players engaged. Having the PCs unarmed and unarmored also added a bit of excitement and forced the PCs to decide if they really needed their stuff to fight. Jarvix and Barcan were fine without their gear, but the rest of the PCs used a standard action to retrieve their weapons during combat. Having us unarmored made it more likely we would take hits and suffer damage (which we did).
He also tweaked the monsters. He started by adding a second wave of monsters (which I certainly expected seeing as how there were eight of us). I really liked that he changed the Halfling Wilders' Mind Thrust from a power that usually targets one creature to a ranged blast 1 within 10. He also gave it a secondary property that imposed -1 to attack rolls for each creature hit in the blast. So I took a -3 on my attack after three of us were hit in the blast. I'm not sure if he adjusted their defenses or hit points, but I wouldn't be surprised if he raised them a little bit just to keep things exciting.
Letting me create and play my own character has made a huge difference. I was starting to get a little bit bored with D&D Encounters and I realize it was largely because I didn't care at all about the pre-generated characters. Jumping in at level 3 also helped a lot. I enjoy heroic tier but I'm just not that interested in starting at level 1. I get that new players need to start at the beginning, but adding a level or two adds so much more to the character.
Visit the Dungeon's Master D&D Encounters Archive for all of our ongoing weekly coverage as well as other great D&D Encounters articles and resources.
How did chapter 3 begin for everyone else? How many people created their own characters and how many just kept using the level 3 versions of the pre-generated characters? Tell us (briefly) what some of the new characters were like and how they improved the party make-up.

Looking for instant updates? Subscribe to the Dungeon's Master feed!