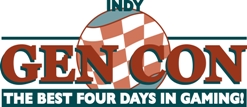 After 9 grueling hours in the car with Ameron we've arrived in Indy. Our badges are in hand and the slaying of monsters awaits. Over the course of the best four days in gaming Ameron and I will have periodic updates about the events and sights that make up GenCon. Over the week our plan is to play some LFR games, check out the Dark Sun Arena's and of course the Open Championship. We've teamed up with half of the C Team, last years winners. Last night we me up, handed out the character assignments and worked out our some strategy. Keep your swords or wands crossed for us.
GenCon promises to be a week of great fun, chance encounters and little sleep. We'll post as many updates and images about the events as we're able. For now I need to get what sleep I can, the life of an adventurer is uncertain and you never know when you'll get your next extended rest.

Looking for instant updates? Subscribe to the Dungeon's Master feed!