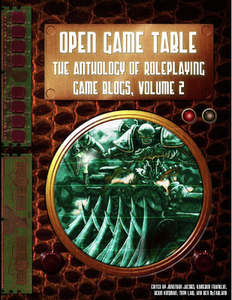 Last week I received my copy of Open Game Table 2 in the mail. For those of you not familiar with this publication it's a collection of great articles from around the blogsphere that highlight the best in gaming. There is a lot of D&D stuff in here but it's not exclusive to D&D.
From Blog to Book
Creating OGT2 was a collaborative and interactive process. The articles selected for inclusion in OGT2 were done so after after a long and arduous vetting process. Anyone and everyone was invited to submit the URL of their favourite online gaming article for consideration in the OGT2. There were 376 submissions.
The next step was for the volunteer judges and editors to review all the articles and widdle this massive list down to something more manageable. After many weeks of intense review the list was pared down to 70 articles.
Many great blogs ended up contributing to OGT2. Check out the complete list at The Core Mechanic. I encourage you to look over the blog list and if you find one you don't recognize, do yourself a favour and check it out.
Dungeon's Master Involvement
Of the 376 articles originally submitted for consideration in OGT2, Dungeon's Master had 11. After the review process we ended up having 3 of our 11 make the final cut. As ecstatic as we were to make the cut at all it was especially rewarding that our three articles were written by three different authors.
These are our three contributions to the OGT2.
Purchasing Open Game Table 2
To purchase your very own copy of Open Game Table 2, visit Lulu.com. Print copies are $22.95 and PDF copies are $9.95 (prices in US). Here's the description of OGT2 from the publisher's website.
Foreword by Justin Achilli. Through the combined efforts of over 70 authors, artists, editors, and fans of RPG blogs – Open Game Table is back! Inside you will find timeless interviews with Dave Arneson on the roots of roleplaying games, Robin D. Laws on RPG theory and game play, and Jonathan Roberts on his career as a master cartographer. Included in Volume 2 are 65 articles that serve as the perfect complement to Volume 1: GM and player advice on character and campaign design, sandboxing, story pacing, play styles, gaming with your kids, and much much more. WIRED.com's GeekDad blog says Volume 1 is "… a treasure trove. A tome worth killing a few orcs for." and "The kind of brain stimulus role players need, diverse and quality content." Bards & Sages Fantasy Review says "Open Game Table, Volume 1 is the reference guide equivalent of a Deck of Many Things, … you can draw from it again and again." Open Game Table, Volume 2 brings that same level of excellence back to the table, and never misses a roll.
The original Open Game Table anthology is also available for purchase. Print copies are $22.95 and PDF copies are $9.95 (prices in US). We're not featured in the first anthology but please don't let that stop you from picking up this book. It was because the first OGT was so successful and well received that they even considered putting together OGT2. Pick up the first book, you'll be glad you did.
Thank You
We want to once again thank Jonathan Jacobs from The Core Mechanic for all of his hard work in putting together the Open Game Table books. If not for his leadership and drive the books would never have become a reality. We'd also like to thank everyone who volunteered their time and money to get OGT2 to press. And of course, we want to thank all of the readers. If it wasn't for all of you we wouldn't be writing these gaming blogs in the first place. No blogs means no materials for OGT. So thanks to the readers. Please purchase your very own copy of OGT and OGT2. You're not only supporting the gaming community but you're also getting a collection of some of the best gaming articles out there.

Looking for instant updates? Subscribe to the Dungeon's Master feed!