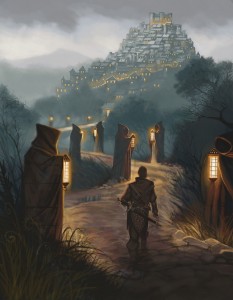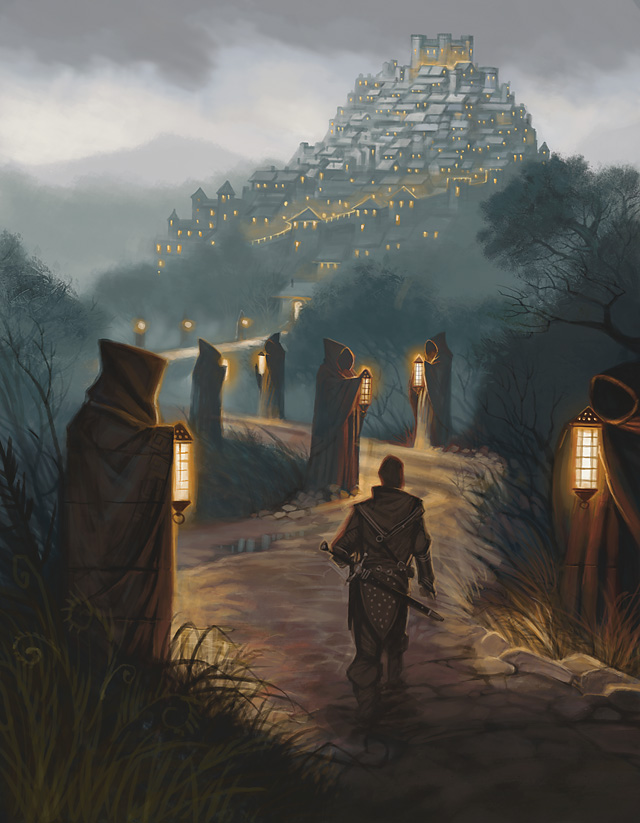 D&D Essentials have arrived and yesterday I received my copy of the Rules Compendium and Heroes of the Fallen Lands. I have to admit that at first I had no intention of picking up any books in the Essentials line. I figured I would wait for Character Builder to update and then look at the new options that are available. I'm glad I didn't.
For those not aware D&D Essentials is an alternate path for advancement available to your D&D characters. The Essentials line is a series of 10 products that gaming shops are encouraged to keep in stock. They are essentially the new entry point for beginner players. That being said, players other than beginners may find the new options to their liking. For more information on the Essentials line, including release dates, read our post regarding the Wizards of the Coast Preview.
There has certainly been a lot of debate about the merit of the Essentials line and it's place in 4e D&D. I'm not here to tell you Essentials is the best thing since sliced bread or that it's the worst product WotC has produced in years. Instead I'll give you my honest feedback of what I've read so far and leave you to make your own decisions.
My biggest complaint with 4e is the lack of fluff. The PHB told me how to make a character, but I really felt it lacked the depth of material required for me to become immersed in the new edition. I'm fortunate that my home group plays in the Eberron campaign setting, so we already have a detailed world to become immersed in. If you are a new D&D player and you don't have this resource to draw on, it could leave the initial release of 4e feeling hollow with a lot of information to absorb.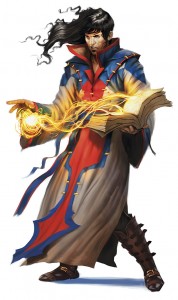 When I say a lot of information to absorb I mean the Player's Handbook has 122 pages devoted to characters, more specifically powers. Only two pages per class were devoted to fluff. With 8 classes represented in the PHB1, that's 16 pages of fluff and 106 pages of powers. If you pull out your PHB for 3.5 you'll find 38 pages devoted to character classes in that book. Clearly, there was a large shift in how classes and the entire mechanics of 4e work. Now don't get me wrong, I love 4e and can't imagine going back and playing any of the previous editions. But it's taken the release of the Essentials line to really hammer home what I don't like about 4e. As much as I may enjoy the current edition, I'm not so naive as to think it's perfect.
The Essentials line attempts to bridge the gap. On my first read through Heroes of the Fallen Lands my initial thought was that this book should have been released first. It should be the Player's Handbook.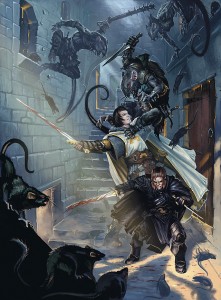 My reasons for purchasing Heroes of the Fallen Lands was the promise made during the WotC preview seminar at GenCon this year, that we would see more fluff and background material in the source books. I wanted to see if the release of this first Essentials product would deliver on that promise. I'm pleased to say that it does, though not as much as I had hoped. I'll temper that comment with the revelation that I love background source material. This material is often some of the best material released as they fill the heads of DMs and players alike with ideas.
The books in the Essentials lineup were released in digest format and I must say I'm a fan. If I have one complaint about digest format it's that I like to put my character sheet on my book and role dice on it. We all have our habits and this is one of mine. From a weight perspective the books are comparable to the PHB. The quality of the paper and binding is good, this is not a flimsy book and production values appear high. Heroes of the Fallen Lands comes in at 345 pages and the Rules Compendium contains 319 pages. I didn't know there were that many rules either.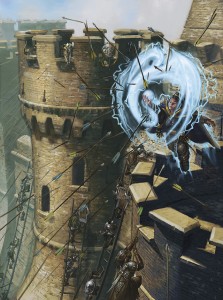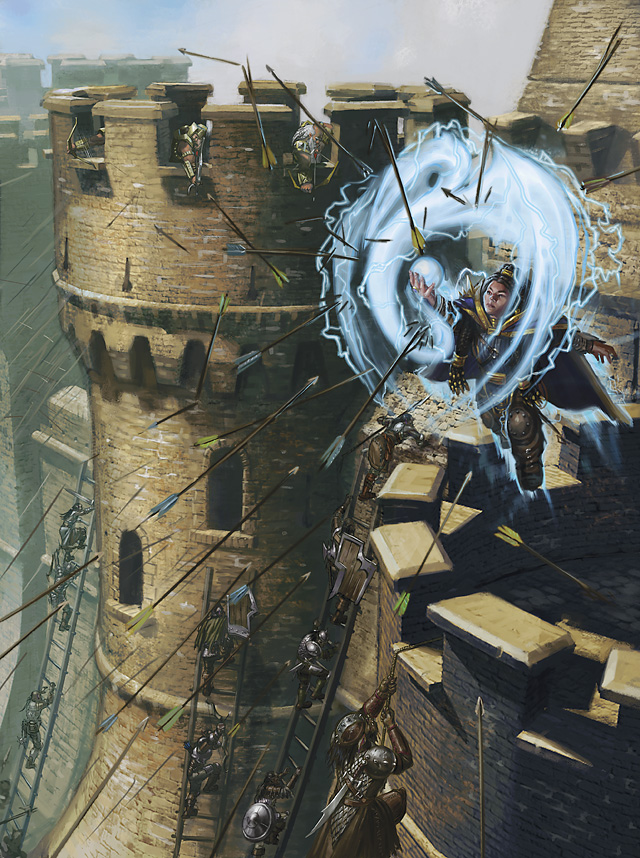 The cover and chapter art of the books are great, serving to suitably inspire all players with new ideas. Chapter art in the Heroes of the Fallen Lands contain a caption explaining the scene, presumably to assist new players in understanding the creatures and actions that are available. The interior art is also fantastic, many of the contributing artists are individuals whose names you've seen and heard before. Unfortunately, so are many of the images. Much of the art was released in earlier 4e products and has been recycled in in these first two Essentials products. I'm fairly disappointed by this, as I said the work is top notch, but if WotC is going to release a new product new art would also be nice. Especially if they want the existing player base to buy the product. My final comment on the art is that there isn't enough of it. I'm not sure if this is because the book is in digest format, and therefore words and art are spread out further than a regular publication, but the book could use more art on the pages. Even another half dozen images would do wonders to making the book feel fuller and more vibrant.
Rules Compendium
I'm not going to label this a must buy. If you have a DDI subscription and a laptop open during your game sessions you have access to everything in the Rules Compendium, making this purchase redundant. I am going to label it a should own, the folks at WotC have done a great job of collecting all the rules and dropping them into one books.
The contents are organized in a structured way that makes sense and is easy to navigate. It also takes information contained over multiple sources, pares it down and combines it into one entry. Very helpful. A few weeks ago my group was looking up rules on disease and were bouncing between the DMG and MM. No longer, it's all in one location. Some rules that didn't seem clear before appear to have received clarification. Recently we wrote an article regarding rule clarifications on teleportation. Had the Rules Compendium existed when we wrote the article, well we wouldn't have needed to write the article.
One of my favourite features of the Rules Compendium is the glossary. Every term and condition is briefly described at the back of the book. On its own this is a great resource, combined with the rest of the book it does make the Rules Compendium a great book to have on any gaming table.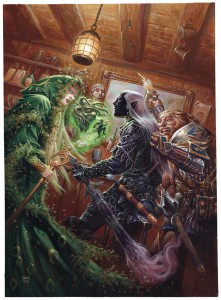 Skill challenges, always a favourite subject here, have also received some attention. The new skill check DCs are included along with some new mechanics for larger skill challenges. There is information on skill challenge complexity, that is how many moderate and hard checks should be in a given challenge. A clear definition between primary and secondary skills in skill challenges is also present. Finally, a new mechanic called Advantages has been introduced for skill challenges that have a complexity level higher than three. The idea behind this mechanic is to provide the adventurers a way of gaining an advantage. Examples include awarding two successes for defeating a hard DC check. We and other bloggers have written a lot on skill challenges as they are a new and perhaps misunderstood element of the game. The section on skill challenges in the Rules Compendium helps to broaden the amount of official advice available from WotC. This section is well worth the read.
Heroes of the Fallen Lands
I felt like I was a kid again as I flipped through this book. The layout reminded me of opening Player's Handbooks of editions gone by. Heroes of the Fallen Lands will tell you how to build a character from the ground up. If you purchase this book, you don't need the PHB to fill in the rest of the rules. Everything is here from character creation, equipment and combat.
Heroes of the Fallen Lands details Clerics, Fighters, Rogues and Wizards, the core classes that belong in D&D and it does a good job of it. There is a great deal more fluff about playing the class. Read this as new-player friendly, if you've been playing D&D for years or any computer RPG then you really know what these classes do. What Heroes of the Fallen Lands does it help place the classes into the lore of Dungeons & Dragons.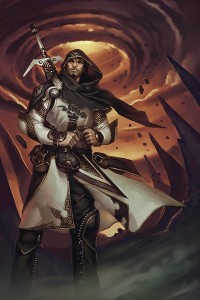 The Essentials builds of these four iconic classes are different from the original release of 4e. However, much is still very familiar. While I haven't built a character yet, the power level does seem to be on par with what is available in the PHB. While the Essentials version of the classes isn't necessarily simpler, I do feel that they are what should have been released with the launch of 4e. The classes really feel like a hybrid of Original Red Box, AD&D 2e, 3.5e and 4e mixed together together in a cauldron with the end result being a very tasty concoction. For sure they aren't for everyone, but they are worth looking at.
One of the big complaints that I've read is that the Essentials builds won't be compatible with the existing 4e classes. Nothing could be further from the truth.
"Other Dungeons & Dragons supplements, including Dungeons & Dragons Insider, offer additional powers that you can choose from. Whenever you choose a new class power, you can select it from the list presented in this book or you can take a power of the same class, level and type (attack or utility) from another source.

For example, when your slayer reaches 2nd level, you could select a 2nd-level fighter utility power from a source other than this book or you could choose one of the 2nd-level fighter utility powers in the "Knight" section of this book." – page 52, Heroes of the Fallen Lands.
What this provides is very easy power customization. Many of the options available to Essentials characters are very appealing. I play an Assassin in our home game and I'll be reviewing the Essential Assassin released through the DDI (subscription required) to see if any of the options present there will work for my character. Yes, DDI members you get a bonus Essential class to play with. Think of it a test, if you like what you see you will probably enjoy the Essential builds.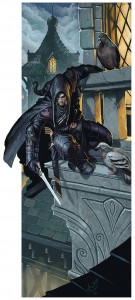 The classes felt right to me. The Wizard felt like a Wizard should, an individual casting spells memorized from a book. Not an individual using a power, called a spell, like every other character. Fighters give up daily powers in favour of more at-will powers, representing stances. The stances vary from aggressive, to defensive, to everything in-between. From a flavour perspective it make sense and actually looks like a fun class to play. Based on the limited experience I had playing the Fighter during the Convention Delve at GenCon, the fighter should be fun to play.
While Heroes of the Fallen Lands details four classes it contains five builds. The Fighter is able to pick between the role of defender or striker. My thought on this was finally, as it's something we wrote on well over a year ago in our article the Fighter as a Striker. It is also interesting to note that the two fighter builds receive different armour proficiencies. The Knight starts off with plate and shield proficiencies, the Slayer only receives training up to scale and has no training with shields. Both receive the same starting hit points and hit point progression. While both builds are Fighters, the Slayer does not receive the new Aura Mark or any other power that can mark an enemy. This demonstrates how WotC is playing with the role system and producing two builds that both feel like fighters. The Slayer might not be able to mark, but his other abilities make it so no enemy on the field will want to ignore him. With the release of Heroes of Forgotten Kingdoms in November we will have our first martial controller represented in a Ranger build. This makes me wonder what similarities it may have with the Seeker.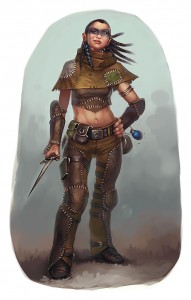 The section on races does contain a little bit more background on how the race fits into the lore of D&D. Don't look for 100% new material here though. Much of the content of the Dwarf, the only race I read in great detail (they are the best race), is pulled from the PHB. While disappointing, it's not surprising. WotC wasn't out to rewrite the lore on the races, just provide more information on where they fit in.
The feat section contains both new and old feats. Most of the new feats are themed around the deities and all start with Disciple of… Again the point of the release was not to provide 100% new content, but for an easy launching point for new players. As a result some of the most common feats are repeated.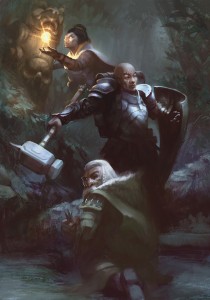 Both the Rules Compendium and Heroes of the Fallen Lands are good releases. If you've been playing 4e since release you don't need these books. However, if you are new to D&D (not just 4e, but D&D as a hobby) I will say that they are Essential. These releases are a better entry point into D&D than the original 4e core books. A copy of the Rules Compendium on your groups table would be a wise investment, but not necessary. If you are interested in seeing how WotC have again stretched the mechanics of 4e to create something new, yet compatible, pick up Heroes of the Fallen Lands.
Much of the debate and anger towards the Essentials release is the perception that they are D&D 4.5e. After reading them, I can say I don't feel that they are. In many ways the Essentials release is superior to what we already have, but they aren't a new edition. I would also wager that a group using characters built from the Essentials rules over a group using characters from existing sources will finish an encounter quicker. This is because the options have been pared down. In the case of the Fighter you aren't debating what power to use, you know what power you're going to use. You are going to swing your sword, everything else is window dressing.
If you've read this far it's apparent that I'm a fan of what I've read in Heroes of the Fallen Lands. Other than the Convention Delve at GenCon I haven't seen any of the new Essentials builds in action. The current season of Encounters should give both experienced and new players alike a better sense how good or bad these builds are.
Have you picked up any of the new Essentials products? How do you feel they measure up compared to other D&D 4e releases?

Looking for instant updates? Subscribe to the Dungeon's Master feed!