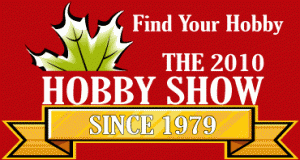 The 2010 Hobby Show & The Great Canadian Game Show is happening this weekend in Toronto. It's a showcase for many hobbies and games including, but not limited to, Dungeons & Dragons. If you live in the Greater Toronto Area or are a reasonable driving distance from here I strongly encourage you to check it out.
The convention is happening at the International Centre in Mississauga, located at 6900 Airport Road and runs all weekend. Here are the hours of operation.
Friday, November 5, 1 p.m. – 9 p.m.
Saturday, November 6, 10 a.m. – 9 p.m.
Sunday, November 7, 10 a.m. – 6 p.m.
Daily Admission is $12 for adults, $7 for children under 15 and free for kids 5 and under. For $2 off admission, just visit their website and print the coupon.
For those interested in D&D we'll be running the 2010 D&D Convention Delve – Lair of the Dread Witch.
Dungeons & Dragons – Play Runs All Weekend Long
Entry fee: Free with paid ticket into the show. Running ongoing 1-hour delves. Intro session for new players and quick games for experienced players.
Register: In person at the show.
This delve is a series of 16, 2-encounter adventures. You don't know which of the 16 delves you're going to get until you sit down to play. Everyone is provided with a pre-generated, level 1 character (built using the D&D Essentials rules). You have 30 minutes to complete each encounter, which means that the longest your session will take is an hour. With 16 delves going it's possible to play again and again getting a different adventure each time.
Every time you play you earn points. More points are awarded for surviving both encounters and for exemplary play. The points can be cashed in for items that you're free to use the next time you play in a delve.
I had the pleasure of playing in a couple of these delves during GenCon this summer and I had a blast. Read all about my experiences playing in the Convention Delve at GenCon. This time around I'll be sitting on the other side of the screen, DMing all day Saturday.
If you're looking for more than just D&D then you won't be disappointed. There's a lot of cool stuff happening, including:
Great Canadian STIGA Table Hockey Championship
Great Canadian Trivia Championship
Great Canadian Scrabble Championship
Great Canadian Donkey Kong, Tetris and Pac Man Championships
I look forward to seeing you at the Hobby Show & The Great Canadian Game Show this weekend.

Looking for instant updates? Subscribe to the Dungeon's Master feed!