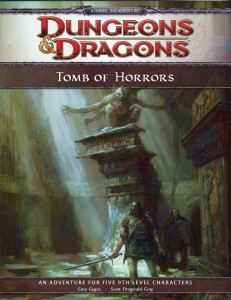 This is it. The final chapters in our adventure into the Tomb of Horrors. Who lives, who dies? You'll have to listen to find out. Follow the adventures of six experienced gamers as they delve into the Tomb of Horrors for the very first time.
Before diving into these podcasts, be sure to check out the DM's introduction as well as the earlier podcasts and an assortment of photos in Tomb of Horrors: Actual Play Podcasts (Part 1 | Part 2 |Part 3).
You can find all episodes of our Tomb of Horrors actual play podcasts in iTunes. Search for "The Shattered Sea" in the iTunes store's podcast section. The artist is Liam Gallagher (Bauxtehude's name in real life). You can also subscribe to The Shattered Sea with any feed-reader of pod-catcher by visiting The Shattered Sea and clicking on "Subscribe in a Reader."
Tomb of Horrors Episode #11, session 5 part 1
Anyone who thinks a delve into the most dangerous dungeon in D&D history is serious business needs to listen to this episode. It begins with a cautionary tale, told with all seriousness and turns into a running joke throughout the entire episode. The players probably spend more time laughing than playing during this session and we're betting you'll be laughing right along with us. As far as the game goes we explore the literal cross-roads, encounters a life-size rolling elephants statue as well as being thwarted by an impassable door.
Episode 11 | Launch Podcast
Tomb of Horrors Episode #12, session 6 part 1
Stumped by the impassable door the group back-tracks to the Tomb's entrance and retraces their steps right from the beginning. After revisiting every room (except the elemental vent) we finally solve the puzzle of the door and find Acererak throne room.
Episode 12 | Launch Podcast
Tomb of Horrors Episode #13, session 6 part 2
In the final episode we do battle with the evil lich-lord Acererak himself. The climatic ending was more exciting and unexpected than I think any of us anticipated. Find out who lived and who died as we finish the Tomb of Horrors.
Episode 13 | Launch Podcast
There you have it, the end of our Tomb of Horrors adventure. I was really worried that the adventure wouldn't live up to its reputation or the expectations we'd all built up over the years. I think I can safely say that we all had a blast and it exceeded our wildest expectations. I want to thank all guys for their participation and a huge shout out to Monty Martin for DMing the whole thing.
Now that's it's all over we welcome your comments and feedback. What did you think of our adventure? How did your personal experiences differ from ours? Did you enjoy the podcasts? Would you like to hear more actual play podcasts with the Dungeon's Master crew? I hope you had as much fun listening as we had playing.
Related reading (listening):

Looking for instant updates? Subscribe to the Dungeon's Master feed!