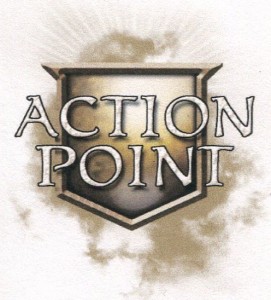 As D&D has evolved over the years many rules and mechanics have been tweaked and changed in order to make the game better. I think one of the greatest improvements was when actions points were introduced with the Eberron Campaign Setting back in 3e D&D. They began as bonus to your d20 roll. Expending an action point meant a good attack became a great attack. With 4e D&D the action point was changed and this good idea became a great idea. Now you actually got another action when you used an action point. Awesome!
Recently I've been thinking back to how Wizards of the Coast described the original action point mechanic. One of the reasons it was introduced was to add an extra level of excitement to encounters. This was your chance to have your character do something truly remarkable. You suddenly gave greater consideration to trying new things that were over the top and spectacular.
Knowing you had an action point in your back pocket, you weren't just swinging from the rope (which you knew you could do easily enough with a very attainable skill check), you were willing to try it one-handed while you fired a crossbow. Sure it was going to need an exceptional roll to work like you imagined it, but with the action point there to give your roll a bump you were willing to give it a try. It may not have worked every time, but I saw a lot of players try a lot of heroic (crazy) things when we were still using 3e action points.
Then we moved to 4e D&D and the action point gave you another action. Don't get me wrong, I like it. I like it a lot. In a game where everyone gets one attack action on their turn, making two attacks can be a truly decisive moment during combat. What I've come to realize is that the all of those really off the wall ideas that made 3e D&D adventures so awesome (because of the way action points used to work) have all but disappeared in 4e. Or at least that's been my experience.
Players know how the mechanics of 4e D&D work and they rarely stray outside of their comfort zone. During games I've been part of, players seem a lot more reluctant to perform those heroic action they're imagining when they know that they need a 19 or 20 to do so successfully. If only they had the reassurance that the old action points provided. And herein lays my disappointment with the way action points work now.
The very name action point sound exciting. When your character chooses to use his action point it should be a big deal. Something cool should happen. More importantly the players should have a lot of flexibility when they choose to use an action point. This is one of those instances where the rules as written should be more of a guideline than an absolute. If a player imagines a truly heroic scenario that is, perhaps, beyond their traditional abilities, the DM should be open to allowing it.
In my experience, I've learned that some of the most heroic behaviour doesn't happen on your turn, but on someone else's. With this in mind there are two immediate actions I allow players to undertake if they choose to use their action point: Take a Bullet and Last Second Grab.
Take a Bullet is when one PC is targeted with an attack and an adjacent PC chooses to take the hit for them. It's usually played out in slow motion as the second PC screams "Nooooooo" and physically moves in front of the attack targeting the first PC. Mechanically it's the same as the Paladin level 2 utility power, Martyrs Blessing.
Last Second Grab is when one PC is knocked off of a ledge and fails the save to catch the ledge, but before they fall and take an obscene amount of damage a second PC grabs them at the last possible second.
In both of these examples a player consciously decides to take action to save the life of a comrade. In my mind this is one of the most heroic actions any PCs can take. That's why I allow any player to use an action point and take these actions. These actions aren't technically allowed but as I said above when it comes to using action points I like to use a broad and generous interpretation of what can and cannot be done.
These are certainly not the only actions that I've allowed at my table when a PC uses an action point, but they are the ones that are used most often and with the greatest heroic effect. I like to let the rule of cool and, of course, the role-playing guide my hand when making a ruling on non-traditional uses of action points. When the players know that I'll give them greater flexibility to try those truly heroic actions I mentioned at the beginning of this article, they'll be a lot more likely to think imaginatively and try things outside of their comfort zone again.
What are you thoughts on action points? Do you think action points are fine as they are or do you allow for more liberal actions when players use them in combat? Am I being too liberal by allowing players to take immediate actions and expending an action point in the process? Do you think the 3e action point mechanic where players added to their d20 roll was better than the current 4e mechanic? Or do you think actions points in general are too powerful and should perhaps be curbed back?

Looking for instant updates? Subscribe to the Dungeon's Master feed!