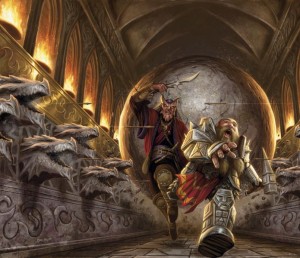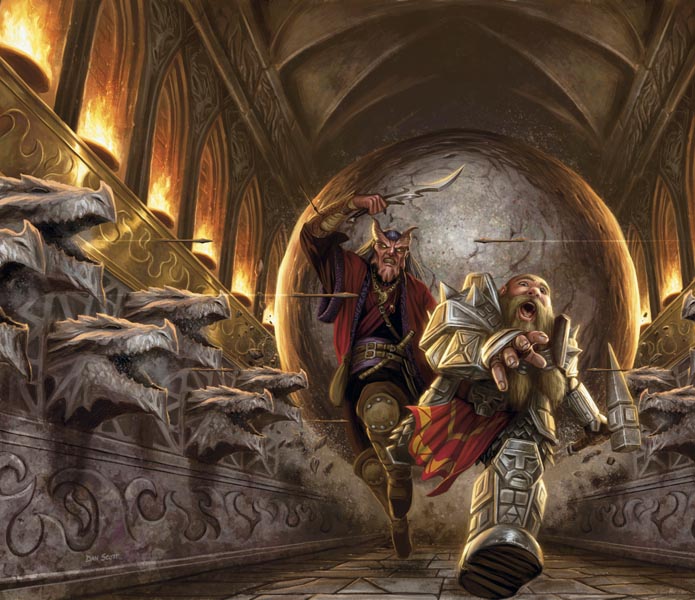 <click>
Paladin – What was that?
Rogue – Sounds like you stepped on a pressure plate.
Paladin – I thought you were keeping an eye out for traps?
Rogue – So I missed one.
Paladin – Is that supposed to make me feel more comfortable about the situation?
Rogue – Honestly, how did you get this far in life? Hold still, let me look… I said hold still, stop with the squirming.
<clank … clank … clank>
Paladin / Rogue – What was that?
Cleric – I have a bad feeling about this.
Traps have the ability to make mundane or otherwise quaint combat encounters brim with excitement and the unexpected. They also have the ability to overwhelm your players and slow down play. The key to using traps to enhance your combats is all in the execution.
Don't Be Predictable
Chest traps. Door traps. Pit traps. These all have one thing in common, they are predictable. They are the base model of all traps and the first place your players are looking. Of course there is nothing wrong with using these traps, just don't use them all the time. After all you don't want your players to ever stop looking for traps on any door they enter, even if you only trap 1 in 100.
What you don't want is your players picking up on a pattern. If  you only use a variation of these standard traps your players will always be on the lookout for them. As a result, the use of traps will fail to make combat the interesting, dynamic and dangerous situation that it should be. Instead combat will be routine and predictable. This is the last thing that you want.
Traps by their very nature should not be predictable, instead they should be spontaneous. Traps should inject an element of surprise into combat, your players shouldn't see them coming.
Let Them Know About The Trap
The room is large with a domed ceiling reaching 40 feet in height. There is a stale acrid odour in the room, as you venture further into the room it becomes close to unbearable. The room is dimly lit by torches that hang in sconces on the perimeter walls. Dominating the room is a large dais in the center. An altar is enshrined on the dais, seemingly made of pure gold. Beyond the dais is a large ornamental throne. Your high perception allows you to notice a lever on the floor next the the throne. As you scan the room you see no noticeable exit…
This is a simple description of a room a group of adventurers might encounter. A question your players might be asking is what does the lever do? Does it open a secret door allowing the party to advance beyond this room or is it a trap? It might actually be both, but in this case it is a trap.
The beauty of introducing a trap this way is that both your players and your NPCs can trigger it. Anyone who pulls the lever sets off the trap. The advantage the NPCs hold is they know where the trap is and can set it off at the most opportune moments.
Keep Them Guessing
What happens when one of your players sets off what they think is a trap and nothing happens? The get nervous, they might dismiss it, but in the back of their mind they will be waiting for the ball to drop. What happens when a second unexpected effect occurs? Perhaps a noise that is out of place or an unexpected effect.
Drop all of this into an active combat situation and your players are going to be on their toes. Suddenly no square is safe and everything is suspect. Rather than your players simply concerning themselves with the combat and defeating their foes, they now need to be extra aware of the environment.
Are traps part of your normal encounter design? How do you use them to keep your players guessing? Do you find traps an effective element of combat or do your players constantly avoid them?
Related articles:

Looking for instant updates? Subscribe to the Dungeon's Master feed!