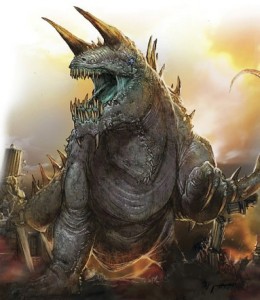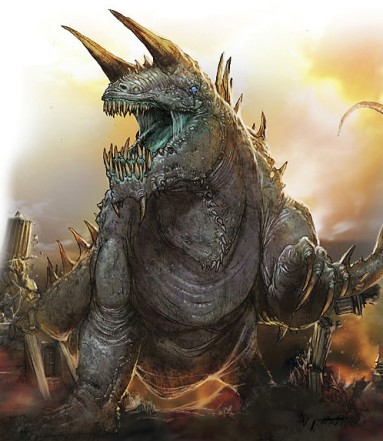 Orcus. Demogorgon. Lolth. All three are extremely powerful foes. They graces the covers of Monster Manual 1, 2 and 3 respectively. These are the elite, showcase monsters of 4e D&D. They are among the toughest that 4e D&D has to offer. Few other creatures are as powerful or dangerous as these three. Defeating any one of them demonstrates that your party truly is the best ever.
And don't forget about dragons. They too deserve inclusion on any list of the most powerful creatures in D&D. A level 30+ dragon is certainly a suitable foe for the climax of any epic tier adventure.
And then there is the Tarrasque. As I was browsing through the Monster Manual (as I'm wanton to do from time to time) I stumbled across the entry for the Tarrasque completely by accident. As soon as I saw it, I read over its stat block and I realized that Tarrasque has been overshadowed in 4e D&D by the monsters I described above. The creature once agreeably the most powerful monster in any Monster Manual is suddenly a forgotten footnote.
Before 4e D&D many people, myself included, considered the Tarrasque the most powerful and destructive creature in the game (argue with me all you want, I'm sticking to my guns here). What made this monster so terrifying was that you couldn't kill it in the traditional sense. With other monsters you could fight and fight and eventually it would die when it reached 0 hit points. Not so with the Tarrasque. You had to bring it well below 0 and then after specific conditions were met you had to cast Wish or Miracle (the most powerful spells in the game) to destroy it forever.
Now the Tarrasque is merely a level 30 solo brute. You don't need to cast any special magic to keep it dead, you just have to hack away at its 1,420 hit points until it reaches 0. Then it disappears, returning to the centre of the earth to rest and regenerate over the course of years or decades. It's still an extremely powerful creature, don't get me wrong, but it's no Orcus. It's not even on par with a level 30 Dragon (in my opinion). The 95,000 XP you earn for defeating a Tarrasque is pretty much on par with the XP rewarded from previous editions of D&D, but the task in 4e doesn't seem nearly as difficult.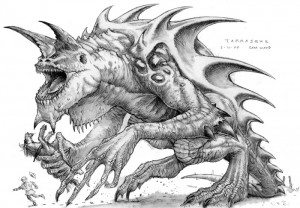 So what happened to the Tarrasque? I think its notable absence from the spotlight is the first indicator that even the folks at Wizard of the Coast realize that the mighty Tarrasque has been considerably diminished. They didn't even give it an entry under "T" in the Monster Manual. They hid it under Abomination in MM1. How are DMs supposed to consider using the Tarrasque in their campaign if they can't even find it?
In a campaign from my teenage years the entire focus of our year-long adventure was to find and destroy the Tarrasque. When we learned that a Wish was required we had an entire side quest just to get the Wish spell. Of course, we also had to gain sufficient level to successfully cast said Wish spell. Looking at the 4e Tarrasque I just don't see an adventuring party getting as worked up about the Tarrasque. Oh sure it's powerful and destructive, but it just isn't as 4e sexy as Orcus or a Dragon.
Perhaps the biggest reason the Tarrasque isn't getting any real recognition these days is because there is no Wish spell in 4e D&D. You could create a "Banish Tarrasque" ritual and go on a quest to find the components, but again that just doesn't sound as exciting now as it did in previous editions. The Tarrasque has been reduced (relatively speaking) to another hack and slash monster. Of course it always was a hack and slash monster, but the fact that killing it was all but impossibly made the fight interesting. Now it's just another brute.
I look at the Tarrasque now and I liken it to an aging sports hero. When he was in his prime he was the one everyone focused on and talked about. But now he's gotten older and a new group of heroes (or in this case, monsters) have risen to the top and are the focus of everyone's attention. The Tarrasque is still tougher than most monsters, but he's no longer number one.
What are your thoughts on the Tarrasque? Did you even realize he was in 4e D&D? Have you ever battled him? For those with memories of what the Tarrasque used to be, how do you feel about the 4e interpretation of this iconic creature? Does the Tarrasque deserve a spotlight or should we leave him buried in the Abomination section of the Monster Manual?
Related articles:

Looking for instant updates? Subscribe to the Dungeon's Master feed!