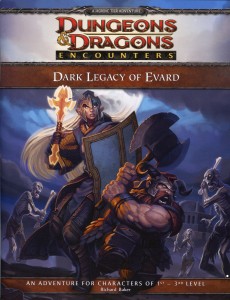 Should players have to begin at level 1 again? I know that Wizards of the Coast wants all character to start on equal footing with 0 XP, but is this absolutely necessary? After all, some of the players have come out every Wednesday for over a year now. This is going to be the fourth time that they've worked a character up to level 2 or level 3 and once again they've being asked (forced) to start all over again.
What makes it even more insulting this time is that there are no new pre-generated characters. So if you've been using the PCs Wizards provided not only do you have to go back down to level 1 but you have to begin anew using a character you've already seen advance at your game table.
Before I even knew that no new pre-gens were forthcoming, I'd already given serious thought to letting my players keep running their level 2 and level 3 PCs for this adventure. I read through Dark Legacy of Evard and I have to say that this looks like it's going to be a very exciting, challenging and difficult adventure. By the time I'd finished reading it I was convinced that letting player use their experienced characters for this season of D&D Encounters was the right thing to do.
The difficulty of each encounter really ramps up quickly. If everyone begins at level 1 (like Wizards wants), I think we're going to see a lot of TPKs this time around. I'd be absolutely amazed if anyone but the most seasoned players completes chapter 3 without suffering a few character deaths. Just look at the difficulties of each encounter.
Chapter 1: level 1 / level 1 / level 2 / level 3
Chapter 2: level 1 / level 2 / level 2 / level 3 / level 3
Chapter 3: level 3 / level 3 / level 4 / level 5
One concern about letting players continue using their same character is that the PCs may get too powerful by the final few encounters. Level 3 characters that earned the maximum XP from March of the Phantom Brigade won't earn enough XP to reach level 4 until mid-way through this adventure and won't hit level 5 until the final climatic encounter. That is of course assuming that they play in every encounter this season as well (which only one or two players have done at my FLGS).
DMs that follow my lead and allow players to keep running leveled up PCs will likely need to scale the encounters to account for more powerful characters. I wouldn't recommend leveling any of the monsters; just add more of what's already presented. Considering how hard some of them hit, ramping up their output could lead to even more TPKs then a group that starts at level 1.
I want to repeat that Wizards of the Coast expects that all characters used for D&D Encounters begin the adventure at level 1. So anyone (me included) that ends up allowing players to continue using their characters from last season will in fact be bending the rules. However, I don't think I'm the only DM considering this option. I've heard from many other DMs (in person and on the forums) who agree with me and are going to do the exact same thing. Not allowing players to continue running the PCs they've worked 13 weeks to improve may result in those same players getting so frustrated that they stop participating in D&D Encounters.
The way I see it, if the tables are full every week the players are more likely to keep purchasing D&D stuff from their FLGS and they're a lot more likely to get a DDI subscription so that they can manage their own characters. That's a win for everyone.
What do long-time D&D Encounters players think of the possibility of beginning at level 1 again? Would you be more or less likely to participate in Dark Legacy of Evard if you could keep using your same character from last season? How many of the DMs think they will follow my lead? Or do you see this as more work that you as the DMs shouldn't be expected to take on for D&D Encounters?
Visit the Dungeon's Master D&D Encounters Archive for all of our ongoing weekly coverage as well as other great D&D Encounters articles and resources.

Looking for instant updates? Subscribe to the Dungeon's Master feed!