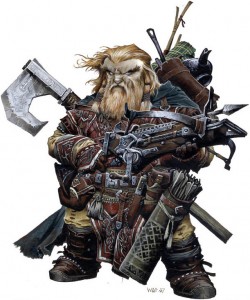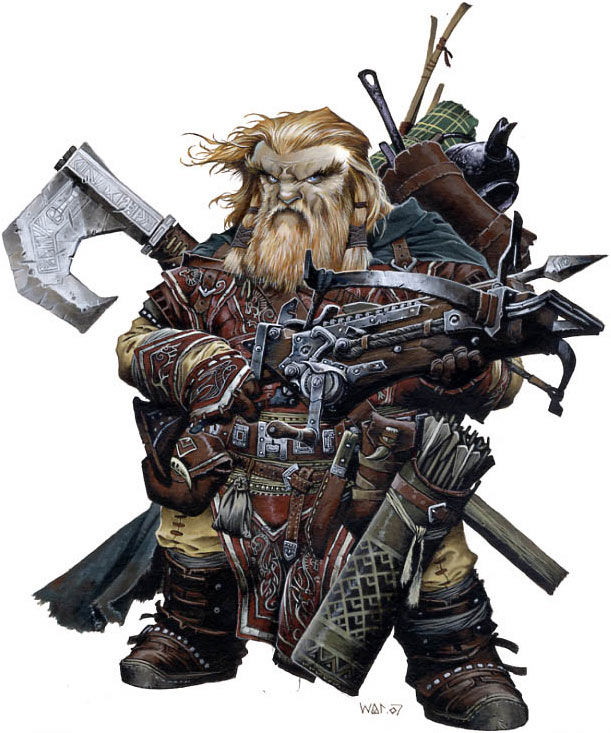 The ability to heal your character without assistance from the party cleric was one of the biggest changes in 4e Dungeons & Dragons. It gave every character the opportunity to recover from a devastating attack by themselves. In the category of healing themselves, none are better than the Dwarf. Now, I've already stated the Dwarves Are The Best Raceand today I want to examine their defining racial feature: Dwarven Resilience.
Second Wind is a great ability allowing an player to use a standard action to heal. However, let's be honest, no one likes to use their standard action for anything but rolling dice on an attack power. As a player I feel slightly cheated when I use my second wind. I recognize that it's a tactical decision, but I would rather be using my standard action for attacking and rolling dice!
This is why Dwarves are so great, they can use Second Wind as a minor action. This is why they have the best racial power. There is no need to give up offense on the same round that they take a defensive action. The key to maximizing this racial power is to increase the value of your healing surge. As a result while the options presented here make Dwarven Resilience a more powerful option, they also make your character more efficient at healing in general.
Best In Class
There is no one class that best enhances the Dwarven Resilience racial feature. Instead you are looking for any class that has an emphasis on Constitution. Simply put, you are trying to maximize your potential hit point pool and therefore your healing surge value. The defender role provides a high hit point pool and several other classes have Constitution as a primary or secondary attribute including the Druid, Invoker and Warlock.
The Dreadnaught paragon path is one of the best for this build as it increases your maximum hit points by 10. This paragon path requires the Fighter as a prerequisite.
The Right Feats
There are numerous feats that affect your healing surge value or that are keyed off the use of your healing surge.
Shared Vitality (Heroic)
This feat might seem like an odd choice to be placed into a post about gaining the greatest benefit from the Dwarven Resilience racial power. However, most Dwarves have a decent amount of healing surges. This feat allows the character to use their healing surge to heal another player. It allows your Dwarf to act as a pseudo healer every encounter. If you are playing a leader, it is like adding another usage of Healing Word (minus the extra healing dice).
Toughness (Heroic)
Five extra hit points per tier. More hit points means a larger healing surge value.
Durable (Heroic)
While durable doesn't add to your hit point pool or your total hit points gained, having two extra healing surges is nothing to scoff at. If you are playing a controller or a striker who isn't good at keeping out of trouble, this feat is almost mandatory.
Redoubled Efforts (Heroic)
Rather than gaining the normal defensive bonus when you use your second wind action, you gain a +2 to attack. Perfect for the Fighter who wants an added edge before making their attack.
Dwarven Recovery (Paragon)
This feat requires the martial role and it allows a +5 to saving throws until the end of your next turn when you use your second wind.
Improved Second Wind (Paragon)
This feat heals 5 extra hit points when you use your second wind. It may not seem like a lot of extra healing, but there are occasions when every hit point counts.
Epic Recovery (Epic)
This feat has some potentially steep prerequisites. A 19 Constitution and a martial class. It allows you to use your second wind twice in one encounter. Now normally you might not want to give up two standard actions, but as a Dwarf you can use Dwarven Resilience to gain one use as a minor action. The other usage still counts as a standard action.
Stoneheart Warrior (Epic)
This feat is simply outstanding and is only available to Dwarves who select a martial class. Use your second wind as a free action. It doesn't get much better than that. If you have taken Epic Recovery it is two free uses of your second wind. Epic Recovery and Stoneheart Warrior should be the feats selected at level 21 and 22 respectively for any dwarf who is playing a martial class.
Are You Skilled Enough
If you are planning on improving your ability to heal then training in Endurance is a must. The reason is the many healing-based utility skill powers that become available to you. The key to making the best out of Dwarven Resilience is having a high healing surge value, it makes sense to maximize your ability to use that healing.
Third Wind (level 6)
This daily utility power allows you spend a healing surge as a minor action. There are no other prerequisites for this action. It essentially lets everyone else pretend to be a dwarf.
Reactive Surge (level 10)
When you become bloodied you can spend a healing surge as an immediate reaction.
The Best Tools
Equipment selection can have a large impact on your ability to heal. There are a few items that are geared towards healing. For a complete list of items read Brave Warrior, Heal Thyself. You'll complete the read with a new appreciation of how to create a self-sustaining Fighter. Below is the one key piece of equipment you should consider obtaining to enhance the value of the Dwarven Resilience racial power.
Cloak of the Walking Wounded
When you use your second wind, you can spend two healing surges. It's an item most players are aware of and as a result I don't think too much extra commentary is required on this item.
When playing a Dwarf is Dwarven Resilience just another nice option available to you? Or do you look for ways to use this power beyond the ability to simply heal yourself?
Related Reading:

Looking for instant updates? Subscribe to the Dungeon's Master feed!