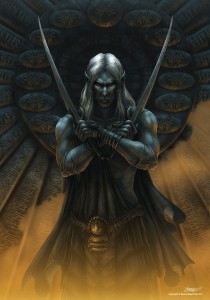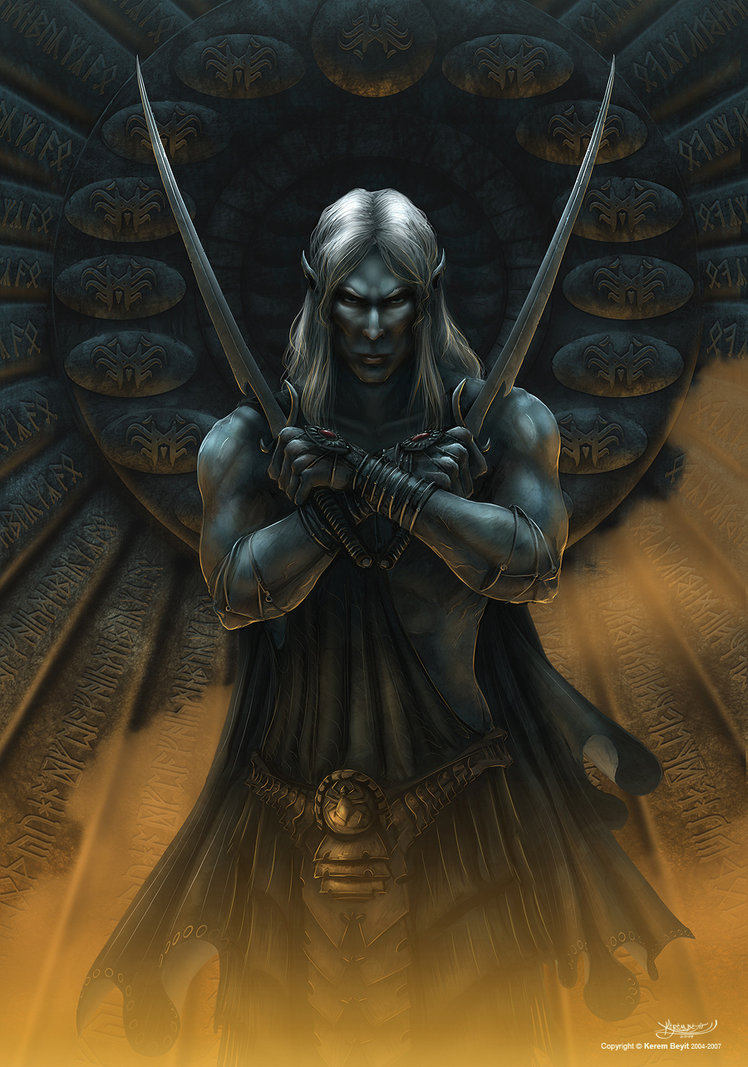 Many D&D players have a love/hate relationship with the Drow's Cloud of Darkness racial ability. On the one hand, it's a convenient way to guarantee combat advantage, and in rare circumstances, can cover a retreat or provide a moment of respite for the party. On the other hand, it blocks line of sight and can generally get in the way. What's a Drow to do? One of the great things about Cloud of Darkness is its great feat support. With a few feats and magic items, your Cloud of Darkness can go from inconvenient combat advantage to a force in its own right.
Today Dungeon's Master welcomes guest writer Benoit. Benoit has been a DM and player for over 10 years. He's editor-in-chief of the blog Roving Band of Misfits, where a variety of 4e D&D and Gamma World topics are covered. He also co-hosts the podcast Level Up, where 4e character building and magic item discussions feature prominently. If you enjoyed this article, you should definitely check out Level Up for more of the same.
Since the Drow racial stat bumps naturally encourage players to create Dexterity-based strikers, I'm going to start by focusing on two specific builds: one for Rogues and one for Rangers. Then, we'll look at some feats and magic items that are useful for any class. Finally, I'll touch on the Drow paragon paths to see what they can do to let you further exploit your Cloud of Darkness.
Rogue
In order to optimize your Cloud of Darkness, you'll need to take the Assassin multiclass feat, Shadow Initiate. This should be a fairly painless decision since Assassin is also a striker class. The benefits from the feat couple nicely with what your role does already, namely deal a lot of damage. Using Assassin's Shroud twice an encounter lets you deal an extra 2d6 damage during every fight. While this benefit is nice, the real reason for multiclassing into Assassin is qualify the Far Shadow (heroic) feat.
Far Shadow allows you to use Cloud of Darkness as burst 1 within 10 squares. With this feat, your cloud is no longer tied to your square, so it doesn't have to get in anyone's way. In my mind, this is the best Cloud of Darkness feat out there, and really opens up a lot of tactical options for using your cloud.
But the benefits don't end there; it gets so much better. At paragon, Rogues gain access to the Darkjumper (paragon) feat. On the turn when you use the Cloud of Darkness racial power, Darkjumperallows you to teleport once to any unoccupied square within the cloud as a free action. When used with Far Shadow, this feat is basically a free action teleport of at least 10 squares.
Upon reaching paragon, consider the Darkness Reign (paragon) feat. As long as you are within your Cloud of Darkness, Darkness Reign allows you to sustain the effect as a standard action. Each time you sustain the effect, it lasts until the end of your next turn.
Keeping your cloud up as a standard action isn't that great, I admit. But there are several Rogue attacks, like Low Slash, that are minor actions; therefore, maintaining your cloud does not necessarily mean that you have to forego an attack. Of course, there's also a magic item to help with this problem: the Sustaining Cloak. It first becomes available at level 2, but scales all the way up to level 27.
As an encounter power the Sustaining Cloak allows you to sustain a power or effect that would normally end, without using the action normally required (sustaining it for subsequent rounds still requires the appropriate action).
When choosing powers for a Rogue that exploits Cloud of Darkness, it's important to make sure you have attacks that are minor actions as well as attacks that immobilize or restrain your target. By doing this, you'll have options for sustaining your cloud (with Darkness Reign) and attacking in the same round, as well as insuring your target can't move outside of the Cloud of Darkness.
Ranger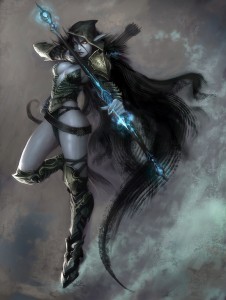 Most of the options presented for a Rogue work equally well for a melee Ranger; the only option not available to them is the Darkjumper feat because it's a Rogue feat. Considering this, Far Shadow, while still a good feat, may not be as great for a melee Ranger as it is for a Rogue. However, Archer Rangers can exploit the Cloud of Darkness in many other interesting ways.
For someone who likes to hang back and shoot at enemies from afar, Far Shadow is a must have. If that's your archery style, you need to multiclass Assassin for that benefit (as already covered above). The Sustaining Cloak and Darkness Reign are not viable choices for a "hang back" Ranger, as you need to be in the cloud to sustain it. As such, the archer Ranger build described here is a less feat-heavy build when considering Cloud of Darkness options. I should also note that for this build, immobilizing and restraining attacks become even more important because a lot is riding on keeping your enemies in the dark, as it were.
Of course, if you're the type of Ranger archer that likes to shoot enemies point blank, you could forego Shadow Initiate and Far Shadow, and take the feat Lolthdark Style (heroic) instead. If you are within the area of your Cloud of Darkness and you move after using Twin Strike, Lolthdark Style allows the Cloud of Darkness to move with you.
Remember that enemies must be able to see you to take an opportunity attack against you, so shooting an enemy point blank from within the Cloud of Darkness should not be overlooked. If you do opt to attack enemies who are in the cloud with you, Darkness Reign and the Sustaining Cloak are also viable options, giving you two rounds to attack and then move your cloud with you.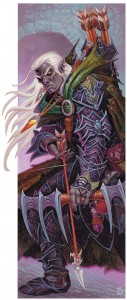 No matter how you play your archer Ranger, consider the Darkhunter (paragon) feat. When you use the Cloud of Darkness racial power, Darkhunter allows you to automatically designate each enemy within the cloud as your quarry until they are no longer within the cloud. These quarries don't count toward the normal limit of one quarry, and any other creature designated as your quarry remains so. You can deal Hunter's Quarry damage against each quarry that you hit in the cloud.
To catch as many enemies as possible in the cloud you'll probably want the Clutch of Darkness (heroic) feat. Clutch of Darknessincreases the size of your Cloud of Darkness power to a burst 2 instead of a burst 1. It also increases the range of your Darkfire power from 10 to 15 squares.This feat isn't usually recommended because normally, you burst your cloud around you. With Far Shadow however, you can burst it anywhere and this feat only serves to increase the number of enemies you can catch in the burst. If you're the "point blank" archer, be advised that this can be a real tactical hindrance to the rest of the team.
More Feats
These two feats are good for Drow of any class looking to exploit their Globe of Darkness.
Knife in the Dark (heroic) gives you +4 damage vs. targets in your cloud. This scales to +5 at paragon and +6 at epic. I especially like this one for the archer Ranger build, since the extra damage is added twice with Twin Strike, though it's quite good for any Cloud of Darkness build.
Cloud of Poison (heroic) deals 5 poison damage to all enemies that start their turn in your Cloud of Darkness. This is a great way to pile on some more damage, especially if you're sustaining the cloud for more than one round. Plus, when used in tandem with Far Shadow, this feat gives you a controller-type power to use on the minions that might be hanging around your main target.
Using Cloud of Darkness More Often
Now that you've taken all these feats to make your Cloud of Darkness that much better, why limit yourself to using it only once an encounter?
Battlemaster's Weapon: This weapon's daily power allows you to recharge an encounter power as a minor action. It is found in the Adventurer's Vault, and is first available at level 14. It should be noted that this weapon also works for other racial encounter powers (as noted in other articles of this series).
Lolth Blessedfeat (epic): Any time you use an action point, you regain the use of your Lolthtouched racial ability during the encounter if you've already used it.
Paragon Paths
The Drow Wanderer's only prerequisites are "trained in Dungeoneering" and "Drow." I'm not very keen on this particular paragon path, though it does have a level 20 daily power that grants "sustain minor, move 3" to your Cloud of Darkness. This would allow you to swap your neck slot Sustaining Cloak for hands slot Spell Anchors.
Cursebornis a far more attractive paragon path, and has no prerequisites other than Drow. At level 11 your Cloud of darkness becomes difficult terrain and you regain use of the Cloud every time you use an action point. Remember that Lolth Blessed is a feat that also grants reuse of your Cloud with an action point, but is not available until epic. Getting this ability at low paragon without spending a feat is nothing to sneeze at. The powers included in this paragon path are also fun; I especially like the level 20 encounter power Alluring Lightsfor a "hang back" archer Ranger who doesn't move too much.
The Verdict
Hopefully, I've convinced you to augment your Cloud of Darkness in some way. It really is a fun racial feature, and it doesn't take too much work to enhance a bit. Add a few more feats on top of that initial enhancement, and your enemies will tremble when they see the thick darkness begin to gather.
Related reading:

Looking for instant updates? Subscribe to the Dungeon's Master feed!