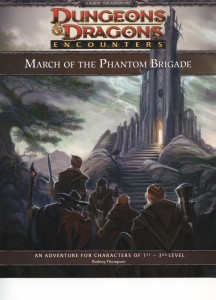 Another season of D&D Encounter comes to an end and once again I feel it's my responsibility to sum up the whole experience and provide some honest feedback.
The Characters
Of all the Pre-generated characters that Wizards of the Coast has provided since D&D Encounters began, these were by far the best. All six characters were fairly well-rounded and easy to play. None of the players felt that any one pre-gen was worse than the rest (Barcan, you know what we're talking about).
This season more than any of the previous season we had a lot more players make their own characters. Although the character were all supposed to be created using D&D Essentials products, I wasn't that restrictive. If you made a character in character builder I allowed him regardless of class or race.
My thought was that I'd rather have you play the character you want to play, even if he's technically not allowed, and keep coming back every week than be forced to play a character you hate and never return. In the end only a couple of players were actually using classes and races from non-essentials materials anyway so I don't think it was such a big deal.
Role-playing
One of the biggest complaints I had about previous seasons was that they played out like a series of dungeon delves. You built a character for combat, killed all the monsters, and that was it. Role-playing? What's that? But this season was a lot different and a lot better.
In almost every encounter there was an opportunity to role-play and in many cases there was even a structured skill challenge. The importance of the role-playing parts were really emphasized when players learned that there was just as much XP up for grabs for role-playing as there was for the combat part of the encounter.
Tracking XP
At first I thought that tracking XP individually was a great idea. This let the players who showed up more often gain the benefit of leveling up before those players who only shower up once and a while. For a few weeks everyone agreed. And then disparity happened.
At my FLGS we ran two tables all season. My table had a lot of first-timers so I usually stuck pretty close to the adventure as written. The other table was made up of more experienced players so the DM challenged them by beefing things up. The result was that the other table ended up with more XP because they faced deadlier challenges. At the end of the fist chapter none of the players at my table had enough XP to level whereas all the players at the other table did.
This wouldn't have been such a bad thing if the encounter difficulty didn't ramp up so sharply in chapter two. The level 1 PCs at my table kept getting slaughtered. I don't know if the extra hit points and +1 to attacks and defenses would have made that big a difference, but it certainly wouldn't have hurt.
By the end of chapter two I just told everyone at my table to level up their PCs whether they had enough XP for level 2 or not. Meanwhile the PCs at the other table were all advancing to level 3.
In the previous seasons of D&D Encounter the PCs didn't track XP; they just leveled at the end of certain chapters. I think that tracking XP individually was a good experiment, but I miss the old way of doing things. I'm glad to see that although season 5 does track XP, it's a lot more definitive and clearly says that if you've played every encounter you're ready to level at the end of each chapter.
Shorter Chapters
When you're only playing one encounter each week I understand the desire to make every one epic. The problem is that the characters aren't built to handle that kind of challenge week after week. They need a few easy pitches.
Where this really became a problem was in chapter three. The PCs barely made it through chapter one (four encounters) and chapter two (four encounters). Now they're expected to go through chapter three (five encounters) without an extended rest? Not happening. I gave my players a choice to take an extended rest after completing the second or fourth encounter during chapter three. The other DM at my FLGS did the same. From what I read on the boards this seemed like a pretty common occurrence.
At my home game I'm always pushing the character to the limits. I really hate the 5-minute work day. So it almost pains me to say this, but D&D Encounters may need to work in more opportunities to let the PCs take extended rests. Instead of three chapters perhaps there should be four? Start chapter one with four encounters and then break the rest of the story into three more chapters. Each of these remaining chapters would then have three encounters each. This format would allow for really long and tough encounters each week without killing everyone.
More Monster Variety
There are some monsters that are staples in most D&D campaigns and Undead fall into this category. However, in an adventure that's 13 encounters, I think you can find something other than undead to throw at the PCs. I knew going in (as I assume most players did) that with a title like March of the Phantom Brigade there would be some undead. But week after week of fighting pretty much the same opponents got really boring. I'm not saying that all 13 encounters need to be composed of different opponents, but I think two is the maximum that should feature the same creatures and please don't put them in back to back weeks. Four weeks in a row of facing undead that were insubstantial was too much!
Choices Matter
In the second encounter the PCs faced one of three possible combat scenarios. The actions and decisions they made during the first chapter had a direct correlation to what happening during the second encounter. I realize this is more work for the adventure designers, but the players really liked that their actions had consequences. Please do this more often in future seasons.
Maps
For me, the maps have been one of the highlights of the D&D Encounters program from day one. They've been top notch and high quality – until this season. Three maps were not to 1-inch scale. Two were a little bit on the small side and one was noticeably larger (encounters 5, 6 and 9 respectively). It seems like such a little detail, but it really looked bad when we were using these maps.
My other criticism about this season's maps is the many were quite small (one was only 7 x 11 squares). D&D 4e is a very tactical game. If you don't provide the players with ample room to move around the battle map then you eliminate options, especially if you've got a competent controller in the party. Almost every week the combat at my table moved into the black area at some point.
The Story
I really liked the story. It was refreshing to begin with a something other than "a mysterious stranger hires you to perform a task." It's an overused convention that works, but is exceptionally boring. By having the PCs already immersed in the story as would-be settlers they are already involved and it was in their best interest to help.
The Ghost Tower of Inverness certainly added an interesting aspect to the story, but a lot of the players I spoke with felt cheated that they couldn't get inside and explore it. I know that it wasn't relevant to the task at hand, but dangling it in front of the players and then not letting them grab it was not cool.
Between chapters one and two, six months passed. This really worked well and added to the story. For characters that leveled up between chapters this provided a good explanation for how they developed their new skills. It wasn't just "we woke up stronger the next day," it was "after six months we've shown improvement." This passage of time also gave Salazar Vladistone ample time to put his plans into motion, something that would not have made sense if one a few days passed between chapters.
However, the months that supposedly passed between chapters two and three seemed to railroad characters. With the town of Inverness destroyed by the Phantom Brigade, many of the players at my table felt they had little or no reason to remaining in Hammerfast. Now if only a couple of weeks passed between chapters two and three I think more of the players would have agreed that their PC's were still around.
Final Thoughts
Looking at the entire 13-week experience as a whole I thought that March of the Phantom Brigade was really well done. I had a lot of fun running it and I think most of the players had a lot of fun playing it. Compared to the other seasons of D&D Encounters I have to say that I think this one was the best so far despite some of my criticisms.
We had a lot of new players come out and try D&D for the very first time this season so from that perspective the D&D Encounters program continues to be a tremendous success.
I'd like to thank Dueling Groundsin Toronto for hosting D&D Encounters every Wednesday. I'd also like to thank Bauxtehude (Liam Gallagher) for recording each weekly encounter and making them available as podcasts courtesy of The Shattered Sea. The podcasts gave people who couldn't play every week a better understanding of what the experience is really like.
March of the Phantom Brigade: 9 on a d10
What were your thoughts on season 4? Are you any more or less likely to come out for season 5? If this was your introduction to D&D how did you find the experiences?
Visit the Dungeon's Master D&D Encounters Archive for all of our ongoing weekly coverage as well as other great D&D Encounters articles and resources.

Looking for instant updates? Subscribe to the Dungeon's Master feed!