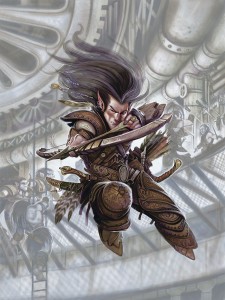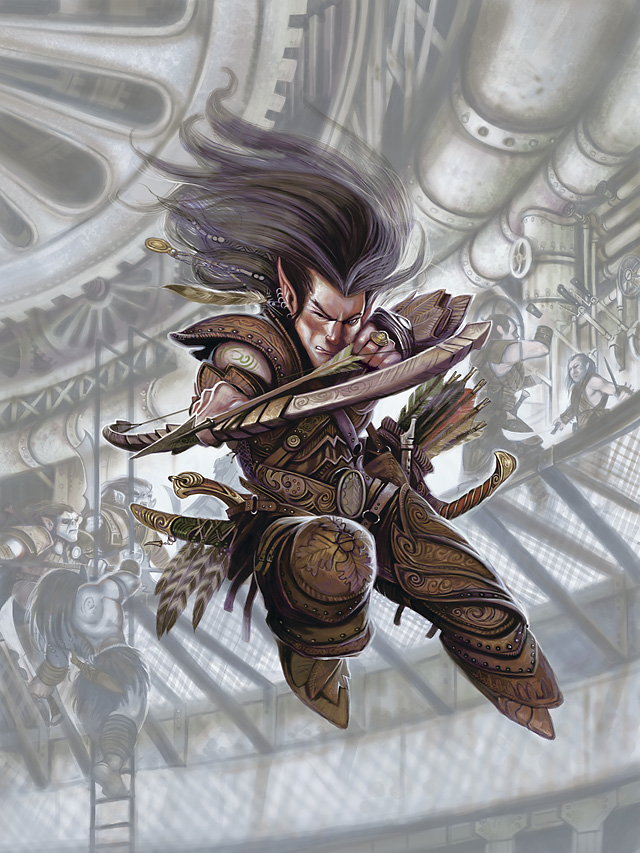 Nothing sucks more than missing with an attack roll. The more powerful the attack and the more dangerous the opponent, the more missing stings. In most cases you miss, and the game continues – unless you're an Elf. Elven Accuracy lets you reroll one attack every encounter. Not bad, especially if you hit with the second roll. But why settle for just a do over when you can turn that miss into something truly awesome.
The way to get the most out of Elven Accuracy is to make sure that when you're rerolling a missed attack you significantly increase your likelihood of hitting and scoring a crit. The fact that you have a reroll up your sleeve increases your chances of critting by giving you a second kick at the can, but why not continue stacking the deck in your favour. After all that's what this series of articles is all about.
There are three important things to look for when maximizing the benefits of your Elven Accuracy. Choose powers, feats and items that let you:
Reroll an attack.
Make more than one attack roll.
Score a crit on 19-20.
Reroll an attack
Any time a power or item lets you reroll an attack you're improving your odds of success. Even if you miss on the second roll you can still use Elven Accuracy to try a third time. With up to three attempts to hit you're going to connect more often than anyone else in the party (except maybe other Elves).
Make more than one attack roll
As we just discussed if you're rolling more dice you're more likely to get a better result. Powers that let you make two attack rolls and take the better result are rare. And in the unlikely event that you miss with both rolls you can always use your Elven Accuracy to reroll both attack rolls, that's just the way it works. So in this situation you're rolling four times. If you can't hit with at least one of them then you need new dice.
Because this kind of synergy is so devastating due to its almost guarantee of success, a good tactic is to either use it early in the fight or save Elven Accuracy until you have a chance to use it in this specific circumstance.
Score a crit on 19-20
Scoring a crit is great. Scoring a crit more often is even better. A well-timed crit can change the outcome of battle. If your Elven Accuracy lets you reroll at attack then think of how much more likely you are to score a crit if you can do so on a roll of 19-20. If you've taken steps to improve you damage output when you score a crit then those rerolls become that much more important. I've seen (on multiple occasions) players running Elf characters use Elven Accuracy to reroll an attack that was already a hit, just to try for that crit on a 19-20. They figure that since they've optimized their Elven Accuracy so much anyway that the worst thing that will happen is just another normal hit.
Class Selection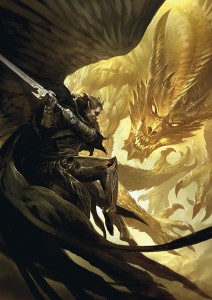 The Avenger may not roll extra damage dice like most other strikers, but they do get to roll twice when attacking their Oath of Enmity (if they meet specific requirements). Rolling more often should result in a great likelihood of connecting. Add Elven Accuracy to this class feature and you're rolling four attack rolls. Really good chance of hitting now and a better than normal chance of scoring a crit on one of those four rolls.
There isn't a clear-cut class that makes Elven Accuracy better. However, there are some very desirable feats with class prerequisites, so you might want to look over the feats before nailing down a class. There are also a lot of weapons and implements that crit on 19-20 or allow rerolls so it's not a bad idea to look them over either before you settle on your class. Although the Avenger meets one of the three desirable features mentioned above, no class provides an abundance of all of them. However, if the class you choose does have a power that grants one or more of these effects you need to take it.
Classes I've seen in play that really work well exploiting the three conditions above, aside from the aforementionied Avenger, are the crossbow-wielding Rogue and the archer Ranger. Sorcerer isn't a bad choice either. Considering that your build is going to emphasize on damage output, any striker is probably a decent choice.
Feat Selection
Remember the three things that will help maximize your Elven Accuracy and overall output. You're looking for feats that let you reroll an attack, make more than one attack roll or score a crit on 19-20. Of course anything that makes the second attack roll better is a good choice too.
Wild Elf Luck (Heroic Tier)
You get a +1d4 bonus to your Elven Accuracy reroll. Every Elf should take this at level 1 or level 2. After all, you're going to use your Elven Accuracy every encounter so you might as well ensure that the reroll will be successful.
Elven Precision (Heroic Tier)
After Wild Elf Luck, this should be your next feat. It provides a +2 bonus to your Elven Accuracy reroll. That's 1d20+2+1d4 if you've taken both feats.
Elven Arcane Precision (Heroic Tier)
Arcane spellcasters that use a lot of blasts, bursts and area of effect attacks should consider taking this feat. Elven Accuracy lets you reroll attacks from a single arcane power against every target.
Brutal Accuracy (Heroic Tier)
Elven Rangers (like we've never seen one of those before) add 1d6 + Wis modifier extra damage to their quarry if they hit with Elven Accuracy.
Martial Accuracy (Paragon Tier)
If you're playing a martial character than this feat is a must have. It lets you roll Elven Accuracy twice and take the better result. So if a power lets you roll two attacks and take the better result this feat would allow you to reroll both attack twice if you missed the first time around.
Hawkeye Warrior (Epic Tier)
This is another required feat for martial characters. Gain +1 to attacks until the end of the encounter against the creature targeted by your Elven Accuracy.
Magical Item Selection
Remember to look for magic items with these properties.
Reroll an attack.
Make more than one attack roll.
Score a crit on 19-20.

Roll More Often
One of the most common consumables at my gaming table (even more so than healing potions) is the Potion of Clarity. This consumable lets you reroll one attack before the end of the encounter, taking the second result. Whether you're an Elf or not this is a useful potion to have in your inventory.
Elven archers (such as Rogues or Rangers) should have a quiver full of Dual Arrows. When you use one of these you roll twice and use either result. It can get expensive in the long run, but if you're playing a striker you need to hit hard and hit often. Rolling twice means greater accuracy and a greater likelihood of rolling a crit. Using Elven Accuracy on an attack made with a Dual Arrow would in essence let you make that attack roll four times.
Black Cave Pearl, Dread Nightshade and Mind Dust are consumables that all let you roll twice and take the better result on your next attack using a power with the keywords charm, poison and psychic respectively.
Cascading Strikes Ki Focus, Couters of Second Chances and Stone of Avandraall have daily powers that lets you reroll an attack roll. You have to keep the new result.
A Tenacious Weapon may be a better choice. As an encounter power, before you make an attack active the power and on your next attack you get to roll twice and take the better result.
In a party with multiple Elves someone (not necessarily the Elven PC) should consider taking a Targeting Weapon. Its daily power lets all allies roll twice against the targeted enemy and take the better result with all attacks until the end of the attackers next turn. Combined with action points, Dual Arrows, and Elven Accuracy this is a recipe for extinction.
Crit More Often
All of these weapons and implements allow you to crit on a 19-20 with every attack. If you're building a character around crits then you need to make it your mission in life to get one of these items.
Battle Staff
Jagged Weapon
Keen Bite Wand
Melegaunt's Darkblade
Rod of the Star Spawn
Unforgettable Cudgel
If you're more of a gambler then perhaps you'd prefer to get a weapon that yields a higher output on a crit (like a Vicious weapon), rather than one that crits on 19-20. If that's the case then you should stock up on Keen Oil. Apply this consumable as a minor action and you crit on 19-20 until the end of your next turn. A good use of 200 gp, especially at higher levels.
The Verdict
Elven Accuracy may seem like just a reroll at first, but as we've explored that reroll can lead to devastating consequences for your enemies. Elven strikers are expected to hit often and their racial power makes that a reality. By talking a few specific feats and a couple of carefully chosen magical items, we truly see the output potential of any Elf, especially Elven strikers.
An Elven Avenger, multiclassed into Ranger (or any other martial class) with the Martial Accuracy feat, could get as many as eight rolls with a melee attack against his Oath of Enmity on his turn. Two rolls for his Avenger class power, two rerolls because of the Keen Oil on the weapon (or from activating a magic weapon's reroll daily power), and then four more rolls  from Elven Accuracy (rolling twice on each initial attack rolls because of the Martial Accuracy feat). This would only stack up like this when you use a melee martial power or a basic attack.
What are some of the ways you've exploited Elven Accuracy? Are there particular powers, items or feats that we didn't discuss that you think need to be added to the discussion?
Related reading:

Looking for instant updates? Subscribe to the Dungeon's Master feed!