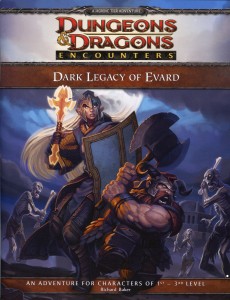 During the last season of D&D Encounters we recorded our weekly adventures and made them available as weekly podcasts. This season we've got something a little bit different, but no less exciting. In addition to the weekly recaps that we post every Thursday, we're adding a video component.
The Dark Legacy of Evard video recaps provide a new and different way to be a part of D&D Encounters. Each episode is part session recap, part episodic story. They chronicle the weekly adventures of a large group of gamers playing Wednesday nights at Dueling Grounds in Toronto, Ontario. They also provide a glimpse into the tabletop gaming scene in Toronto.
These videos are intended to entertain as well as shed light on new D&D products and websites. They also offer some insight into why Dungeons & Dragons continues to be such a strong gaming force, still holding universal appeal after so many years.
The videos are provided courtesy of Kiel Chenier. Kiel is a player as well as our on-call, third DM at Dueling Grounds. Each episode will primarily feature Kiel's table (since these are his videos) so the view may shift slightly depending on whether he's running or playing the encounter each week.
At the end of each chapter of Dark Legacy of Evard we'll share all the video episodes in one convenient post. If you can't wait that long you can find every episode on YouTube (ScaryHairStudios). Sit back and experience Dungeons & Dragons: Encounters Episodes.
Visit the Dungeon's Master D&D Encounters Archive for all of our ongoing weekly coverage as well as other great D&D Encounters articles and resources.
D&D Encounters: Episode 1
D&D Encounters: Episode 2 + Vornheim Review
D&D Encounters: Episode 3
D&D Encounters: Episode 4

Looking for instant updates? Subscribe to the Dungeon's Master feed!