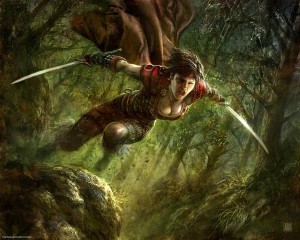 We've all played or know someone who played the dual wielding ranger, the overly brawny fighter with his giant axe or the wizard with the low constitution. These are tried, tested and true stereotypes of the fantasy genres. The builds are so popular that the designers of D&D have created new builds to revitalize these classic character concepts. If we are honest, we enjoy these stereotypes because they are fun to play.
However, every once in awhile it's fun to play a character that's a little off the wall. Something different that the rest of the table isn't expecting. Of course there are plenty of character options available that aren't stereotypes. In fact you don't want to break the mold of class/race recommendations too much. If you do you might end up enjoying the role playing aspects of your character, but the combat aspects will leave your character lacking.
The trick is to create a personality or character theme that is unique. While this might require a slight amount of give and take regarding your attributes it shouldn't be too such a point that your character suffers because of it.
Eidetic Idiot
This is a character concept that could be a lot of fun to play, but might be difficult to pull off. Individuals who have eidetic memories are typically thought of as smart. It's not that your character isn't smart, he just lacks the situational awareness to use what he knows.
Your character remembers everything he's ever heard or seen. The problem is he's always a conversation or two behind and is never able to provide the required information at the correct time. Everyone is aware that you have an eye for detail and that you rarely forget a thing. It's your timing and insight that is suspect.
A character like this might have a high intelligence and low wisdom score. Of course you could elect to place your attributes as you wish. I'm not sure that there is a rule that an eidetic memory requires a high IQ.
Time Warped
Your character is either from the distant past or the far future. As a result your viewpoint on events is skewed by the reality of your past. Perhaps you don't listen to lawful authority because where you are from a different set of rules is enforced. Perhaps you fled or are aware of a natural disaster and you feel it is your duty to inform all who will listen and those who won't of their imminent mortal peril!
A background like this allows you to be really creative. You may want to work with the DM, especially if your character is from the past. Pick game elements that are going to make sense with the campaign from a continuity standpoint. If your character is from the far future this is less of a concern. What you may want to avoid is being from the immediate past or future as your presence could have consequences on the story that the DM would find more troublesome than entertaining.
The key to a background like this is to make it interesting without becoming annoying. This is especially true if you are warning of a cataclysmic event. Your fellow players will soon tire of your warnings. Subtle is the key to making this a memorable character background.
A Novel Idea
While all of our characters are fictional, this theme takes it an extra step. This character theme has you playing a character from another novel or is perhaps an author of a novel. Similar to Paul Bettany's playing of Jeffery Chaucer in A Knight's Tale. In this example the story is fictional, but Paul Bettany plays a historical figure.
The trick to pulling a theme like this off is to borrow some well used lines from a piece of the author's work and use it in conversation with your character. You won't want to overdo it on your quote usage, just enough to get the other players curious. Don't give it away, let them do their homework. Of course you won't want to stop at quotes, provide your hero with some traits from the character you are borrowing from.
So if you are using Han Solo as a model you might say "I have a bad feeling about this" a lot. You will probably be insanely loyal, but be afraid to show it most of the time. Though to be honest, I think this theme works best when you borrow from a lesser known fictional character. It will make your character appear to be more authentic and will give you greater license in your role playing.
Where do you draw inspiration for from your characters? Do you have any characters that are still remembered or quoted to this day?
Related reading:
Did you enjoy this post? Do you think your gaming group will?
Be sure to give it a +1

Looking for instant updates? Subscribe to the Dungeon's Master feed!