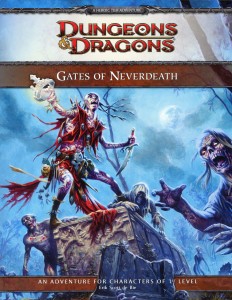 Next Saturday, August 6, is D&D Game Day. This year D&D Game Day happens to coincide with GenCon. However, this was an intentional choice made by Wizards of the Coast in order to run Game Day tables in Indianapolis. So no matter if you're at GenCon or at your local FLGS, everyone can participate in D&D Game Day: Gates of Neverdeath.
Anyone who's planning to play in the upcoming season of D&D Encounters  beginning on Wednesday, August 10 should make an effort to participate in Game Day. The Game Day adventure, Gates of Neverdeath is a prelude to D&D Encounters: Lost Crown of Neverwinter. PCs run on Game Day can be ported over to D&D Encounters with whatever XP, equipment and magical items they earn.
PCs can earn a maximum of 300 XP for completing Gates of Neverdeath. This means players who play on Game Day will level up during D&D Encounters 1-2 weeks earlier then those who don't.
Wizards of the Coast has already provided some details about D&D Game Day on their website. If you haven't had a chance to check out the official announcments I encourage yo to do so.
Game Day Preview
I'm going to provide some details about Game Day that Wizards hasn't shared yet. I won't reveal anything that will ruin the gaming experience or the adventure. My intent is to entice those on the fence to actually visit their FLGS and play next weekend.
The Map
Once again Wizards provides an excellent, full-colour map with the adventure. Anyone who's considering running the adventure on D&D Game Day should remember that you get to keep the adventure and the map afterwards. I can see the map with the ship getting a lot of replay at my game table.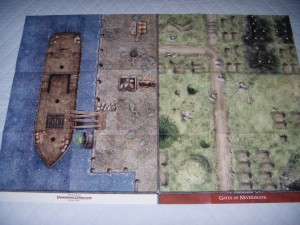 The Encounters
It should take 3 hours to complete this session. That's 3 hours from the time the players sit down to the time they complete the adventure. Each section of the adventure indicates how long the DM should take to complete that section. Because this is a timed event, it's important to watch the clock and make sure that the players don't get too hung up in one areas and then not have enough time to complete the entire adventure.
Character Creation (30 minutes)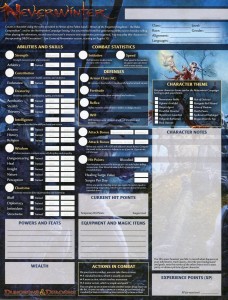 For the first time ever at a D&D Game Day, the character creation process is included in the time allotted. In the past, pre-generated character were provided and it was expected that the players would use them. This made it easier for people with little to no gaming experience to sit down and play.
This time around the goal is to have players create characters together before the game starts using the slick Neverwinter character sheets provided. But don't worry, two pre-gens are provided just in case someone shows up late and doesn't have a character of their own.
In order to help provide new players with direction, every player gets one Theme Card in their swag bag. There are 13 different themes (see all of the theme cards below), each from the new Neverwinter Campaign Setting. Players that use a theme get a special power or item.
Introduction (15 minutes)
This gives the players an opportunity to meet each other, find out about the adventure and do a little bit of role-playing with important NPCs.
Encounter 1 (45 minutes)
This is a typical level 1 combat encounter. Given that this is likely an introduction to D&D for some players the combat isn't too crazy. What I did find interesting was the terrain. The combat takes place on a boat and the map is top notch.
Skill Challenge (20 minutes)
This is a complexity 1 skill challenge that requires 4 successes before 3 failures. It's actually a good skill challenge in that it allows PCs to use a variety of skills to earn successes. A party that fails the skill challenge suffers real consequences in the following combat encounter. A good lesson for new players that skill challenges matter.
Encounter 2 (45 minutes)
This is a much more difficult encounter than the first; it's a level 3 encounter. At first I was surprised to see such a difficult encounter, but the more I thought about it the more it made sense. In a typical D&D adventure the PCs would be expected to go thought four or more encounter before they took an extended rest and got all of the resources replenished. In this case they would only have two fights before the adventure was over which meant that they wouldn't have to hold back.
The party gains a substantial advantage if they succeeded at the skill challenge that preceded it, which given it's low complexity is a strong possibility.
Skill Challenge (20 minutes)
This skill challenge is optional based on time. The PCs need to complete the skill challenge to get away safely. If time is pressing then the DM just describes how the PCs escape from danger.
This is a complexity 2 skill challenge that requires 6 successes before 3 failures. It provides a satisfying ending to the adventure and PCs who do complete it earn XP.
If I was running the adventure I'd make a point of trying to ensure that the PCs actually got a chance to complete this skill challenge. I know that many DMs don't like skill challenges and many don't use them, but for now they are a part of D&D so I believe that it's important to make sure new players get a chance to try them.
Character Themes
All of the 13 themes listed below are from the upcoming Neverwinter Campaign Setting. Players will each receive one in their D&D Game Day swag bag. Players can switch with each other if they don't think the theme is suitable for the character concept they have in mind. Clicking on the images below will open a high-res version in a new window.
UPDATE: All 13 Neverwinter character themes are available for download in one convenient PDF.
Bregan D'aerthe Spy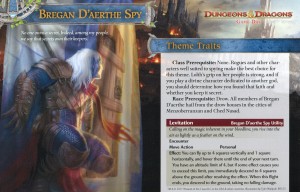 Dead Rat Deserter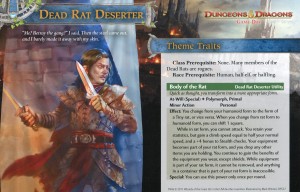 Devil's Pawn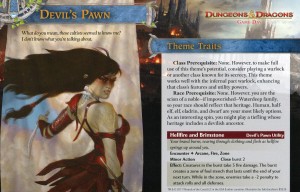 Harper Agent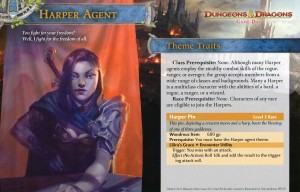 Heir of Delzoun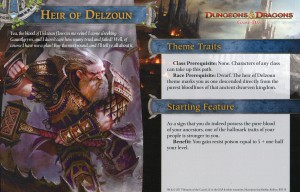 Iliyanbruen Guardian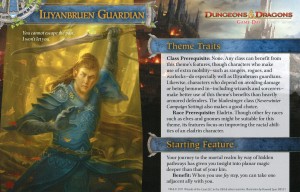 Noble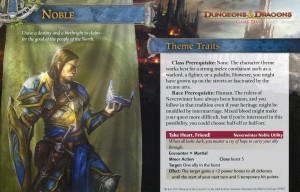 Oghma's Faithful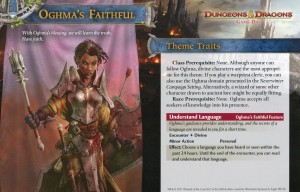 Pack Outcast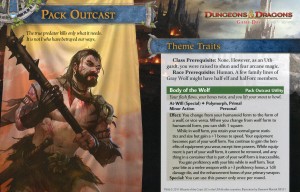 Renegade Red Wizard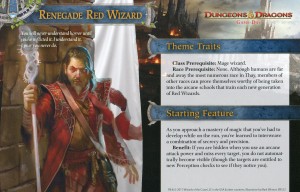 Scion of Shadow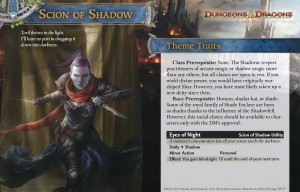 Spellscarred Harbinger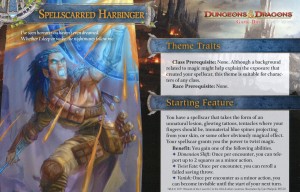 Uthgardt Barbarian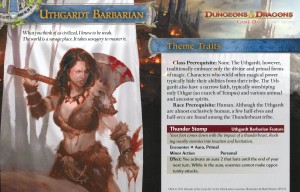 Visit the Dungeon's Master D&D Encounters Archive for all of our ongoing weekly coverage as well as other great D&D Encounters articles and resources.

Looking for instant updates? Subscribe to the Dungeon's Master feed!