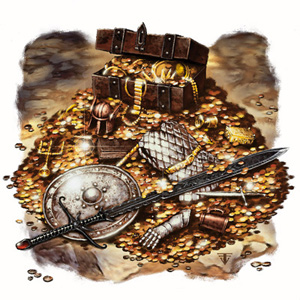 The fastest way a DM can unite all the players into wanting to do him unspeakable harm is to even suggest taking away all of their magical items. The more items they have and the more powerful each item is, the more likely that the DM would face real bodily harm for going through with this suggestion. Nothing angers players more than taking away items that they earned.
Over the many years in which I've played D&D one common problem I've faced in every edition is power creep. Nothing has changed the balance of power in my games more than magic items. As soon as one player gets something that's a little bit better than the rest of the party, everybody else wants one too. No, want isn't a strong enough descriptor. The rest of the players feel entitled to something just as grand. So the DM eventually gives everyone else something to bring them in line with that first player. The cycle repeats and before you know it the power level of the party is exponentially higher than it has any right being at their current level.
Better item means better attack scores, higher output and higher defenses, which means that the DM needs to throw tougher monsters at the PCs in order to challenge them. When the PCs defeat these creatures (which under normal circumstances they'd have no business fighting in the first place and would normally not have a prayer of defeating) they expect treasure commensurate with the monster's increased level. And the cycle continues.
When this happens and magic items become extremely plentiful in a campaign it is referred to as a Monty Hall style of gaming. I've had this problem in every edition of D&D that I've ever played. Many blame the DM when this happens, but I've found that most DMs would rather be too generous than too stringent.
My regular gaming group is currently level 19. As we approach the epic tier I took inventory of the sheer quantity of items we possessed. At this level every PC had an item filling out every slot on their character sheet. And in most cases the level of all items was relatively close to the level of the PCs. For example, at level 19 most of my character's items are between levels 15-20, with one exception. I have more gold than I know what to do with and a bag of holding (my only non-paragon level item) full of consumables and potions – all of which are also between levels 15-20.
After each gaming session the DM asks us to update our treasure wish list. I've found that for the past few gaming sessions I've left the list blank. There isn't anything I want. In fact, I don't even want to upgrade the items I do have. I want the challenge of having armor and weapons that aren't the same level as my PC. As it is I find most encounters fun but not challenging and the array of items at my disposal is a big part of why that is.
So I've been thinking about doing the unthinkable. The next time it's my turn behind the DM's screen I'm seriously considering taking away all of the party's magic items. As level 19 PCs they should still be able to overcome most balanced encounters. And it will be a challenge, that's for sure.
I know that this very suggestion could result in my players strangling me in my sleep, so let me qualify my statement and explain how I'd accomplish this. First and foremost I'd implement the inherent bonuses (introduced for the magic-poor Dark Sun setting). This would give the PCs enhancement modifiers to attacks and defenses in line with their level. So the level 19 PCs would get +4 to attacks and defenses regardless of the weapons or armor they were using.
The real challenge is explaining both in and out of game how and why such a radical move occurred. In the past I've used monsters to accomplish this goal. Rust Monsters, or more accurately a large pack of them, is a tried and true method. Players hate it, but they can't argue that a metal sword consumed by a Rust Monsters is gone. I've used other creatures that absorb magical enchantments, some from obscure sources like Dragon Magazine and others I've made up myself. Fortunately in 4e we now have the Dweomer Eater, a member of the rust monster family, that doesn't destroy swords and armor but will leave them completely unenchanted.
The other way that I've accomplished this is to have the entire party captured. If your PC is imprisoned then it stands to reason that all of your gear was removed before you were thrown in a cell. The advantage of going this route is that the items still exist and the PCs will try to locate them as quickly as possible. It doesn't solve the power creep problem, but it is a good way for DMs to remind players just how awesome they can be without all of their stuff.
I must admit that since I've begun playing 4e D&D power creep hasn't been as bad as it was in previous editions (but it certainly still exists). Treasure bundles and items with levels have certainly helped keep things more or less balanced. My real issue is with the quantity of items players can have equipped and the plethora of powers that it gives them.
The other problem that magic-rich parties face is that no one really feels that anything their PC possesses is really that special. In the articles What's a +1 Sword? and Who Owned Your Magic Sword Before You Did? we focused on magic item rarity and the importance of incorporating it into your game. Unfortunately in most games I've played in, the players and their PCs have no real appreciation of just how unique magic items are. Take them all away and then watch the party fight over a +1 Sword. Suddenly they all appreciate the value of the party's only magic item.
Do you think that the abundance of gear leads to power creep in 4e D&D? Has anyone resorted to stripping the party of all magic items? How did you do it? How did the players react? Did you give them back their stuff or did they need to build up their inventory one item at a time? What about the players? How would you react if the DM all of a sudden took away all of your magic items? Would a really interesting in-game explanation for such a radical decision affect your opinion at all?
Related reading:

Looking for instant updates? Subscribe to the Dungeon's Master feed!