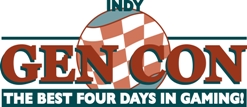 If you're like me you were left behind. Unable to attend the experience that is GenCon. Sadly I had to give the pilgrimage to Indy a pass this year. So to all my fellow gamers who were also left behind I present a list of 7 reasons why I'd rather be at GenCon. This should serve as motivation to ensure we all make the trip next year.
Until then read on…
My day job sucks.
You heard me, my day job sucks and yours probably does too! I'd say only 5% of us are in jobs that aren't work, they are play. For example, you might be a D&D Camp Councillor. For the rest of us we'd rather be doing something else, that's why we want to go to GenCon. We want to play D&D all day and express ourselves in ways that not even our spouses can understand.
The dice
You get to roll dice. You get to buy lots of dice. I like Q-Workshop products, you might like someone else's. GenCon allows you to explore a wide variety of options in the vendor hall.
The vendor hall.
On top of the big names, there are a lot of smaller companies that fill an interesting niche in the gaming market. Whether it is styrofoam swords, unique gaming tables, kilts or the newest game you haven't heard of yet the vendor hall is the place to find it.
The hospitality of Indy.
It's a great town and the local restaurants go out of their way to make all those who attend the convention know that they are welcome and appreciated. If you aren't sure about this, just go by The Ram. Don't forget to order a flight of beer while you are there.
D&D Game Day.
You and hundreds, possibly thousands, of other people get to play the same game at the same time. This should make for a great interactive experience. I can't even make it to my FLGS for game day, never mind playing in Indy.
You will meet all sorts of interesting people.
The best thing about GenCon, aside from all the gaming, is the people. Meeting fellow gamers is always a highlight. Sharing in experiences and playing with strangers who soon become friends is a great feeling. Ameron will be playing in the D&D Championship game this year with the same people he met at GenCon three years ago at the same event.
You will see all sorts of interesting sights.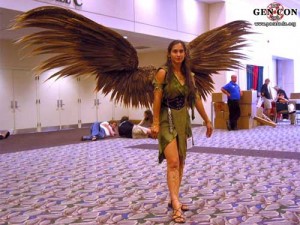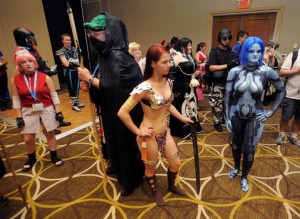 Looking for instant updates? Subscribe to the Dungeon's Master feed!