Today is my birthday. My day went from good to great when I realized that Dungeon's Master hit the 1 million page view milestone around lunch time. Talk about icing on the cake. This is the kind of unexpected birthday present that made this day even better.
When Wimwck and I began this blog we didn't know how things would turn out. We had high hopes and plenty of ambition. We read the other blogs that were big at the time (most of which are now defunct) and thought we had something to add to the online gaming community. So on February 1, 2009, we launched Dungeon's Master.
Today, 2 years, 7 months and 7 days later we're still going strong. We've written 733 articles (including this one) and managed to publish something every weekday since we began (excluding holidays). We have over 1,000 subscribers and just under 6,000 comments. I can honestly say the neither of us though we'd still be around and going this strong so far into the game.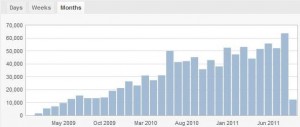 We've always said that maintaining Dungeon's Master is a labour of love. We're not in it to make money, although that would certainly be a nice bonus. Our persistence finally paid off and garnered the notice of Wizards of the Coast. Because of Dungeon's Master, which serves as our online writing portfolio and resume, Wizards approached both Wimwick and I and asked us if we'd write for them as freelancers. We had to sign NDAs so I can't really say much at this point other than to encourage you to keep reading Dragon and Dungeon magazine online and watch for our contributions over the next few months.
Our site's success is due in large part to you, the readers. If you didn't continue to visit and comment we would have crashed and burned long ago. But with your continued support we intend to keep on doing what we've been doing well into the foreseeable future. Our thanks to everyone who helped us reach 1 million page views.

Looking for instant updates? Subscribe to the Dungeon's Master feed!