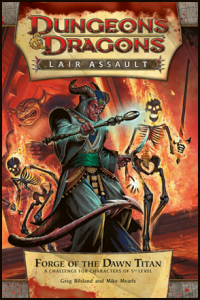 During the past week I had the pleasure of experiencing Lair Assault: Forge of the Dawn Titan as both a player and DM. Not only did this adventure live up to the incredibly high expectations I created in my mind, but it exceeded them completely. In my opinion this is one of the best, most entertaining D&D adventures I've ever had the pleasure of playing or running. This is the standard by which I'm going to compare all future adventures from Wizards of the Coast. They've almost done themselves a disservice by setting the bar so incredibly high. Topping this is going to be tough.
Before continuing I want to assure those of you who haven't yet played Lair Assault that there won't be any spoilers herein. I don't think the details and observations I present will shock anyone or ruin their experience the first time thorough. My intent is not to provide a play-by-play of what happened. If you're interested in that, check out the actual play podcast below. (Warning, this podcast reveals a lot of Lair Assault's secrets). Today I'm going to share my overall thoughts on the adventure now that I've actually had a chance to play it.
Equipment
Coming into this adventure as a player for the first time can be overwhelming. You (hopefully) don't know what to expect. All you know is that it's going to be difficult. You've created a level 5 PC, tried your best to optimize him, and now you're ready to rock.
With so many item choices at your fingertips choosing the best can be one of the most difficult choices you have to make in or out of game. Just because you can take a level 6, 5 and 4 item doesn't mean that you must take a level 6, 5, and 4 item. Items can be these levels or lower. Don't be afraid to take a level 3, 2 or 1 item in place of your level 4 item slot. Choosing items with useful powers and properties can be better than items with just a straight up bonus to attacks or defenses.
For example, Dwarven armor +1 is a level 2 item and it allows you to regain hit points as a free action. This will likely be more valuable than regular +2 armor. Sure your AC suffers by 1, but I think that the healing trumps that.
Also consider using your level 6 or 5 item slot to take a wondrous item or an item for your head, feet, waist, hands or arms. You don't have to take a weapon, armor and neck item as your level 6, 5 and 4 items. A Power Jewel is a good level 5 item that allows you to regain a level 1 or level 3 encounter power. If that power heals or grants temporary hit points regaining it could be useful.
You can spend your other 840 gp on anything else including up to two consumables. If you can afford it, take a Potion or Regeneration and a Potion of Healing or two Potions of Healing. Trust me, you'll need them. [Edit: It was brought to my attention that a Potion of Regeneration is a level 9 item. You can only purchase consumables up to your level, so it's not a legal option for this adventure. My mistake. Stick with two Potions of Healing.] At level 5 most PC have a healing surge value around 10 hit points anyway so it's not like you lose a lot by drinking the potion.
Earn glory
At the beginning of the session the DM is supposed to distribute Glory tracking cards. The card lists all the things you can do during the adventure (including dying) that can earn you Glory. Study the card closely as it may give you some clues about what to expect or what to look for during the assault.
Know your place on the team
As soon as initiative is rolled and the game begins things can quickly go to hell. It's important that everyone play their role. If you're role is leader then your primary job is to keep the party alive and on their feet. Your job is not to engage monsters by yourself. Those in the defender role should engage and lock down as many monsters as possible. If you want to do lots of damage play a striker, otherwise get out of the way and let the real strikers do their job. As soon as you take on a role that your character is not designed for there's going to be chaos. The only way to be successful in Lair Assault is to work together as a team. Everyone is relying on you to do you job. If you do something else, everyone will pay for your grandstanding.
Assuming that everyone plays their role it's time to look at the bigger picture and address teamwork. The party has to behave like team. If you don't work together you're toast. I'd strongly recommend that the party designates a leader (not necessarily the person playing a leader class). Whenever the party needs to decide which way to go, which monster to focus fire on, when to flee or when to turnaround and try a new path the "leader" has final say. Without a leader the players will spend a lot of time bickering over what to do. No one wants to back down because everyone thinks they're right and things get worse before they get better. Having a leader to settle these disagreements should keep things running smoothly.
Making the most of your resources
If the party does run into trouble (and they will) you're going to need a lot of healing. Without ample healing resources most parties will die fast and horribly. It doesn't matter that your PC has a lot of healing surges or not, triggering those surges is the issue. Most leaders have two healing power per encounter. Once those are gone all you've got left is your second wind and possibly Healing Potions. Be mindful of this during character creation and strongly consider choosing items, feats or powers that let you heal or gain temporary hit points. Many of the character I saw at the table took a multi-class feat from a leader class. It's well worth it.
The best way to avoid the healing surge problem is to avoid taking a lot of damage in the first place. Using your most powerful abilities early can make a huge difference. Since this is one giant encounter any effects that last until the end of the encounter will be active the entire session (unless you fall unconscious). Be sure to use your encounter and daily powers as quickly as possible. This also goes for action points. Don't hold out for the perfect moment to use those actions pints. Use them when they'll help you most, even if it's just to move or take another minor action. Don't hold back.
For example, during my game a PC was in desperate need of healing. After attacking and moving he drew a potion as a minor action. He decided that using his action point to consume it was a wasted action point. By the time his turn came around again he was dead, his corpse still grasping the healing potion. He died before he could use his action point or his daily powers. If you've got them, use them before it's too late.
In an adventure like this it's going to be instinctive to fight the monsters. Remember that killing all of the monsters is not required (unless you're trying to earn the Glory for accomplishing that task). Remember your role and remember the other things your character is capable of doing. Your skills are your friends and should be relied upon heavily. To start with, make monster knowledge checks. If you learn that the monsters have burst or blast attacks, don't bunch up. If they have forced movement powers than don't stand near a ledge or other hazardous terrain. Any time you don't know what something is, try to identify it. Look for traps and try to deactivate any that threaten the PCs.
Experience required
Lair Assault is not for beginners. I hate turning anyone away from a public play game, but this should not be anyone's introduction to D&D. For experienced players this is not the time to try something new. Part of what makes this adventure so thrilling is the pace. If you're playing a new class for the first time you're going to slow things down. You're also likely to overlook the little details that your class provides. Stick to what you know and run it like you own it.
Replay value
Wizard expects that 80% of parties will suffer a TPK their first time through. All three of the sessions I've witnessed suffered a TPK. The advantage of this kind of adventure is that it's designed to be played over and over again. The DM can and will adjust the types of monsters and their location within the dungeon each time so there is an element of surprise. However, some things remain the same each time, including the layout, the traps and the natural hazards. So there is a lot of value in playing it more than once.
After you've played Forge of the Dawn Titan you will be armed with knowledge. Before attempting the adventure again you can create a brand new character or tweak your existing one. You can do this after each attempt whether you were successful or not.
The sessions we played this week took about two hours of real-time before the PCs were all killed. Some of the players didn't know their character very well which slowed things down considerably. If you're playing with a group of experienced player who really know their character than I'm guessing that you can get through it in about 90 minutes, less if you're killed.
Podcasts
During my first stint as the DM for Lair Assault I recorded the entire adventure. If you haven't yet played this adventure than I'd recommend that you not listen until you do. This podcast will reveal a lot of the secrets of the adventure (but not all of them).
After the adventure I sat down with the other DM and we talked about what we liked and disliked about the adventure, how the players at our table handled challenges and some of the strategies that we used. Again, if you haven't yet played Forge of the Dawn Titan then I suggest you hold off listening to this Podcast until you run through the adventure at least once.
Have you played Lair Assault: Forge of the Dawn Titan? How did you do? How much Glory have you earned so far? Share your best moments from Lair Assault below. Please try to keep them spoiler-free or at least warn readers that you're going to give away details so they can skip your comment.

Looking for instant updates? Subscribe to the Dungeon's Master feed!