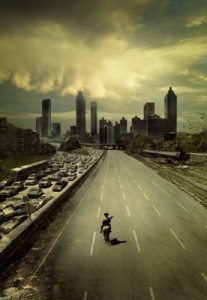 With the season two premier of AMC's Walking Dead airing yesterday, zombies are again the flavour of the month, especially with fantasy gamers. If you're like me then every time you watch Walking Dead, or any other zombie move, you start thinking about running a zombie apocalypse campaign in D&D.
I've given considerable thought over the years on the best way to run a game where all the monsters were zombies. It's tough if you're as deeply engrained in D&D as I am. After all, one of the great things about D&D is that there are a wide variety of monsters. One week you might fight trolls, the next week a beholder, and the week after that zombies and the next week a dragon. Between the wide variety of creatures available in the Monster Manuals and the relative easy of creating your own creatures with Monster Builder, it seems kind of ridiculous to even want to create a camping where you battle the same creatures again and again.
But if there's one thing the zombie genre has taught me it's that a campaign with only one monster type can be very exciting if you play your cards right. Today I'm going to share 7 tips for how to pull off a successful zombie campaign in the world of 4e D&D.
1. Character Specialization
If the players know beforehand that they'll be fighting lots and lots of zombies then they can make very specialized characters. Obviously divine characters will be very popular choices because of their special powers vs. undead and ability to deal radiant damage, but there are other excellent choices as well. A controller is a good choice because they can target multiple creatures with each attack. Any monsters not destroyed can usually be pushed, immobilized, slowed or dazed as a secondary effect. Another good addition to any party facing off against zombies is a strikers capable of sharp-shooting, be it a Rogue, Ranger or even a Sorcerer.
In many campaigns building a specialized PC can be problematic, especially if only one PC chooses that specialization. But in an all zombie campaign everyone shares the same specialized slant. Everyone tries to find the perfect build without making exact duplicates of each other's characters. A specialized character is considerably better at facing whatever creature they've chosen to battle which makes every player feel like they've got a truly awesome PC.
2. Tactics Become Critical
Normally in D&D if you take a few hits during a fight it's no big deal. You expend a healing surge and you're good to go. But what if the mechanics were tweaked and any damage inflicted by a zombie resulted in Zombie Plague. Any creature who contracts Zombie Plague needs to save against the effect at the end of combat the same way they would save against Filth Fever or Lycanthrope. If they succeed then the zombie's attack didn't break the skin and they're fine. If they fail then they've become infected and it's only a matter of time before they become zombies. There is no cure for the Zombie Plague. It doesn't matter how many hit points the PCs has left, if they get bitten by a zombie it's game over. Suddenly combat takes on a whole new dynamic. It isn't just about defeating the monsters; it's about not getting hit in the process.
3. The Thrill of the Kill
I'm a big believer that all zombies should be minions. A single hit should be enough to drop a zombie in its tracks. I'm also a big believer that zombies should appear in huge mobs. So if you're already playing that any hit can lead to Zombie Plague then 40 zombies shuffling toward the party, even knowing that they're minions, becomes a really scary proposition. A really cruel DM can really scare the players by give some of the zombies a Rise Again power. When a zombie is killed roll a d20. On a roll of 16-20 it will stand up again on its next turn and continue attacking, unless it was killed with a crit. This basically turns them into two-hit minions. Facing 40 minions who all have the potential to Rise Again can be a very deadly battle regardless of the PCs' level.
4. Role-Play Fear
If the adventure takes place in an urban setting there's bound to be a lot of really scared NPCs. This can make for some really excellent role-playing opportunities. Skills like Intimidate that aren't often used during social encounter become a lot more effective than sweet-talking Diplomacy. NPCs are likely to make a lot of irrational and stupid decisions which can make the PCs' job of staying alive a lot harder. The anticipation of an attack and how NPCs deal with that fear can often be more tense than the actual attack.
5. Encourage and Reward Playing Smart
The more the PCs know about their enemy, the better they can plan. Zombies are mindless. They are driven by an instinctual desire to feed. They're attracted to sounds, smells and signs of movement. If the PCs can hide and remain undetected then they have a better chance of survival. PCs trained in Stealth, Perception, Streetwise, Athletics and Acrobatics have a chance to put those skills to great use with regularity. By playing smart, the PCs can use their skills and try to get close enough to the zombies to observe them. Knowing where to find the zombies and how many there are can provide a huge edge in avoiding or fighting them.
6. Changing Settings
Depending on how wide-spread the zombie outbreak is for your adventure, the PCs will have to decide if they're better off staying in a defensible area or fleeing to an area that remains uninfected. It's likely that the campaign will even begin with one and turn into the other. Regardless of which scenario plays out, there will be plenty of adventure.
In order to defend a stronghold the PCs must begin by ensuring that the place is safe and secure. Every possible hiding place needs to be checked for any zombies already inside. All possible ways in and out must be located and secured. Once the stronghold is secured supplies will be limited. Running out of food may force the PCs to flee in order to avoid starvation.
In the alternative scenario, the PCs may discover the zombie outbreak while in the wild. The campaign may begin with a series of encounters where the PCs have to out run waves of pursuing zombies or hide from them while trying to figure out their next move. Do they keep moving of find a defensible place to hole up? Do they actively see other survivors or do they feel that a small group has a better chance of survival?
7. The Familiar Becomes Scary
A good zombie game will always have way more zombies than heroes. The number of zombies will continue to be replenished as the living become infected or killed by zombies. Every time one of the heroes falls the enemy's numbers are strengthened. The PCs will interact with NPC survivors and hopefully start to know them. When some of the NPCs are killed by zombies (because that's eventually going to happen) they will become the enemy. How will the PCs and other NPCs react when the new wave of zombies includes the hot barmaid that the PCs were flirting with only a few days earlier or the teenage boys who were capable scouts that admired and looked up to the PCs?
These are just a few tips to help you get started if you want to run an all-zombie game. This is a very high level overview, tips to get you thinking in the right direction. The details will change based on your specific choices but these tips should be a good framework to get you started.
Have you ever played in an all-zombie game using D&D rules? How did it work? Did the PCs survive? Do you think that using all minions would work for a long-term campaign? What about the proposal to create a Zombie Plague that can infect and kill anyone bitten during combat? Share your tips for making a great all-zombie D&D adventure.
Related reading:

Looking for instant updates? Subscribe to the Dungeon's Master feed!