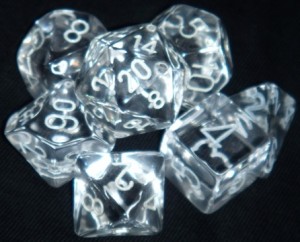 Players love to roll dice. This is one of the reasons that strikers are so popular in 4e D&D. Strikers attack more often and always seem to roll more damage dice than classes in the other roles. I must admit that I fall squarely in the "love to roll dice" camp. It's part of what I find appealing about D&D or any board game for that matter. Quite simply, it's fun. But for some players rolling dice is where their interest stops.
I've had a lot of issues lately with players who don't pay attention to what's going on when it's not their turn. I've tried a lot of different things to keep them engaged from rewards to punishment but many simply zone out. I see this a lot during public play like D&D Encounters and LFR. I'd pretty much given up and come to accept that some players are simply there to roll dice and don't care about what else is going on if it doesn't directly affect their character. And then I finally came up with a way to solve this problem and the solution involved rolling more dice.
When it's your turn you make an attack roll (or multiple attack rolls if you're a striker). If you hit you then roll a bunch of damage dice. Unless you have an interrupt or a monster provokes an opportunity attack you can put the dice down until your next turn. But what if you had more chances to roll dice when it wasn't you turn?
Defenses in 4e D&D all begin at 10 and go up from there. Have you ever wondered why the system was set up this way? In the 3.5e PHB it explained that the base 10 represented an average defense roll, a "take 10" mentality to keep combat simple and eliminate unnecessary defensive rolls. But what if we make defending an active part of combat, at least for the PCs?
Rather than have an AC of 22, you'd have an AC of 12+1d20. Whenever anything attacked your AC you'd have to roll your defense. This means that your AC could be as low as 13 or as high as 32 in this example. On average your defenses would still round out in the 22 ballpark that you're used to, but now the act of defending falls on your shoulders and required you to make a roll (or multiple rolls).
This is not something that will appeal to every group or every player, but if you've got a table where most of the players attack and then stop paying attention this might be exactly the kind of engagement that keeps them glued to the action.
I think that for this kind of system to work best, once the PCs' defenses become randomized the DM should make all the monsters attacks flat. Stop rolling for the monsters and just add 10 to their attack score. After all, there only needs to be one roll – either an attack roll or a defense roll. Rolling on both sides of the equation will just slow things down. You haven't introduced any more dice rolling to the encounter, you've just given more of it to the players.
The way combat works today my monster would normally roll +14 to attack your 22 AC. With the new system you'd have to make an AC defense roll vs DC 24 (the +14 I began with and then the add 10 we removed from your static AC). Your AC defense is 12+1d20 as we noted above so you'd successfully defend on an 14 or better. The odds remain exactly the same. The only thing that changes is that the players do all the rolling.
Using the numbers above I used to hit on any roll between 8-20 (13 possible numbers). Now you successfully defend by rolling anything between 14-20 (7 possible numbers). In either of these two scenarios, 7 numbers on the die are good for the PC no matter how you do the math.
By eliminating monster attack rolls a monster no longer scores a critical hit on a 20. After all a 20 on your defense roll is fantastic and means that nothing touches you, the same way a monster rolling a 1 on their attack would normally miss. However, if you roll a 1 on your defense roll then you've made a critical fumble and the monster does maximum damage just like they would if they'd rolled a 20 on their attack. The mechanic is still present it's just changed ends of the spectrum.
With the DM free of rolling dice he can focus on the story and the theatrics. Normally I'd say something like "The monster attacks you and rolled 18 vs. AC. Does that hit?" The response is a yes or no and combat continues. Now I can say "The monster swings his big club right at your face, defend with your AC, DC 18." This leaves it to the player to complete the scene. If the defense roll succeeds then he could respond with "The club bashes against my helmet and rings my bell." If the defense roll succeeds then he could respond with "I duck at the last second and the club goes over my head." With the onus on the player to finish the scene they will be more inclined to give more than a yes or no response.
When the players need to roll active defenses they will immediately know which monsters have the best attack scores. The way combat works today the players generally have no idea what the monster's attack scores actually are because the DM only reveals the total after the dice are rolled. By telling players the DC to defend against they'll realize which attacks are deadly and which ones are less likely to hit. This can affect combat strategy and highlight the more powerful foes. It instills a sense of danger that is missing from combat today.
With the players rolling all the dice it also encourages them to pay closer attention to the entire combat. If a monster is supposed to suffer a -2 to its attack the players are a lot more likely to remember if they're the ones rolling the dice. They can police each other and remind everyone who has what conditions on them that might affect the numbers.
By removing the dice from the hands of the DM everything is decided by the players themselves. I know that my players believe my DM dice hate them and always roll a 20s at the worst possible time. Now players have only themselves to blame when the dice are against them. By rolling their own defenses they no longer have to fear the 20. No matter why they're rolling, high rolls are always good regardless if they're making attack rolls, defense rolls, skill checks or saving throws. It's those pesky 1s that will become even more of a pain in the butt.
Having players make active defense checks may take a few battles to master, but I think players will catch on quickly enough. For those who like rolling dice I think it will catch on very quickly.
Do you think your players would be interested in rolling their own defenses? Do you think it would keep player more engaged? As a DM would you be willing to give up the dice rolling or do you think it would leave you with too little to do?
Related reading:

Looking for instant updates? Subscribe to the Dungeon's Master feed!