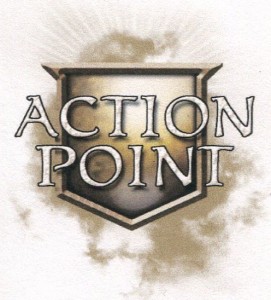 Action points are designed to give every PC a chance to be truly heroic and do something extra when it's needed most. The very name "action point" brings to mind the potential for something truly remarkable. Unfortunately this has not been the case in my experience.
I've found that at my gaming table actions points are generally used in one of the three following ways:
Make another attack after missing with the first one (essentially a re-roll).
Use your second wind.
Take a move action after standing from prone.
Don't get me wrong, these are all perfectly acceptable actions all well within the rules as written, but honesty, these are all pretty boring ways to spend (waste) and action point. Action points should be used to keep the action going. There should be excitement when a player declares he's using an action point. These three examples are all sort of blasé.
The problem is that you only get one action point every two encounters. If they were more abundant in the game then using one in the ways I've listed above wouldn't seem so bad. After all, you're not going to be knocked prone during every encounter. So the question becomes how to let PCs use more action points more often without breaking D&D.
Award Action Points More Often
The most obvious solution, which has been discussed ad nauseam on the blogs and forums, is to award action points to the PCs after every encounter. I'm on the fence with this approach. Despite the benefits I think this might make action points too common. I have played in adventures where the DM takes this approach and it is certainly a lot of fun. In these cases the DM had to ramp up the difficulty a little bit since he knew everyone would spend an action point every encounter.
Adventuring Company Bonus Action Point
Another approach that exists in public play is the idea of a bonus action point that the table shares. I first discovered the "action point for the table" while at GenCon a few years ago. If at least three PCs at the table belong to the same adventuring company then the table is awarded a bonus action point. This is above and beyond the action points each player already has.
What I found particularly interesting about the way this works is that when a PC wants to use the bonus action point the majority of the players at the table had to agree. What we found was that the trivial actions were always voted down. The bonus action point was always used to accomplish something truly heroic.
It is important to note that paragon level characters who get benefits when spending their own action point do not receive those bonuses if they spend the table's action point.
The more I've thought about the "shared" action point the more I see the potential to change how action points are assigned and rewarded. By building on this existing framework I think there is tremendous potential to make action points a lot better and a lot more exciting.
Party Action Point Pool
Similar to the way adventuring companies get one bonus action point in Living Forgotten Realms (LFR), the DM begins the adventure by creating a pool of party action points. Each party member still gets their own action points following the existing rules as written and earning another after each milestone. The pool begins with one action point that anyone can use, but the action needs to be approved by the majority of the table.
Using an action point from the pool does not count against the "one action point per encounter" rule. So a PC could use his own action point and then on a different round use an action point from the pool. The action points from the pool gives you another action and that's it. My initial thought is that you'd only gain peripheral benefits (including paragon path features or bonuses from feats or other characters) when you uses your own action point, but I think I'd need to see this in use before making a final ruling on this caveat.
At the end of each encounter the DM will top up the action point pool based on how the party did during the previous encounter. If the party was defeated or ran away then no additional action points would go into the pool. If the party defeated the monsters but nothing really stood out as exceptional, one action point would be added back into the pool. And if the party did something truly awesome then the DM could award multiple action points into the pool.
The idea that action points become part of the reward for good role-playing and creative ideas not only encourages this kind of play and has a greater likelihood of the PCs actions being exciting, especially those taken with an action point from the pool. Remember that the players need to approve usage of action points so using one from the pool to stand from prone is likely to be voted down.
No Individual Action Points
If you like the idea of an action point pool then here's another variant on that idea. None of the PCs have their own individual action points; they are all shared collectively by the table. If there are five PCs then the pool starts with five action points. Using an action point from the pool still requires the majority of the players to approve it. Whenever that PC uses an action point all normal benefits apply since this is technically their action point anyway.
Since the action points aren't assigned to an individual it is possible for the same PC to use more than one action point during the same encounter while another PC doesn't get to use one at all. I don't see this as a really big issue. I know that there are plenty of times when I don't use my action points and don't feel slighted at all. Sometimes I wish there was a way to let someone else use my action point when I don't plan to use it.
Allowing one PC to use more than one action point per encounter carries a tremendous potential for abuse so I'd suggest the following guideline. Once a PC uses an action point they are not able to use another until someone else uses one first. This eliminates the possibility of the PC with the highest damage output using five action points in the first five rounds.
The Effects of More Action Points On PCs
By adding a pool of action points, and allowing PCs to potentially use more action points more often, it might change the way some players build their characters. Warlords are already a pretty common staple at my gaming tables, but when you add more action points to the mix their Commanding Presence ability becomes a lot more powerful and has a lot more potential. Chances are we'd see more Warlords and they'd in turn take more feats to better their Commanding Presence ability.
Similarly feats and magic items that provide some kind of benefit when you spend an action point would get a lot more consideration. Today they're often overlooked by my gaming groups, but I suspect that would change if one PC could potentially spend more than one action point in a single encounter or spend an action point every round.
As I stated in a previous article, when PCs spend action points the rules as written should be more of a guideline than an absolute. Action points are supposed to be a big deal and it's important that something cool happens when a PC uses one. The changes I've suggested above should help facilitate and encourage the thrill that every action point should bring to the table when it's used.
What are your thoughts on action points? Are PCs at your table using them in marginal ways? Do you think my suggested changes to action points would make things more exciting or just be an excuse for the power gamers to further exploit the game? Has anyone used company action points with any regularity or another variation of this rule? What have your experiences been like?
Related reading:

Looking for instant updates? Subscribe to the Dungeon's Master feed!