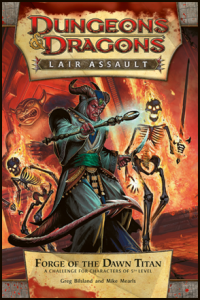 There are only two weeks left before Forge of the Dawn Titan is replaced with Talon of Umberlee. I assume that most players who are interested in trying Lair Assault have done so at least once by now. I've had the pleasure of running it five times and playing it twice and I think that every time was more fun than the last.
Anyone looking for tips or hints on how to make their Lair Assault experience better should have no trouble finding plenty of articles online. In fact we've got plenty of useful links at the end of this article that you may find useful. But what you might find even more useful are the actual play experiences of those who have gone before you. So today I'm sharing seven podcasts of my experience with Forge of the Dawn Titan.
I'd like to draw special attention to session 6 which features the Dungeon's Master creative team. This is your chance to hear us play D&D and get a sense of the camaraderie between this tight-knit group of friends.
Session 1
This was my first attempt at running the adventure. I thought I was ready but the first run-through was certainly a learning experience for all of us. We did have a TPK, but everyone at Dueling Grounds had fun.
The party consisted of:
Dragonborn Warden
Dwarf Warlord
Eladrin Bladesinger
Halfling Monk
Minotaur Runepriest
Session 2
Although this was my second time running the adventure it was the first time through for three of the players and our first playing it at Harry T North. Again there was a TPK, but that didn't deter this group. They wanted to schedule the next session before we'd even pack up from this one.
The party consisted of:
Dwarf Paladin
Dwarf Runepriest
Tiefling Cleric
Tiefling Warlock
Vryloka Paladin (Blackguard)
Session 3
This was our second time running Lair Assault at Dueling Grounds, but for four of the players it was their first time experiencing Forge of the Dawn Titan. This was the most brutal of all sessions I DMed or played. By the end of round 2 one of the PCs was dead. By the end of round 3 another was dead. And then it got even worse. Needless to say it was a TPK by round 6. Lesson learned: bring a leader!
The party consisted of:
Dragonborn Barbarian
Genasi Swordmage
Halfling Monk
Tiefling Wizard Mage
Thri-kreen Monk
Session 4
We almost didn't play this time through at Harry T North because one of the players cancelled at the last minute. I wasn't interested in running it with only four PCs so one of the players agreed to run a second character. In retrospect we should have just rescheduled. Another TPK.
The party consisted of:
Dragonborn Paladin
Dwarf Runepriest
Elf Ranger Archer
Genasi Warlord
Half-Elf Druid
Session 5
This was my first time actually getting to play the adventure. By now I knew the ins and outs which gave me a huge advantage. I didn't want to give anything away so I tried not to be the party's decisions maker. In the end we were victorious. I only spent 1 healing surge and it was to use an item power. If only I hadn't spent that surge I'd have earned the Tough as Nails glory. As it was I only ended up earning Vell's Foil for completing the adventure and two of the secret awards (which I only got because I knew what they were ahead of time).
The party consisted of:
Genasi Bladesinger
Genasi Warlord
Tiefling Paladin
Tiefling Wizard Mage (Derek a.k.a. Ameron)
Vryloka Paladin (Blackguard)
Session 6
As mentioned above, this session features the Dungeon's Master team. I'm the DM and only Liam (a.k.a. Bauxtehude) had played it before. The other four players were completely in the dark. What I really liked about this session was that the players spent about 20 minutes discussing tactics before the adventure even began. It's quite interesting to hear the kind of things that they expected when you already know what's coming. It took 19 rounds but in the end the Dungeon's Master team defeated Mordai Vell.
The party consisted of:
Dwarf Fighter Brawler (Dave)
Dragonborn Barbarian (Cary a.k.a. Skallawag)
Genasi Paladin (Neil a.k.a. Wimwick)
Genasi Wizard Mage (Jay a.k.a. Suddry)
Gnome Warlord (Liam a.k.a. Bauxtehude)
Session 7
This session was played in Nightmare mode. I figured that since I was a player and all the other players had run through the Lair Assault at least once before that we could handle the extra monsters. In the end we were victorious!
The party consisted of:
Dwarf Cleric Warpriest
Dwarf Paladin
Tiefling Warlock Hexblade
Tiefling Wizard Mage (Ameron)
Tiefling Vampire
Additional Resources
These previous articles on Forge of the Dawn Titan provide a lot of tips and hints about what you need in order to be successful.
For a really in-depth look at Forge of the Dawn Titan check out the excellent blog Heroes of Shadow. Chris Shaw a.k.a. Sunyaku has compiled everything you could possibly need to know about Lair Assault: Forge of the Dawn Titan. His articles contain a lot of spoilers so be forewarned. however, if you've played before and plan to play again then you NEED to read these articles. If you haven't achieved a victory yet, these articles will make things a lot easier the next time through. Be sure to read the comments in which a lot of DMs (myself included) share our own thoughts and experiences.

Looking for instant updates? Subscribe to the Dungeon's Master feed!