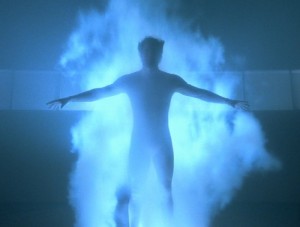 If you're looking for a way to pump some new life into a long-running or stagnant campaign why not make a radical change like thrusting the PCs into the past. I can already hear some of you scoffing at the idea, but in a world with magic is time travel really that unlikely?
Players get bored when they're not challenged. Sure you can throw more powerful monsters at them but even that gets repetitive. What I've found is that anything that takes them out of their comfort zone is good for the game. Players don't realize how much the success of their characters relies on the familiar. High level PCs usually have a reputation and their deeds are well-known by the community. Taking all of that away from them can have a greater effect that you might think.
Although I've played multiple characters in multiple campaigns over the years every camping took place in more or less the same time period. In established worlds like Forgotten Realms or Eberron, keeping the action in line with cannon allowed us to interact with well-known NPCs and work elements from new releases into our games. Even though I played in numerous campaigns set in the Realms during my high school years they all happened simultaneously.
Now fast forward your campaign setting 50 years. Assuming there wasn't a cataclysmic disaster (like the Spell Plague) and things progressed without any significant interference, what changes do you think happened to the world and the people in it during that time. Just think of how much things have change in the last 50 years in real life and imagine the kinds of change that will come in the next 50.
So in a world with magic what do you think their future will look like? How technologically or magically advanced to you think your campaign world will become in the next 50 years? A more important question is how much has your campaign world advanced over the last 50 years? While contemplating that brain teaser think about how your PCs would react if they found themselves thrust back into that time.
Only Travel to the Past
You'd assume that once time travelling magic is discovered that the PCs should be able to go into their future or into their past. Adventures in the past are a much better way to go. It's always easier to look back and say what events led to where we are today. Depending on how rich your campaign world is you may already know what was going on in the time period you're planning to send the PCs to.
Traveling forward in time always involves a lot of guess-work that will likely be inaccurate. Keep things simple and if you're going to use time travel in your campaign have the starting time be the furthest the PCs can go into the future. This should help keep the train on the tracks.
The Time Machine
In a game as magic-rich as D&D I wouldn't resort to using a time machine. I'd just say it was magic and be done with it. Only tell the players what their characters would know, and that would likely depend heavily on the circumstances that led to the time travel. If it was an "attack" or curse that sent them back in time then they're likely clueless. If they are going back in time for a specific purpose then they should have a rudimentary understanding of how it happened. The easiest answer is that a ritual sent them back and a ritual will bring them home. Of course the ritual may need to be cast in a very specific location or at a very specific time which can add a whole new level of excitement to the time travel arc.
Depositing PCs in an unexpected and unfamiliar setting can make for a very interesting adventure or campaign arc, but eventually the PCs should have a way to get home. Maybe that's the nature of the adventure: they went back in time to put right what once went wrong and when they're done they can return home. Maybe going back in time wasn't their idea in the first place and now they're stuck until they can figure out how to get back. Just be sure to let the players know that there is a way back and that they're not going to be stuck in the distant past forever.
Knowledge is Power
The most valuable asset your character will have if they travel back in time is knowledge. Assuming they've travelled a bit and are in some ways worldly in their own time, then they'll understand how the political landscape will unfold. Perhaps an area currently uninhabited will have an economic boom when gold is discovered in the nearby mountains. Maybe a powerful dragon will destroy a kingdom which will include all the art and literature from that society.
Depending on how and why the PCs have travelled back in time they may need to let bad things happen or they may choose to try to change the future as they know it. Greedy PCs may purchase property they know will appreciate, others may acquire items that seem common in this time but are rare and valuable in the future. Making decisions that can have consequences on the world that the PCs know can be an interesting aspect to add to any campaign. There's even the "I am my own grandfather" paradox, but I'd discourage DMs form even entertaining any scenarios that have the PCs interact with their progenitors.
Advanced Technology
Technology advances quickly. In a fantasy role-playing game the technology of the day is magic. So what's changed between the time the PCs are from and they time they're sent back to. Maybe the most powerful enchantment back then was only +1, so their +3 swords are unlike anything in existence. Maybe magic items have flat bonuses but no special properties, so the +3 isn't a big deal as the flaming property.
What Race Are You?
In a party with six PCs there are usually six different races represented. What were the demographic of this region like in the past? Do the people of this region even know what a Dragonborn, Drow, Goliath, Tiefling or Minotaur even are during this time period? Maybe normally common races like Elves or Dwarves are not welcome here until after those races help defend this region during a war that won't happen for another decade. Just think of how advanced a Warforged from the future would look in the past.
In most campaigns we assume that all races are treated with at least tolerance, if not respect, but in this case it might be worth playing up this element of the game, if only for a short while. Remind players that there are consequences to playing those bizarre races.
Monsters
Depending on how far back the PCs need to travel it's possible that they'll encounter monsters they've never seen before or wouldn't expect to see in this part of the world. Maybe dinosaurs once roamed the area that in their time is a bustling metropolis. Established worlds like Eberron provide a rich history that you can draw from when populating the past with creatures. In this case the majority of the inhabitants would be Giants and Gobloinoids. Have fun with it. Remember that when it's all over the PCs will likely return to their own time, so have them fight anything you want while in the past.
Back to the Future
Any adventure that involves time travel should have a planned and clear ending which has the PCs going back to their own time. The PCs may decide in the end that they're not interested in going back, but that should be their decision. After all, time travel is not something that the players likely considered when they were developing their characters. Putting them in an unfamiliar setting may be exciting for a while, but only a jerk DM would railroad them into a campaign where they have to begin again from scratch to establish themselves.
Have you ever played in a campaign that involved time travel? How far into the past of future did you go? What were the consequences on the main game when the time travel was over?
Related reading:

Looking for instant updates? Subscribe to the Dungeon's Master feed!