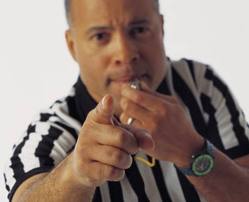 Every now and then a situation arises during game play that we're not sure how to adjudicate. This kind of thing happens much less frequently now that we're familiar with the 4e rules, but it does still happen. In our experience it's better for the DM to make a quick ruling and keep the game moving foreword, and most time this is how we handle these unusual situations at my game table. However, we pride ourselves on knowing the rules inside out so when we have something unexpected come up and we don't know the answer we see it as a challenge and after the game's over we start digging.
When trying to find the right answer we of course begin by searching in the PHB, DMG, Rules Compendium or online compendium. If we can find a definitive ruling we go to the internet and the various forums. But this doesn't always provide us with a satisfactory answer either. So we've decided to try a new series where we present the situation, explain our ruling and ask for your feedback. This might end up being a very informative series that clears up a lot of confusion for players and DMs alike or it may become a series where we get flamed by the online community for not knowing something obvious. We're hoping that the good outweighs the bad so we've moving forward with it.
Prone
We've had a lot of situations in our home game lately where the PCs are knocked prone. The rules for what you can and can't do while prone are pretty straight forward, but we've had a few unexpected scenarios come up that were not as clear cut – specifically around moving while prone.
Can a prone character charge while prone?
According to the rules you have to move at least 2 squares in order to charge. A prone character can still move (albeit at half their speed). If the character's speed is 4 of higher they can certainly move the required 2 squares. So can you charge while prone? A silly as it might look I think you can. However in my home game we've house ruled that you cannot because we think that it's contradictory to the intent behind the charge action.
Can a prone character jump?
Much like the situation with charging, the rules as written don't specifically say one way or the other so I'd be inclined to say you can. However, for the same reason as the charging example, we've house ruled it that a prone character cannot jump across a pit or over lava unless he stands up first. Jumping while prone doesn't seem in keeping with the intent of how the jumping rules work.
Can a prone character fly while prone?
This is really something that is likely to affect monsters more than PCs, but with the introduction of the Pixie in Heroes of the Feywild (a playable race that can fly) it may become more relevant in the coming months. It's always seemed silly to me that a flying creature can be subjected to the prone condition, but that's not what's on the table now. If the flying creature is prone, can it fly (equivalent to a crawl for non-flying creatures)? Can it gain elevation as it flies while remaining prone? We've ruled that horizontal (side-to-side) movement is allowed but not vertical movement, even at crawl speed.
Reduce the Area of Effect and Damage
A lot of powers are blasts and bursts. In most cases these powers are intended to target multiple creatures in a larger area. But what if I don't want to target everyone?
Can a character reduce the size of a blast or burst?
The most common reason to reduce the size of a power's area of effect is to avoid hitting your allies. There are feats and items that will allow you to make the area larger but nothing to make it smaller. So the question remains can you reduce the size of a power's burst or blast if you want to? Doesn't it make sense that a Dragonborn knows how to control his breath weapon well enough that he can make it a blast 2 rather than a blast 3? Our group has ruled that you cannot reduce the size of a blast or burst, although I disagree with this ruling (majority wins).
Can a character choose to inflict the minimum damage?
Along the same lines as the questions above, if you know that you're going to get your allies in a blast or burst can you choose to deal the minimum dice damage to the entire area? This would be especially beneficial if you know there are minions in the blast. Since minions will fall as soon as they're hit, there's no need for me to BBQ my allies in the process. If I would normally deal 2d8+6 fire damage can I opt to deal only 8 damage (1+1+6)? I'd assume that the modifier damage cannot be reduced but what about the random dice damage? Again my group ruled that you have to roll the dice in all circumstances (except for crits, obviously) despite my recommendation to the contrary (again the majority ruled).
It's important to remember that in any situation where you have to make a call on the rules that the outcome needs to be applied consistently across the board. If it's going to work that way for the PCs then it's also going to work that way for the monsters. When we vote on a house rule that's the number one reason to err on the conservative side of the argument.
Have you you've experienced a unique situation during your game where the rules are murky and you haven't been able to find a satisfactory answer? Send me an email with the specifics and we may feature your plight in an upcoming installment of You Make the Call.
Have you had any of these situations come up at your gaming table? How did you rule them? Where do you stand on these prone questions? What about reducing the size of blasts and bursts or inflicting less damage? You make the call!
Related reading:

Looking for instant updates? Subscribe to the Dungeon's Master feed!