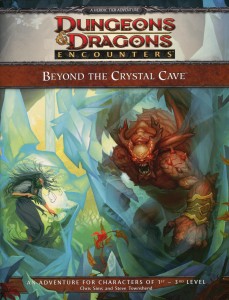 This week we had enough players for two solid tables. I took the under-13 crowd and had five players. The other table took the adult gamers and ran a party of six. We had three bran new players among the groups, none of them having any previous D&D experience. The younger player joined my table, the older players joined the other.
My table ended up with the following compliment: a Bullywug Assassin [Fey Beast Tamer], Deva Cleric, Revenant (Elf) Sorcerer, Fargrim the Dwarf Fighter (Slayer) (pre-gen), Beliel the Drow Warlock (pre-gen). This gave us four strikers and one leader which actually worked out great.
The PCs took a short rest on the bank of Porpherio's Isle after last week's eventful river crossing. Now that they were actually across the river they took in their surroundings. They realized that the isle wasn't as large as they first thought – a mere 200 paces across. The palace covered the majority of the small island, but outside were a few trees and some roses growing in the shade.
The palace looked as if it was constructed from white marble. Water fell from the domed roof and into a channel that surrounds the palace before flowing into the lake. A curved staircase led over the channel and into the palace.
The PCs immediately plucked a few rose petals, the final plant key required to access the Palace of Spires, Soryth's home. Afterwards they looked around for any signs of passage. In the dirt they found boot tracks made by a humanoid, possibly Orlando. They also made an exceptional Perception check and notice the tracks left by Sir Oakleaf, the Treant.
Proceeding cautiously they climbed the stairs and entered the palace. Once inside they emerged in a large oval chamber. A large table with chairs set at opposite ends was at the centre of the room. Crystal glasses were set at each end of the table, one filled the other overturned, its contents spilled on the table and floor. A nearby decanter on a silver platter was filled with water.
Two painting hung on the walls. One depicted a handsome man with silver hair and lavish clothing. The other depicted a beautiful female fey with black hair and dressed in royal fashion. The PCs easily identified the woman as Caerwyn. They logically assumed the other was Porpherio.
Although there were long stone shelves containing numerous books and tomes (as well as concealed treasures) the PCs made absolutely no effort to examine it.
As the PCs explored the room they noticed a trapdoor in the floor. They cautiously opened it and found a man hidden inside. He was startled and frightened, and threatened them with his rapier. They immediately recognized him as Orlando. A few seconds later he recognized the PCs from Crystalbrook and emerged from the hole, glad to be in the company of friends. It was clear that Orlando had merged with Porpherio just as Juliana had merged with Caerwyn.
The PCs explained who they were and why they were here. They explained that Orlando was in great danger from a murderous Verbeeg who could arrive at any moment. Orlando seemed oblivious to the danger and only wanted to know where Caerwyn was. The PCs didn't immediate reveal what happened fearing that it might worsen his confused state. Orlando eventually threatened to leave the isle without them to search for her if they didn't reveal what they knew. This got them talking.
After they filled Orlando in on all the details he was even more anxious to find and rescue Caerwyn. They agreed to help him do just that, but they feared for his immediate safety. They instructed him to get ready to hide in the secret compartment in the floor if they yelled out "Danger!" He reluctantly agreed, knowing that they'd be leaving soon anyway.
As the Slayer opened the door to leave, a giant Verbeeg stood in the doorway. He had green skin and golden hair. He carried a large spear and wore wooden shield. Basil had arrived. He politely introduced himself before declaring that he was here to kill Orlando on Ragnar's instructions.
As the party started making a game plan for how to stop the giant from attacking, Basil addressed them again. He suggested that the PCs fight him and that the winner would claim Orlando as their prize. Nether side need kill the other, just compete for victory.
The PCs agreed but as the Verbeeg spoke the Assassin shouted out "Danger!" signaling to Orlando to hide. Just as the combat was about to begin, Orlando managed to get back through the trapdoor and close it shut. He should be safe in there while the others fought.
One big problem that we've had at my FLGS, especially with the younger players, is that they keep changing characters. Sometimes it's because they don't like their PCs and other times it's because they made poor choices and got killed. The result is that fresh, new PCs join the party every week. They have full hit pints, full healing surges, an action point, and all their daily powers. I've tried to enforce some kind of penalties to represent expended resources but they refuse to play if they can't come in fresh. I've given up trying to win this battle. So this week we only had one returning character, the rest were fresh. The returning character had only played in one previous encounter so he was pretty much at full resources too. Expecting the party to have trouble facing off against Basil I let them play the PCs as they were.
The combination of a striker-heavy party and full resources made this a really fun and relatively balanced fight exactly as written. Whether by dumb luck or shrewd planning (I'll bet the former) the party managed to spread out around the room. The Slayer was the first PC to engage Basil in melee and feel the sting of his Sweeping Repost. Realizing that he could do this as a free action, the other three strikers reverted to ranged attacks. Even the Cleric decided that Sacred Flame was his best option, staying well away from Basil.
The PCs never got close enough to each other for Basil to get more than one with his Lunging Sweep blast 3 attack, and after he used it once against a single PC he never managed to recharge it. Basil used the absence of a melee threat to use his Bewildering Bold ranged basic attack to its fullest potential attacking three times per round thanks to Hunter's Momentum. It did 2d6+5 on each hit, about the same average damage as his Spear's 1d10+7 except the ranged attack targeted Will.
Basil bloodied three PCs early but after that couldn't manage to get more than one each round. The PCs unloaded all of their daily powers on him as fast as they could. They use action points and ate through his 220 hit points in no time. The Slayer rolled 11 and 10 on his 2d12 damage in the first round and then scored a crit in the next. The Warlock hit right after the crit and rolled maximum damage, crit the hard way as we say at my FLGS.
When Basil was down to 20 hit points he offered a truce and conceded victory. I went down the initiative order giving each PC a chance to agree to the truce or continue fighting. Four agreed, the fifth attacked. Basil retaliated by moving to the trap door, flung it open and stabbed Orlando three times. Fortunately he only hit twice and Orlando was still alive. The Slayer, with only 4 hit points remaining, stood from prone, changed his stance and swung his mighty Great Axe. He hit and inflicted exactly 20 damage to Basil, knocking him unconscious before the Verbeeg could jab him with the giant Spear.
The table cheered and everyone gave a round of high fives. It was a thrilling conclusion to an action packed battle.
I think this was one of the most entertaining encounters so far this season. After a lot of story and role-playing it was fun to have a straight-forward, hack and slash combat encounter. Unlike the encounter from week 2 against the Echo Spirit and Ochre Jelly, the PCs never felt that victory was out of hand. They realized Basil was powerful but they enjoyed the challenge. I think that fighting only one monster really made a psychological difference in a good way.
The only disappointment came when we rolled for magic treasure. I let the player running the Slayer roll the d20 for loot since he landed the killing blow. He rolled a 1 after a night of exceptional attack rolls. So the party found two Healing Potions in Basil's pack. They were bummed that it wasn't a magic weapon or anything else more permanent than potions.
How did things go at your FLGS? Did Basil kill everyone or did the PCs hold their own? How many groups protected Orlando and how many saw him killed before their very eyes?
We continue to record our D&D Encounters sessions and make them available to you for download every week. This season I'm going to try to record the games at both FLGS where I play so that you can hear how two very different groups handled the same encounter. These recordings are made in a loud, crowded game store so at times it may be difficult to hear everyone.
D&D Encounters: Beyond the Crystal Cave (Week 8.) – Podcasts
Visit the Dungeon's Master D&D Encounters Archive for all of our ongoing weekly coverage as well as other great D&D Encounters articles and resources.

Looking for instant updates? Subscribe to the Dungeon's Master feed!