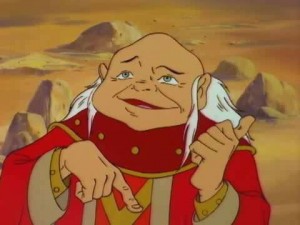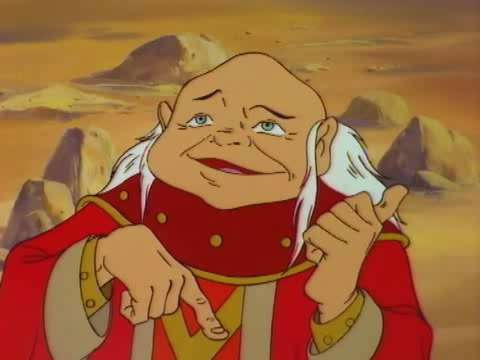 Remember the old D&D Cartoon from the 80s? Six kids are magically transported into the world of Dungeons & Dragons where they fight the forces of evil while trying to find a way home. (See the cartoon intro below). In the cartoon the Dungeons Master was an actual character. He would appear at the beginning of each episode and provide the heroes with a quest; in much the same way the DM does during an actual game of D&D. The DM served as the guide for the characters in the show and the viewers at home. He'd also step in from time to time and give the characters advice or help them out of a really tight jam.
In 4e D&D the DM is not one NPC, rather the DM takes on the roles of every NPC. But wouldn't it make things easier if Dungeon Master actually was an NPC in your game?
Using an actual NPC called Dungeon Master may be an easy way to resolve a lot of the issues or problems that sometimes arise in your game. It also gives you a way to have some direct iteration with the characters. Dungeon Master can act as a guide, providing the PCs with motivation for their next quest, much like he did in the cartoon. He can also be a good way to remind the players of details that their characters would know, especially names of people and places.
Dungeon Master can be especially helpful in a situation like D&D Encounters. We have a lot of younger players at my FLGS and they have relatively short attention spans. From week to week they often forget important details. Having Dungeon Master himself show up each week to do the recap can be a great way to get players to pay more attention, especially since they can interact with him directly. During the last season of D&D Encounters a lot of the players struggled to understand why they were taking on some tasks. Having Dungeon Master show up and emphasize their importance or providing details that were forgotten, the PCs can then make better decisions.
Whenever something in your campaign changes, say a new character joins the group or a character is absent, you can simply have Dungeon Master shows up and say "Braddoc is needed elsewhere but I leave you Delian in his stead. Good luck, brave heroes." In cases where the DM may need to bend the rules for the greater story, he can have Dungeon Master show up and take care of it. For example, if the PCs have burned through their healing surges but it doesn't make sense for them to rest given where they are in the story, why not have Dungeon Master show up and replenish a few surges for the party?
In extreme cases Dungeon Master can even raise character from the dead if there are no other alternatives. I'd be more inclined to believe that an omniscient Wizard called Dungeon Master showed up in our moment of peril and raised a fallen comrade than some lame excuse like he wasn't actually dead because the last attack only grazed him.
In a recent game a few of the players were bickering over who got a particular magic item. They ended up fighting in-game and yelling out-of-game. Why not have Dungeon Master show up in-game and settle things. He comes up with a way for the PCs to best determining who gets the magic sword and if they can't come to terms he'll simply disenchant the item. After all he's the Dungeon Master and can do anything.
Using such an obvious form of "Deus ex Machina" to resolve problems and convey information may seem a little bit silly or juvenile but I think it's the kind of thing even the most serious gamers will be up for. After all, if they realize that Dungeon Master is on their side and would never do anything to intentionally harm them, why wouldn't they welcome his assistance. It also gives DMs a license to be creative. In the cartoon Dungeon Master never actually came out and said do this or go that way; he often spoke in riddles and provided only clues. In my experience players would rather decipher these cryptic messages from Dungeon Master than just listen to a talking head DM who reads pages of text right from an adventure.
If you do decide to use Dungeon Master as an actual entity in your games you should also decide early on if he is well-known. In the cartoon many people are aware of Dungeon Master's existence. In fact he has enemies of his own who sometimes attack the heroes just to get his attention. Although this isn't something I'd likely do with any great regularity is does give the DM a way to introduce new and unexpected villains to the game that otherwise would have no reason to engage the PCs.
So the next time you're unsure how to fix a problem in your campaign or remind the PCs of information vital to the upcoming session, consider having the little guy in the red robes show up and introduce himself as Dungeon Master. It will certainly make for a memorable session.
Have you ever used Dungeon Master as an actual NPC in your campaign? How did the players and PCs react? Was anyone ever dumb enough to try to kill Dungeon Master? How often did you have Dungeon Master appear and did you place any limits on his power? If this isn't something you've ever done is it something you'd consider? How do you think your group would react?
Related reading:
D&D Cartoon Intro

Looking for instant updates? Subscribe to the Dungeon's Master feed!