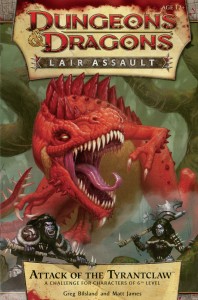 If you think battling an Orc riding Triceratops or firing a ballista at a Pterodactyl sound like the making of an excellent D&D adventure then you're going to love the new Lair Assault: Attack of the Tyrantclaw. It's a good old-fashioned hack and slash encounter designed to challenge the most tactical power-gaming D&D players out there.
For the uninitiated, Lair Assault is a special public-play series that Wizards of the Coast released to challenge the most hard-core D&D players. This is one of the few times when it's truly the DM vs. the players. Lair Assault adventures are intentionally harder than anything you've played before and Wizards expects over 80% of parties to get slaughtered and fail their first time though. With the gauntlet thrown down it's time for you to decide if you're willing to pick it up accept the challenge.
The new season of Lair Assault runs from March 1 – May 31. Below I share some of the high-level details, but don't worry I won't spoil anything. After all I'm one of those DMs trying to kill the PCs so I don't want to give any players an unfair advantage.
Objective
This time around the heroes are on protection detail. A Druid named Hyacinth has hired the party to accompany her on a trip to the mysterious Isle of Dread. Hyacinth seeks an obelisk located on the isle and once she finds it she needs you to keep her safe while she performs a ritual that will reveal the obelisk's hidden powers. Your job is to keep Hyacinth safe. She has 75 hit points and if she's killed you automatically lose the challenge. Oh, did I forget to mention that the island is inhabited by Dinosaurs and a tribe of Orcs called the Tyrantclaw?
The challenge begins when the monsters attack. It's one huge encounter so there won't be any resting once the fun begins. I want to remind everyone (again) that you are not required, nor expected, to kill all the monsters to accomplish the objective. You're trying to protect Hyacinth. You can do that by killing all the monsters, but that's certainly not the only way to accomplish the goal.
In preparation for your task the party is given 100 resource points that they can spend however they want on four different resources: small crates, large crates, light ballista or magical crossbow turrets. Click on the images below for enlarged, hi-res scans.
I really like this addition to what would otherwise be a very straight forward encounter. Now the players can decide if they'd rather have terrain obstacles, additional fire-power or a combination of the two. If you take nothing but crates where do you place them once you find the obelisk? I think that this wild card will really encourage repeat play because this simple delegation of resources can have such a huge impact on how the encounter could play out.
Characters Creation Tips
Lair Assault: Attack of the Tyrantclaw is designed for level 6 characters. The rules for equipping the PCs follow the same guidelines from the DMG as the previous Lair Assaults. You get one item level 7 or lower, one item level 6 or lower, one item level 5 or lower and 1,000 gp to spend as you see fit. You can still only have a maximum of two consumables (level 6 or lower) and you can only possess one rare item. Rituals are out (again) so you don't have to worry about expending any resources on them.
Because the Isle of Dread is in the Feywild, creatures with the Fey origin get a +1 to all attacks. I guess we'll be seeing a lot of Pixies this time around. Note that there is Glory for parties made up entirely of Fey creatures and for character that use the primal power source.
Since the challenge really is just a lot of combat I have no insightful tips on skill selection. There are obstacles that you can climb, so Athletics could be useful. The Dinosaurs are natural beasts so training Nature might give you an advantage when you make monster knowledge checks. Other than that, I don't think any one skill will help you more or less than another.
The Dinosaurs use their claws and teeth to attack, the Orcs use weapons. Energy resistances shouldn't make a significant difference this time around (like they did in Forge of the Dawn Titan).
Glory
There are 20 awards, each worth 10 glory for a total of 200 possible glory points to be earned. A player can earn each award only once regardless of the number of times he plays or the different characters used.
By now you'll recognize some actions that have awarded glory in each of the three season to date (surviving, dying, scoring a crit, making a successful death save, going commando, playing on nightmare mode, experiencing a TPK… you get the idea).  There are also four secret glory awards that you will only earn if you're imaginative or creative in your play. Good luck!
Be warned that some of the glory descriptions contain mild spoilers and give away some details. You'll know these soon enough as they're all listed on the Glory Awards handout, but if you're trying to come into this as clueless as possible then skip over the chart.
| | | |
| --- | --- | --- |
| General Awards | Description | Glory |
| Can We Leave Now? | At least one member of the party survives the challenge. | 10 |
| Commando | Complete the challenge without using magic items or consumables. | 10 |
| Epic Win | Defeat the challenge on nightmare mode. | 10 |
| Fossil Record | Die during the challenge. | 10 |
| Gift of the Fey | Complete the challenge with a group of fey characters. | 10 |
| Isle of Dreadfully Easy | Complete the challenge without spending a healing surge. | 10 |
| Nature Finds a Way | Play a character who uses the primal power source. | 10 |
| Survival of the Fittest | Drop to 0 hit points or fewer at least three times during the encounter. | 10 |
| That'll Leave a Mark | Score a critical hit. | 10 |
| TPK | Every character in the party dies. | 10 |
| Challenge Awards | Description | Glory |
| Dryad Defender | Hyacinth doesn't take damage from orcs or dinosaurs during the challenge. | 10 |
| I Got One, I Got One! | Knock a ptreodactyl out of the sky. | 10 |
| Let's Hunt Some Orc | Kill three or more orcs with a single attack. | 10 |
| Mass Extension | Kill three or more dinosaurs. | 10 |
| Preserved for All Time | Knock an enemy into tar. | 10 |
| Why Won't You Die? | Get reduced to 0 hit points or fewer by an orc using savage demise. | 10 |
| Secret Awards | Description | Glory |
| Secret #1 | SPOILER | 10 |
| Secret #2 | SPOILER | 10 |
| Secret #3 | SPOILER | 10 |
| Secret #4 | SPOILER | 10 |
Glory Tracking Poster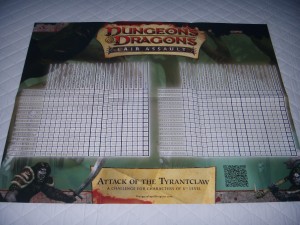 Here's a shot of the poster. Encourage the organizer at your FLGS to hang it somewhere visible. You may not earn actual prizes for accumulating the most glory, but bragging rights are as good as gp to gamers.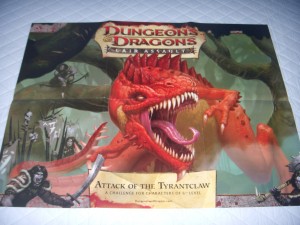 This is the other side of the Glory Tracking poster. Of the three Lair Assaults released, this is my favourite poster. Perhaps it's the little kid in me that goes giddy for dinosaurs.
Glory Tracker Handout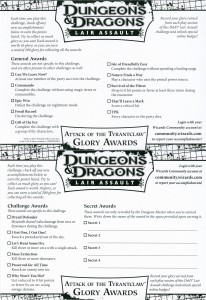 Official Instructions
Now that I've covered just about everything here's the official sheet that accompanied the DMs kit.
For more details on previous Lair Assaults and the program in general here are a few additional resources that you might find useful.

Looking for instant updates? Subscribe to the Dungeon's Master feed!