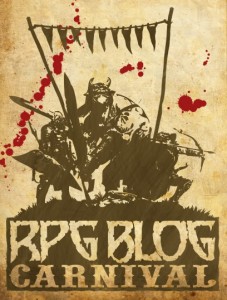 This month's RPG Blog Carnival is being hosted by Nevermeet Press. The topic is Things to Love, Things to Hate.
The Cleric has always been my favourite class in D&D. I'm not a spiritual person in real life but there's something I've always found appealing when it comes to playing divine characters. I think a big part of it is knowing that my character has to very power of life and death in his hands. With just a thought he can call forth his deity's power and heal wounds. Having this power, a power until 4e that was limited to divine character, is like having insurance that the rest of the characters don't. No matter how bad things get I know that I can use my class powers to heal wounds and stay on my feet. This is not to say that I'm a selfish Cleric, but if I go down no one else gets healed which certainly makes a compelling argument for serving my own needs first.
In my opinion, the most significant improvements to the Cleric class in 4e was making the ability to heal a minor action, thereby allowing the Cleric to still participate in combat. Until 4e Clerics often did nothing but heal the wounded while all the other classes did amazing things. Not so with 4e. The combination of the healing surge mechanic and Healing Word as a minor action made Clerics a lot more powerful because they could be a lot more involved. This is a big reason why I still find Clerics among the best classes in 4e D&D. It's also the reason that I choose healing surges as the focus for this article, my contribution to this month's RPG Blog Carnival.
Things to Love About Healing Surges
Healing surges changed the way characters are healed in D&D. Every character has his own supply of healing surges that replenish every day. Second Wind allows every PC to heal himself during combat and expend a healing surge without any help. After that it's the leader's job to let wounded PCs expend more healing surges as necessary. But this is a shared venture. Each player needs to be mindful of how many healing surges he has left. A Cleric may have healing magic left in his repertoire, but if you're out of surges he can't help you. The healing surge has madding healing a shared responsibility.
I love that healing is now based on your healing surge value and not on a few random rolls of the dice. In previous editions a Cleric's level 1 healing spell only restored 1d8 hit points and was practically useless at higher levels. Now the number of hit points regained is based on a fraction of the recipient's total hit points which means the power scales nicely as the PCs level up.
Gone are the days of the Cleric trading in his most potent offensive magic for a meager healing spell. Now the Cleric has a wide assortment of powers that can trigger healing surges above and beyond any other offensive damage he may inflict on an opponent.
Characters who find that they consistently have extra healing surges at the end of the day can find other ways to put those unused healing surges to use. Spellcasters in the group can take 5 minutes to use the ritual Comrades' Succor and redistribute those unused healing surges at any point in the day. This lets the PCs who generally stand back and take less damage share the wealth with those who take the brunt of the hits. It also allows Con-based PCs to dump the surges that they'll never burn through.
Another way to put those unused healing surges to better use is to invest in consumables. Many low-level, cheap consumables require the user to expend a healing surge, and the rewards are often extremely beneficial. If you're not going to need the surges anyway, why not stock up on said consumables. At low levels the PCs may not be able to afford a lot of consumables, but after they've leveled up a few times there's really no excuse not to be carrying around a wide assortment of consumables.
Things to Hate About Healing Surges
Now it's time to look at the flipside of the healing surge mechanic. In truth it's not healing surges I hate, rather it's players' misunderstanding the importance of healing surges to their own character and to the game going on around them. I'm not suggesting that everyone jump on the "love healing surges" bandwagon, but many players need to put more time and consideration into the importance that healing surges make to their character and to the party.
I wasn't playing 4e D&D for very long before I saw first hand how important healing surges actual were. My first 4e character was a Paladin so I was fine in the healing surge department, but the poor guy playing the Rogue wasn't as fortunate. As a frontline striker he was always getting into the thick of things. The party's defenders (my Paladin and a Fighter) tried to keep opponents off the Rogue by marking them, but inevitably the monsters would realize the threat this deadly striker posed to team monster and they'd still attack him. When they did they acted together, focusing fire on what they realized was the biggest threat on the board.
More often than not the Rogue ended combat way below his bloodied value, sometimes unconscious. With Constitution as his dump stat he was limited to only 6 healing surges. Despite what the Rogue brought to the table as far as offense, he sorely lacked when it came to defense. Even with two leaders providing overflow dice to his surge value and my Paladin offering a Lay on Hands every combat, the Rogue still ran out of healing surges faster than anyone else in the party.
Recognizing this sever deficiency the player took the Durability feat to give himself two more healing surges by the time he reached level 4. He also learned the value of more advanced tactics. In this case the player changed the way he played to overcome his character's limitations. It also illustrated to the whole party the down side to a low Constitution. Since then I don't think we've had a PC with an initial Con score below 13 (and it's almost always bumped to 14 at level 4).
What I hate (and I can't emphasize hate enough in this circumstance) are players who go through the same experience that I've described above and make no effort to remedy the situation. Instead, what I see over and over again are power gamers who continue to play strikers (often the classes that begin with the fewest number of healing surges), leave their starting Con at 10 (or possibly even lowering it to 8.) and then running out of healing surges after one combat encounter. One! Suddenly the party needs to take an extended rest because one PC is out of healing surges. My usual response is along the lines of "too bad, suck it up" and the party continues adventuring. Before the end of the next encounter the inevitable happens and the PC who began the encounter with no surges falls unconscious.
You reap what you sow. If you choose to take a 20 in your primary ability during character creation and that means you don't have enough points to bump up your Con, then that's a decision you made. No one forced your hand. You wanted your PC to be a bad ass and he probably is; however, if you don't drop your opponents quickly you're going to feel the pain that comes from short-changing the other ability scores (like Con). If you're not willing to take Durability because you'd rather take a feat that gives you +1 to attack or +1 to damage, then again that's your decision and you have to live with the consequences.
Don't get me wrong, I want players to make the characters they want to make and I want everyone to have a good time, but when this kind of deficiency takes your PC out of the fight it affects everyone. Now the DM has to figure out how to keep the train on the rails. The other players don't want to be pressured into resting for 24 hours after every fight just because you are soft. Anyone who ignores the importance of healing surges to the game is disrespecting everyone at the gaming table, players and DM alike. You choose to be selfish and as a result the game suffers.
Now that I've ranted I think it's important that I emphasize that I'm not this harsh on brand new players. This hate is reserved for players who have some 4e experience and have likely played multiple characters. I reserve an extra dose of hate for players who make character after character with this same deficiency. I'm not kidding; I see this at D&D Encounters almost every week. A player shows up with a PC who has 6 healing surges, blows through them all in one session, and then brings a brand new character the following week. Oh, did I mention that the replacement character (usually a different class) also has only 6 healing surges? No respect at all.
Healing surges have changed the way we look at hit points and how characters are healed. It may not be a perfect system but in my opinion it's a huge improvement over what we had in previous editions. We'll see if this is a mechanic that is carried forward into the next iteration of D&D or if it's one of the modular options that we've been hearing so much about. I think healing surges are an important staple in D&D and love them or hate them they're going to be included in the future of D&D.
Related reading:

Looking for instant updates? Subscribe to the Dungeon's Master feed!