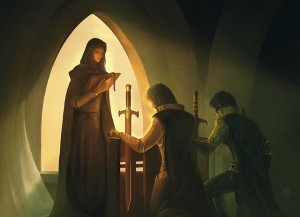 When creating a divine character it's strongly encouraged that you choose a deity. Your PC should try to follow the teachings of this deity and wherever possible spread the god's message throughout the camping world. But in most 4e D&D adventures I've run and played in the divine character is usually just the PC who heals wounds and deals radiant damage. No one seems to realize that there is a "Power" behind the power.
In previous editions of D&D a lot of emphasis was placed on which deity your divine character worshipped. It helped the player develop the role-playing and it often granted access to unique powers. But in 4e D&D there is no requirement to choose a deity and there is no down side for skipping this step. All you have to do pick a divine class and continue with character creation. Players involved in games that emphasize combat over role-playing likely have no idea which god their resident Cleric even worships, despite the fact that it's this unknown deity that's enabled the Cleric to heal their wounds. What's even sadder is that a lot of the players running those divine characters don't know either.
With the desire for all 4e characters to be balanced, the divine classes were dumbed down from what they once were. This may make things easier for new players but I think it really hurt divine classes. Playing a divine character should require work; at least more work than playing a character with another power source. You shouldn't just be playing your character, you should be playing a set of ideals, rules and beliefs set out by the character's deity. After all, you are the vassal for your god. You commune with deities. This certainly seems to me like it should be more complicated than playing the character that swings his sword at the monsters.
In my experience people who play divine characters fall into two categories: 1) players who don't care about the deity and are just looking to play a divine character because they think it sounds fun, and 2) players who find the idea of role-playing a PC who hears the voice of god and acts on his behalf incredibly rewarding. If you fall into the first group then you're obviously satisfied with the way divine characters behave in the rules as written. Although this isn't my preference I understand the desire to keep things simple. If you fall into the second group and seek more from divine characters than you'll want to keep reading.
Worshiping a deity or an ideal
The first step in distinguishing divine character from others is to encourage players to choose a deity for their PC. This has to be more than just writing down the god's name. Players running divine PCs need to be more vigilant when it comes to spreading the word of their patron deity. After all, if the deity doesn't feel that they're getting the love they deserve then the powers they grant could be withheld. OK, maybe not. That would be unnecessarily punitive to divine characters. But it raises an interesting point. How are divine characters rewarded for taking these extra steps that none of the other character need to take? What does the PC get out of it? I suppose that really depends on which deity the PC worships.
Most D&D campaigns take place in a polytheistic world, meaning that there are multiple gods each of whom have providence over different areas. In fact I've never played in a monotheistic campaign world where only one "everything" god is worshipped. Yet when was the last time you had a divine character at your gaming table that worship the god of commerce, the harvest, or fertility? Most of the power-gamers choose deities associated with combat or healing. It's extremely rare to find a PC worshiping a deity who has powers of some other aspect of life. I'm not saying it never happens, but I haven't seen too many Avengers of Aphrodite, Paladins of Dionysus, or Clerics of Hera (using a few examples from the Greek Pantheon).
For those players who want more from their divine PCs choosing a deity is an important part of character creation that requires serious consideration. One thing that is often overlooked is that it's well within the rules as written for a player to not choose a specific deity but instead to have their PC follow a broader concept like "good." The real advantage of being non-specific is that it presents the PC with broader options and lets the player have a lot more freedom and flexibility while running the divine PC. When a PC worships a concept or ideal they are no longer praying to just one god. Any god whose motives coincide with the concept the divine PC is exemplifying could grant them a reward for their accomplishments.
Rewarding faith
Once a PC has determined their deity or concept it's time to start spreading the good word. This is going to come out in the role-playing. The more a player gets into character and the more that character does what his faith demands, the more likely the DM should reward the PC. The rewards are intended to reflect the touch of god. When the divine PC does what the deity expects (or exceeds those expectations) the PC is rewarded.
In order to earn the divine reward the player would have the PC act as they deemed appropriate and then solicit a ruling from the DM as to whether or not it was worth of a reward. The rewards should be kept simple and be used almost immediately to avoid unnecessary paperwork. I'd recommend that when the DM deemed a reward was earned the divine character be granted +1 to an upcoming skill check or attack roll. Alternatively the divine character could give the +1 to an ally as a blessing from the deity. Using this kind of reward system is an easy way to get some players to really role-play their character and emphasize the divine aspects of their class.
This kind of reward system needs to be kept in check and it's up to the DM to keep things balanced. Just because a Cleric worships a deity of healing doesn't mean that he should receive a bonus every time he casts Healing Word. However, if the Cleric gives up his standard action to revive a wounded ally or makes some other self-sacrifice to heal another than I'd argue that the action could warrant a bonus. Similarly a Paladin who follows a deity of combat shouldn't get a bonus for killing monsters – everybody does that. The bonus would come from the description of the action and the demonstration of prowess other PCs don't possess. I'd suggest that players running divine PCs talk to their DM to get a better idea of what will and won't provide bonuses.
+1 for laughing
Role-playing games encourage creativity and imagination. A good example of this is a concept cleric that I had in a recent campaign. Rather than worship any one god he instead worshipped humour. He believed that the gods wanted him to do his part to ensure that people are in good spirits, enjoy what their doing and see the lighter side of things. Since humour is such a broad concept this PC didn't have to declare fealty to any one god in order for his prayers to be answered. Any deity that got the joke would reward him. Certainly some deities would appreciate intelligent humour while others would love a good fart joke. Some might appreciate slapstick while another might enjoy a good pun.
This PC was rewarded with a +1 bonus to his next roll every time he made another player or the DM laugh. If everyone at the table laughed it would net him an additional bonus. As humour is highly subjective rewards were awarded for any noticeable reaction from the table. A bad pun or lame joke might earn a groan. This didn't mean that the joke wasn't funny just that the audience found it too silly or low brow to laugh out loud. In these cases the DM had to adjudicate accordingly. The added bonus of trying to make the table laugh was that the brevity it created certainly increased everyone's enjoyment of the session.
Anything that encourages more role-playing is worth a try in my book. After playing D&D Encounters for so long it's refreshing to find players who want to do more than roll dice. If it takes a bribe from the DM to do it, I'm willing to test it out. When it comes to divine characters I think the idea of a divine bonus bestowed upon the PC from their deity (or a deity that agrees with their concept) makes sense. It's a good way to bring some of the awe and mystery that once accompanied divine characters. It's also a great way to remind the other player that as powerful as their PCs become, in a world with Dragons and other fantastic creatures the god are watching and will intercede when they find it necessary, so act accordingly.
Do you think that divine characters are regarded with the esteem they deserve or do you think they are fine as they are – equal to all the other classes? Do you think that having the hand of god bestow blessing upon those who follow the deity's teachings most closely is unbalanced and brings too much extra power to divine classes? What do you think of my Cleric of humour example? Too silly?
Recommended reading:

Looking for instant updates? Subscribe to the Dungeon's Master feed!