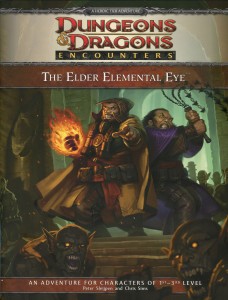 We've completed another season of D&D Encounters. That's 8 for those keeping track. Before we jump into season 9 and do battle with the Drow let's take a look back at the season that was and discus what worked and what didn't, what we'd like to have seen and what we might have done differently.
Good Introduction to D&D
I think that many of the D&D Encounters regulars forget that the program is designed as an introduction to D&D. It's intent is to entice new players to try the game, one encounter at a time, and see if they like it enough to buy the materials and play it at home with their friends. From that perspective I think this season did a fantastic job.
The adventure was simple and straight forward. It included a lot of the typical characteristics of old-school D&D adventures. It started with people in a small town facing a problem they can't handle on their own so they enlist the aid of the heroes. From there the PCs fight monsters and an evil cult. They fight monsters in the wild and they delve deep into an underground dungeon. There is exploration, combat, and even some role-playing along the way. It may not be particularly original for experienced players and DMs but as a primer for someone new to the hobby it was perfect.
Short Chapters
On the surface I really liked that this adventure was only 11 weeks. Chapter 1 was short, only three encounters, but they were action packed and put the characters in real danger. It was just long enough for the players to get to know their character before leveling him up. Chapter 2 and chapter 3 both had four encounters. In my opinion this is perfect for public play. It's long enough to demonstrate the importance of resource management while not so long as to make things impossible if the group had one bad encounter along the way. Even PCs with only six healing surges can usually make it through four full encounters without getting killed.
When I was previewing the adventure three months ago I was excited that the PCs had a chance to take an extended rest before facing the final encounter. However, after playing the adventure I realized that this was not a good thing at all. The problem was twofold. First the PCs had a lot more in their bag of tricks when playing through encounters 8-10 since they knew they only had to budget for three fights which gave the PCs a huge edge. Second was that the monsters in the final encounter had to be uber-tough to actually challenge a party of fully rested PCs. The result was a lot of PCs getting killed in an unnecessary encounter (more on that below).
In my mind the perfect D&D Encounters adventure would be 3 chapters with each chapter having four encounters each. I could also live with chapter 1 being only three encounters (like it was in The Elder Elemental Eye). I would not allow the PCs to take an extended rest at any time except between chapters. Following this model each season would be either 11 or 12 weeks long. Any longer and the inexperienced or carless players run out of healing surges too quickly and their PCs die. This ends up hurting the entire party including those who didn't take unnecessary risks or worked as part of the team.
Abyssal Plague
I liked that in the very first week there was a really good chance that some PCs would contract the Abyssal Plague. If they were unfortunate and failed their saving throw subsequent encounters would prove more difficult. Things could get even worse if they failed their saving throw after the next extended rest. However, I don't think it's fair to penalize a party for rolling poorly (which is really what a failed save represents), and the author obviously agreed with my thinking. As part of the loot earned after week 1 the PCs found the material components required to cure one character.
If the PCs were not infected (because they were not hit or because they made their saves) they could earn good will and donate the residuum to the local priest to cure the infected Knight of the Purple Dragon. At the end of the first week none of the 12 players at my FLGS were infected. Only 6 were hit and they all made their saving throw.
I'm of two minds on using the Abyssal Plague as a plot hook to infect and entice the PCs. The regulars at D&D Encounters already played in an adventure (March of the Phantom Brigade) that featured the Abyssal Plague and its spawn. Bringing it back again could seem too repetitive. However, as the PCs only faced plague infected at the beginning and the end of the adventure it seems that Wizards felt the same way. On the other hand with everyone at my table saving successfully after week 1 there was no real threat from the plague to provide additional motivation. In truth the players only took on the adventure because it was the right thing to do. Had they faced off against more infected monsters before the end of chapter 1 there would have been a greater chance of someone being infected and thereby adding that missing drive to complete he quest.
Return to Easting a.k.a. The Bad Dream Encounter
This is where I think I'll have to agree to disagree with a lot of people. In my opinion this was one of the best encounters of the season. It was especially fun and interesting if the players had participated in week 1. In my case we'd had very consistent attendance so five of the six PCs clearly remembered the events from week 1.
Assuming the players took the opportunity the first week to actually explore and role-play, the dream encounter had tremendous potential. Each player in my group was able to draw on the details they remembered from the first week to spot difference this time around. We spent more time role-playing the dream encounter than fighting the monsters. As the author explained on the Wizards' Forums he was asked to create another encounter using an existing map, so although this might have felt unnecessary and tacked on to some, I thought it was brilliant. It really let the player get into their characters and do something other than fight and kill monsters. At my FLGS this was the stand-out encounter of the season.
Skill Challenges
Anyone who reads this blog regularly knows that I'm a huge fan of skill challenges. So I was glad to see a couple of structured skill challenges used in this adventure. The investigation in Easting (both the fist time and during the dream) worked really well for our group. The checks weren't that difficult and I gave the players a considerable amount of leeway when it came to which skills could garner successes. The checks were there to add information and the only consequence for failure was ignorance.
And then there was the skill challenge that was the maze. Again, this is one of those areas were I think I'll have to agree to disagree with a lot of other people. I liked the way this skill challenge was set up. It certainly required some imagination and visualization to work well. I think the real pay-off would have been if the party split up, but I'm willing to bet very few parties did. Wizards has hit us over the head with "Don't split the party" for so long players are absolutely opposed to even considering the possibility. In this case it would have made things a lot easier.
In my all-Genasi part they each had an elemental resistance. If they'd split up it would have made the group checks easier and it would have let them avoid more of the harmful effects if they failed those checks. But the idea that there was a maze that messed with their minds and required them to use a variety of skills to navigate worked, in my opinion. I did think that some of the checks were so difficult that untrained PCs had almost no shot of making them successfully (a DC 21 Insight check, really?), but I think this was a good way to emphasize that importance of a well-rounded character.
Maps
In general the maps were fantastic. However, I did see room for improvement. In week 1 the PCs fought the Plague Changed Demons in the barn. This was designed as a 2-story combat (a great idea). However, it required a lot of imagination to get the players to see a second level. I would have made this map half the size and provided the second story on the other half (similar to how the library was pretended in Dark Legacy of Evard). I know that the DMs at my FLGS simply made it a one story building and didn't bother with the second floor.
My other suggestion would have been to provide online maps of 1) Easting and the surrounding area, and 2) the complete dungeon. I'll admit that the Easting map wasn't necessary but would have helped some of the newer players visualize the town a bit better. A full dungeon map was provided in the adventure for the DM to reference. However, as only select areas of the map were provided at 1-inch scale the players didn't get to see the full layout. This became problematic when the PCs faced the "random encounter" in the kitchen and dining room area.
What do you mean that's not the end?
OK, it's time to address the elephant in the room – what was up with that ending? In week 10 the PCs finally faced off against the evil cult leader and stopped the source of the Abyssal Plague in this area thereby curing everyone infected (possibly even some of the PCs). It was a great encounter and ended with the PCs returning to Easting where they were heralded as heroes. Now that's a satisfying conclusion to all their hard work. What? It's not over? Huh?
At the end of week 10 everyone at my FLGS left scratching their heads asking what could possibly be in store for the final encounter? They'd defeated the villains and cured the plague. Now what?
As it turned out the final encounter saw the PCs return to Iriaebor to report on the happenings in Easting and collect their 50 gp (which seemed meager now). They had plenty of down-time and got to role-play the celebration of a job well done. OK, I must admit that this was actually kind of fun. Despite the fact that none of these characters would ever be used again after this encounter most players got into it and had fun doing so. And then we moved on to the combat part of the final encounter.
If the PCs spared either or both Drow from week 3 then one of them tipped off the PCs to a potential ambush. Apparently there was a Drow in service to the Elder Elemental Eye who was ticked off with the PCs for stopping the Abyssal Plague. Now she was planning to kill them. So the final week saw the PCs battling a Drow they'd never heard of until this week. Lame!
The Drow and her followers were tough. They had to be since the PCs were back to full everything. The Drow could attack 4 times as a standard action. Although this was no doubt intended to allow her to face multiple foes simultaneously, most DMS had her unload on one PC at a time. That's what I did and it resulted in a lot of unconscious PCs and even one PC death at our table. To add insult to injury the villains didn't die when you killed them. When they reached 0 hit points they popped back up the next round at their blooded value. In the context of a normal encounter this might seem like an interesting mechanic to keep a monster alive a little longer, but until now I'd only ever seen it work with undead and usually minions at that.
I understand that this encounter was added to hint at the upcoming Drow-themed adventure in season 9, but as none of these characters will be playing in that adventure it really deemed unnecessary and tacked on. It was a really anti-climatic way to end an otherwise decent adventure.
Final Thoughts
Looking at this adventure on its own I'd say it was decent. When comparing it to other D&D Encounters adventures I'd say it falls somewhere in the middle of the pack. It had its up and downs; there was a lot of great stuff in there but there were also some areas that could have used some improvement. As I mentioned at the beginning, this is supposed to be an introductory adventure and from that standpoint it really works. However, I know that a lot of the more experienced players felt that it was a rather bland experience.
The Elder Elemental Eye: 7 on a d10.
I'd like to thank Harry Tarantula North in North York and Dueling Grounds in Toronto for hosting D&D Encounters every week. If not for their support we wouldn't have a place to play or the material needed to run the games. Remember that your FLGS doesn't make any money for hosting D&D Encounters. So the next time you need a gaming resource be sure to purchase it from your FLGS as a way to thank them for supporting the D&D Encounters program.
What were your thoughts on The Elder Elemental Eye? How do you think it compared to previous seasons? How many new players did you see this season? What was the stand-out encounter in your opinion this season?
Visit the Dungeon's Master D&D Encounters Archive for all of our ongoing weekly coverage as well as other great D&D Encounters articles and resources.

Looking for instant updates? Subscribe to the Dungeon's Master feed!