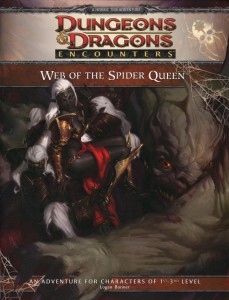 The Drow are coming. On May 16 Rise of the Underdark gets into full swing as the Drow take over D&D Encounters season 9 when Web of the Spider Queen begins. This season of D&D Encounters is tied closely to Wizards' latest product offering Into the Unknown: The Dungeon Survival Handbook which will be available on May 15 (coincidentally the day before the slot 0 character creation week). Below is a high-level overview of what you can expect during the coming season of D&D Encounters. It relatively spoiler-free.
The Adventure
This season runs 14 weeks. Week 0 is for character creation, chapter 1 covers weeks 1-5, chapter 2 covers weeks 6-9, and chapter 3 covers weeks 10-13. I think that it's a mistake to have any chapter contain more than four encounters, especially the first chapter. We often see a lot of new players at the beginning of a season and they don't understand that their character needs to survive multiple encounters before they can rest and replenish their healing surges. The result is characters that are out of surges by the third week. This puts their character at greater risk of dying. When it happens (and it does) the new players have a poor gaming experience and the party suffers because they're down a man or two or three. What usually ends up happening is the DM needs to bestow surgeless healing upon the PCs who are wounded. It's the only way to keep everyone happy.
Aside from chapter 1 being too long the rest of the adventure looks solid. The basic story is that the PCs are in Shadowdale looking for adventure when they are implored to help stop a Drow thief who has escaped into the caverns before the Old Skull Inn. From there they realize that there's more to this plot then a simple robbery and they are in a unique position to thwart a much bigger plot that's afoot.
At the beginning of each encounter we get a quick recap of what's happened in the adventure so far. This was a great addition that started last season and I'm happy to see they've continued this time around. Each encounter has notes for the DM on how to reward characters who have themes tied into the new Dungeon Survival Handbook, similar to the way it worked in Lost Crown of Neverwinter. These aren't crazy unbalanced bonuses but rather a way to reward people who use the new options during character creation. More on the new themes below.
Early in this adventure the PCs encounter one of the big bosses. He's there to advance the story and is not intended to participate in the battle that week. However, there are notes for what to do if the PCs get the jump on him and manage to defeat him. I can already sense the skepticism of players who were burned during Beyond the Crystal Cave when they had to fight the Hag only to find out they couldn't defeat her. The difference here is that the PCs can actually kill this villain and the DM has notes on how to adjust things later in the adventure. However, I will caution ambitious players that the boss is no pushover so it might be better to let him go and face him later when you're whole party is tougher.
One encounter that stands out for me is week 6. There is no combat at all. It's a really excellent puzzle/skill challenge. It makes the players think and it gives them a chance to really get into their characters. The puzzles are tough but not impossible. Depending on what kind of skills you're good at, you may be able to figure out hints on how to overcome your part of the puzzle. I expect this will be the encounter people talk about the most after season 9 is all said and done.
Character Creation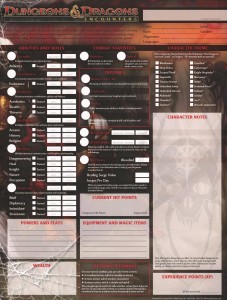 As has become the norm we were provided with really nice looking character sheets that mirror the cover of the adventure. For brand new players who show up during week 0 to make character this is a great way to make a first impression. A lot of my regulars actually prefer to use these character sheets over character builder. It certainly makes it easy to find the character for this season when you've got a folder full of loose characters.
As far as character creation itself is concerned players are encouraged to use the new options presented in The Dungeon Survival Handbook. According to what's printed in the adventure this new book will include Kobold and Svirfneblin as new racial options as well as a slew of new themes. Here's a quick teaser of what each of the new themes is all about.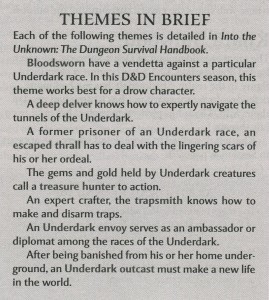 Pre-Generated Characters
I know a lot of people will ask if I don't cover this here so here goes: no new pre-gens were provided (which should come as no surprise). We got the same six stock characters we've had since season 4. I suspect we'll be seeing a lot of groups with Belgos since he's the only Drow pre-gen. For downloadable copies of every pre-gen Wizards has provided to date, as well as a wide selection of fan-made characters, visit the Dungeon's Master Pre-Generated Character Library.
Treasure Cards
In my opinion this is what will get people talking. Players who participated in the first Drow adventure during PAX East can give their FLGS a code they were given (I assume at the con) for a special Treasure Card. Organizers are instructed to give out these cards to people with codes first and then either distribute to worthy players or use them as future rewards. Regardless of how these are distributed I think the card itself will generate significant buzz.
Although players can still earn Fortune Cards (see below) these are the real jewel of the season. These cards will give low-lever characters a defensive bonus but it also gives them a means to counteract the Drow's racial Cloud of Darkness.
I hope this is an indication of things to come. I like the idea that we can earn new magic items for public-play. I have no idea if this item is exclusive to the card or if it will be in The Dungeon Survival Handbook (and eventually the online compendium). Exclusivity would certainly be a nice touch and it would be a great way to get more players to come out and see what public-play is all about.
It's interesting to note that the items is called "Ruby Medallion of Lathander" since Lathander is now called Amaunator in the Forgotten Realms. Is this foreshadowing more changes to the FR pantheon or is this just an ancient relic?
Front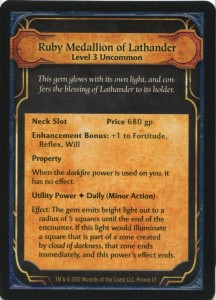 Back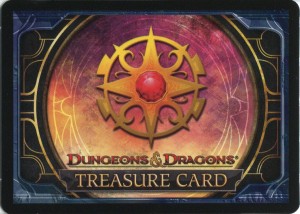 Amazing Maps
If you're like me one of the reasons you DM D&D Encounters is for the fantastic maps. I've got maps that depict the desert (Fury of the Wastewalker), the snow (March of the Phantom Brigade), forests (Beyond the Crystal Cave), sewers (Lost Crown of Neverwinter) and dungeons (The Elder Elemental Eye). This season gives us plenty of great underground caverns to add to our collection. As usual Wizards has done a great job in producing top-notch maps. I can't wait to use them for D&D Encounters and my home games.
Initiative Tracker
There's not really much more I can say about the Initiative Tracker cards that I haven't said before. They look great and they're convenient to use. If you've got Initiative Trackers from multiple seasons mixing and matching them will certainly make it easier to distinguish the heroes from the monsters.
Fortune Cards
Although we don't use Fortune Cards in my games they are obviously popular since Wizards keeps producing new sets along with every season of D&D Encounters. This season players can earn up to three special promo Fortune Cards exclusive to D&D Encounters.
When a player earns 20 Renown Points, they earn the Bloodcurdling Scream (promo 6) Fortune Card.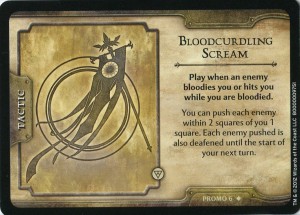 When a player earns 40 Renown Points, they earn the Insane Defiance (promo 7) Fortune Card.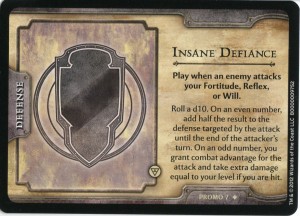 When a player earns 60 Renown Points, they earn the Cunning Misdirection (promo 8.) Fortune Card.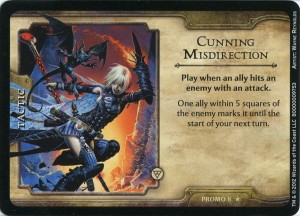 Instructions
Poster
Every season Wizards provides the FLGS with a poster to advertise the current season of D&D Encounters. I think this season's poster will catch the eye of many curious gamers.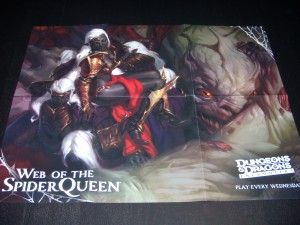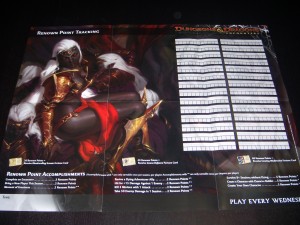 The Adventure Begins
Web of the Spider Queen is the first of three season of D&D Encounters that will feature the PCs battling the Drow in the Forgotten Realms. As the introduction to the masses this adventure shouldn't disappoint. There's plenty of action, adventure and intrigue. The Drow are a crafty and deadly race and the heroes will have their work cut out for them. Season 9 begins on Wednesday, May 16.
Visit the Dungeon's Master D&D Encounters Archive for all of our ongoing weekly coverage as well as other great D&D Encounters articles and resources.

Looking for instant updates? Subscribe to the Dungeon's Master feed!