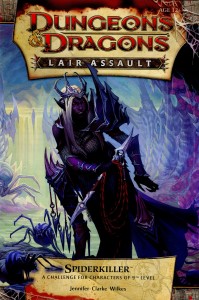 You've braved the Forge, retrieved the Talon and slain the Tyrantclaw, now it's time to stick it to the Drow! On June 1 Rise of the Underdark continues with Lair Assault: Spiderkiller. Season 4 has the PCs facing off against a small but powerful band of Drow that are up to no good in the Undermountain.
Lair Assault is the Top Gun of D&D. It's for the best of the best. Normally you don't win at D&D, but Lair Assault changes that. You create the most optimized character possible (within the confines of the challenge parameters) and try your best to accomplish the goal. It's not easy and Wizard expects 80% of parties to suffer a TPK during their first attempt to complete the challenge. So if you think you're a D&D Top Gun than Lair Assault is the adventure series for you.
The Challenge
This time the PCs have been asked to venture into a long-forgotten section within the bowels of Undermountain to stop a Drow priestess from opening a permanent portal to the Demonweb. If she succeeds Lloth can send forth her minions to reclaim Undermountain and from there launch an assault upon Waterdeep and the rest of the surface. The stakes are high so it's important that the party sent forth to complete this objective be exceptionally capable.
The structure of this Lair Assault combines elements from Forge of the Dawn Titan and Talon of Umberlee. The PCs have 20 rounds to find and stop the Drow priestess; however there are three distinct encounters. So time will likely be the PCs greatest enemy. It's important to remember that killing all the monsters is not the only way (or the best way) to accomplish the goal. In fact I don't think a party is capable of the output necessary to inflict enough damage to kill all the monsters in the 20 rounds allotted.
Since the PCs only have 20 rounds to complete all three encounters there is obviously no time to take a short rest between encounters. This presents some really interesting tactical challenges. PCs will have to decide when to use powers that last until the end of the encounter as they'll only be able to gain the benefits of such powers for one of the three encounters.
Character Creation Tips
This is a challenge for level 9 characters. All published D&D sources are legal when it comes to choosing feats, powers, themes and equipment. When equipping your PC you can have one item level 10 or lower, one item level 9 or lower, one item level 8 and 3,400 gp to spend on pretty much anything else. However, you can only have two consumables (level 9 or lower) and only one rare magic item. This is the standard used for character creation for every Lair Assault so far so this shouldn't come as any surprise to returning players.
Here are some tips that you should consider when creating characters. I'll try not to spoil anything, as these will mostly be common sense tips using the available information. Before creating a character look at the Glory Tracker (see below). Once you see what actions will earn your PC Glory you should be able to make some pretty accurate assumptions about the challenge.
When it comes to skills training in Athletics is mandatory. There will be plenty of opportunity to swim, jump and climb. Alternatively you can take magic items that will make these actions easier. Arcana and Religion are always useful with the big baddie is a) a priestess and b) creating a magical portal.
Training in Endurance may not be a bad choice either since you know that there will be Drows with poison and spiders with poison. Items that reduce or negate poison damage will be helpful as well anything that will make saves against poison easier. In fact anything that makes saves in general easier is almost always a good idea (feats or items).
Given the time limitations there is something to be said for stealth. If the party can be sneaky they may be able to bypass some or all monsters in one or more encounter. A party that's all trained in Stealth or that can go invisible, fly or otherwise reduce the likelihood of being seen or heard could provide an unexpected advantage.
You know you'll be fighting Drow, Driders, spiders and spider swarms. Knowing there will be swarms a few members of the party should have blast or burst attacks. Fighting swarms without these is going to eat away at your time and your resources.
Although the adventure does take place in the bowels of the Undermountain there are light sources (not always good ones, but they are there). However, if the entire party has darkvision they could certainly try to use the darkness to their advantage. Just remember that your Drow opponents have darkvision too so it's not that they won't be able to see you, it's more that they aren't expecting anyone to pass without a lantern or torch. One round of surprise might be all you need to really change the tide of the adventure.
Glory
There are 20 awards, each worth 10 glory for a total of 200 possible glory points to be earned. A player can earn each award only once regardless of the number of times he plays or the different characters used.
I strongly encourage anyone planning to participate in Spiderkiller to review the Glory tracker before you create your character. You can gain a lot of information from the tracker about what's in store and this can (and should) influence your decisions when you make your character.
There are five secret glory awards this time through. So be imaginative and creative in your play. Good luck!
| | | |
| --- | --- | --- |
| General Awards | Description | Glory |
| Epic Win | Defeat challenge on Nightmare mode. | 10 |
| Is That All You Got? | You get 20 or higher on a death saving throw. | 10 |
| See You Next Fall | You force an enemy over a waterfall or into a chasm. | 10 |
| Splatterfest | You score a critical hit. | 10 |
| Tough as Nails | You complete the challenge without spending a healing surge. | 10 |
| TPK | Every character in the party dies. | 10 |
| Triathlon | You swim, jump, and climb with no failures. | 10 |
| Challenge Awards | Description | Glory |
| Matron's Bane | Your group defeats the challenge. | 10 |
| Iron Guts | You save against poison effects three times. | 10 |
| Speed Demon | Complete the challenge in 8 rounds or fewer. | 10 |
| Spiderkiller | You score the killing blow against at least 2 non-minion drow and 2 non-minion spiders or spider swarms (a drider counts as either a drow or a spider, but not both). | 10 |
| Take the Plunge | You fall over a waterfall or into a chasm and die. | 10 |
| Upon Reflection | You obtain a mirror wand by walking through a mirror. | 10 |
| Venom mi Casa | You die from a poison effect. | 10 |
| Web Hugger | You are immobilized or restrained by webbing three times. | 10 |
| Secret Awards | Description | Glory |
| Secret 1 | SPOILER | 10 |
| Secret 2 | SPOILER | 10 |
| Secret 3 | SPOILER | 10 |
| Secret 4 | SPOILER | 10 |
| Secret 5 | SPOILER | 10 |
Glory Tracker Handout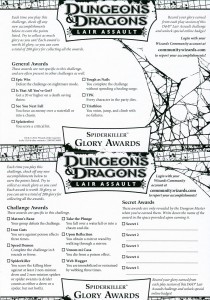 Official Instructions
Now that I've covered just about everything here's the official sheet that accompanied the DMs kit.
Lair Assault: Spiderkiller runs from June 1 – August 31. Good luck!
Related reading:

Looking for instant updates? Subscribe to the Dungeon's Master feed!